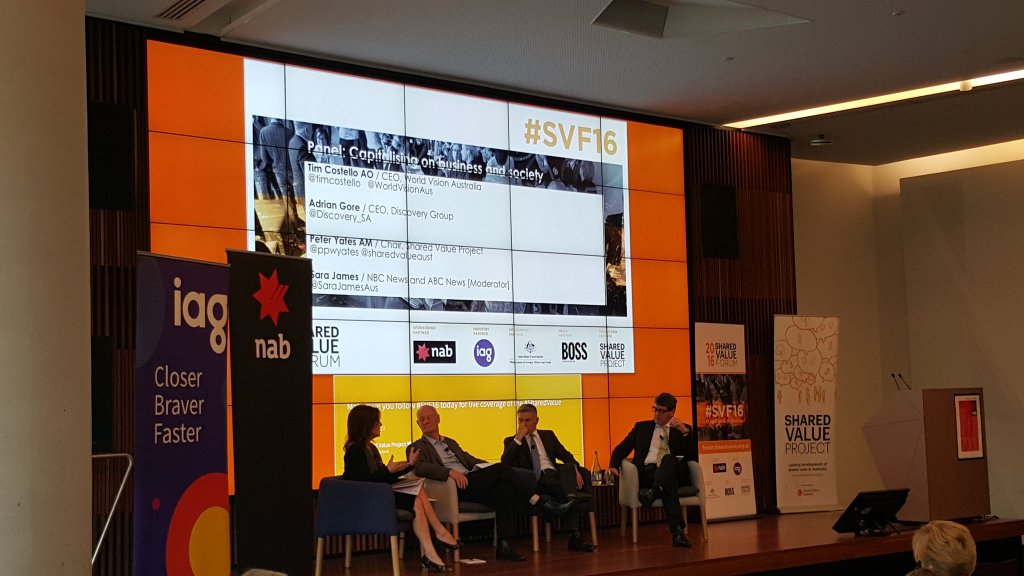 This Wednesday, more than 150 business, government and social sector leaders came together to re-imagine how businesses can partner for social and environmental change.
Every year the Shared Value Forum brings an international group together to discuss ideas, debate strategies and tactics and share stories from the field.
For those who couldn't make it this year, here are a few of the key points from the day.
1. Shared Value is a culture. 
As Mark Kramer said in his opening address, the barriers to building shared value initiatives within organisations are many. Structurally – where does it live? Where do resources come from? How do we balance short term requirement for profit (or funding for NGOs) with long term potential for both financial and social benefits?
To make the required mindset shift and start seeing social and environmental progress as intertwined with business performance, organisational culture is incredibly important.
Adrian Gore from Discovery Group South Africa says that within their hugely successful Vitality network, they have created a system, rhythm and incentives for internal innovation. Business leaders have actively fostered a culture that encourages staff to innovate under their simple mission; make people healthier.
Stuart Irvine from Lion said their shared value commitment goes beyond the Goodness Project and is deeply embedded in their culture. Lion's mission is to champion sociability and healthy living, which they deliver through selecting and advocating for products with lower alcohol, sugar and salt content. When you sit in a meeting at Lion the phrase you'll most often hear is "is this good in the long term?".  For the business, and for society.
2. Government, companies and NGOs need each other. 
During a panel with Tim Costello AO, Adrian Gore and Peter Yates AM, moderator Sara James succinctly summarised that no one organisation or sector can genuinely address a social issue on their own. We need the reach of government, the rigor and capital of corporates and the social conscience of the social sector. We need each other.
Sasha Courville from NAB told us how they couldn't have overhauled their collections department and created NAB Care without their social sector partners. NAB operations are no longer based on the assumption that their customers aren't going to pay back their loans. Instead, their staff are trained to watch for signs of financial hardship and refer customers to Kildonan Uniting Care to access financial support services. NAB Care helps vulnerable customers, reduces loan defaults and saves NAB millions of dollars in collections costs.
Similarly, Annabelle Butler from Suncorp Group explained how they couldn't have created their Australian-first insurance product for people on low income without their partner Good Shepherd Microfinance. Essentials by AAI was created through lengthy consultation, as a simple, affordable, relevant insurance product for the people who often need it the most.
3. Cross-sector partnerships are easier with Shared Value. 
As part of an interactive lab session (including multiple people dressed as mad scientists) we broke into groups to address one of the new UN Sustainable Development Goals. We each represented either a government body, company or NGO in developing a new shared value partnership to address the social target while delivering financial returns for the company. In summary of the role-play experience: it was hard. Different priorities, different stakeholders and different ways of operating resulted in a few stop-start moments in negotiation.
But what we found was that the tenants of Shared Value provided a useful platform for open, productive, directional conversations; conversations where each party could express the explicit needs of their organisation and find alignment through a shared purpose.
Simon Cramp from the Department of Foreign Affairs and Trade echoed this. He said that Shared Value has defined a new method of engaging with businesses in community development and aid; a method that defines the parameters of engagement and encourages scale and longevity through having profit in the conversation from the start.
4. Business and the community need relationship counselling.
Peter Yates AM shared with us that the Japanese symbol for business and community are the same, but reversed. Their root is the same.
Tim Costello AO said that he tends not to trust anything, but thinks Shared Value could make that worth reconsidering. He repeated the old adage "what's good for the community is good for business".
Regardless of their inherent connection, the relationship between business and the community is tense. Consensus at the forum was that we need to re-frame the relationship. And that trust should be our uniting force.
Trust and authenticity are intrinsically linked, and authenticity only comes from delivering on your words. The next stage in the evolution of Shared Value will be continuing to enact our ideas and measure the outcomes – for both people and profits.
Congratulations to the Shared Value Project for an inspiring and thought-provoking event.
Talk to us about shared value strategy and implementation.
Sector
Sector