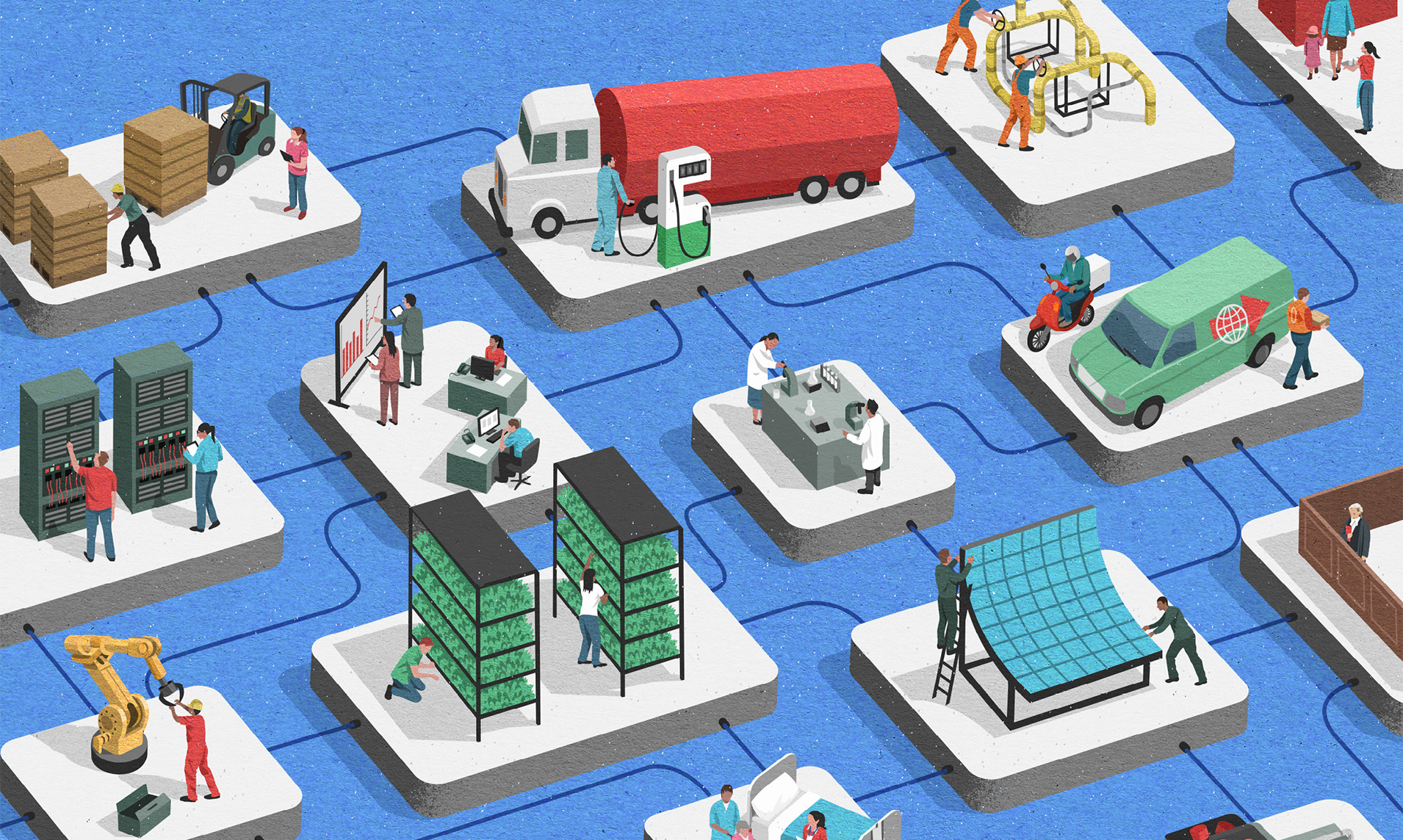 The release of Open AI's ChatGPT in early 2023 made the impact of technology on the future of work feel very clear, present and – for many workers – dangerous.
Will machines replace my job? What value can I create in an AI-enabled future?
These are questions we should all be asking. So, what work will we be doing and how might workers and businesses prepare and transition?
One of the most comprehensive forecasts of employment changes, the World Economic Forum (WEF) Future of Jobs Report (2023), was released on 30 April. The report shared analysis of an extensive survey of senior executives leading people and culture, strategy, and innovation functions within leading global employers: 803 companies, employing more than 11.3 million workers, in 27 industry clusters and 45 economies from all world regions.
23% of jobs are expected to change by 2027, with 69 million new jobs created and 83 million eliminated.
Although those numbers might be challenging there is good news for people and planet with the report suggesting green transition and localisation of supply chains will lead to net job growth.
We take a look at three graphs from the report and what they might mean for you and your business.
1. What are the expected macrotrends driving business transformation and employment?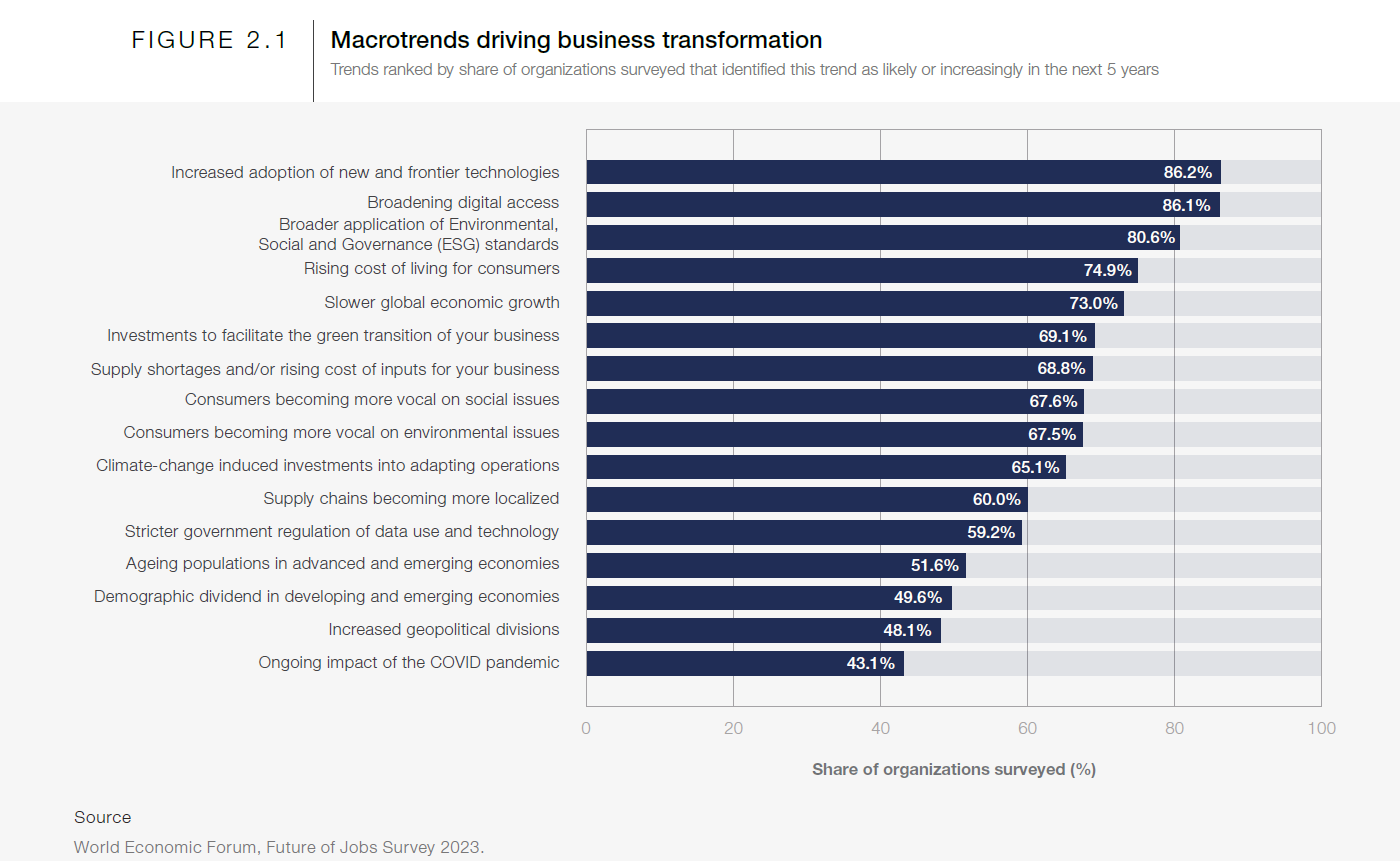 https://www3.weforum.org/docs/WEF_Future_of_Jobs_2023.pdfMacrotrends, including the green transition, ESG standards and localisation of supply chains, are the leading drivers of job growth, with economic challenges including high inflation, slower economic growth and supply shortages posing the greatest threat.
Advancing technology adoption and increasing digitisation will cause significant labour market churn, with an overall net positive in job creation.
Behind the expected drivers of technology access and adoption, are a few interesting and important insights.
6% of respondents view 'Broader Application of Environmental, Social and Governance (ESG) standards' to be a critical driver. Ove the past couple of years, we have only just started to see the emergence of dominant reporting standards and frameworks for entities and industries. Clearly leaders expect these to become enshrined in government regulation or obligations placed on public companies by major bourses.
7% see 'Consumers becoming more vocal on environmental issues'. This is a medium-term trend that has staying power and will ensure ESG remains on the corporate agenda.
A longer-term trend, 'Ageing Population in Advanced and Emerging Economies' was viewed by 51.6% to be a key driver. In Australia, the aged care sector has received scrutiny through many government reviews and a Royal Commission. However, it would be fair to say, no one in the industry feels we are close to business or sector sustainability. A change in the type of jobs carers and health professionals do is expected, and innovation, not tinkering, is required.
2. What impacts we can expect from the macro job trends?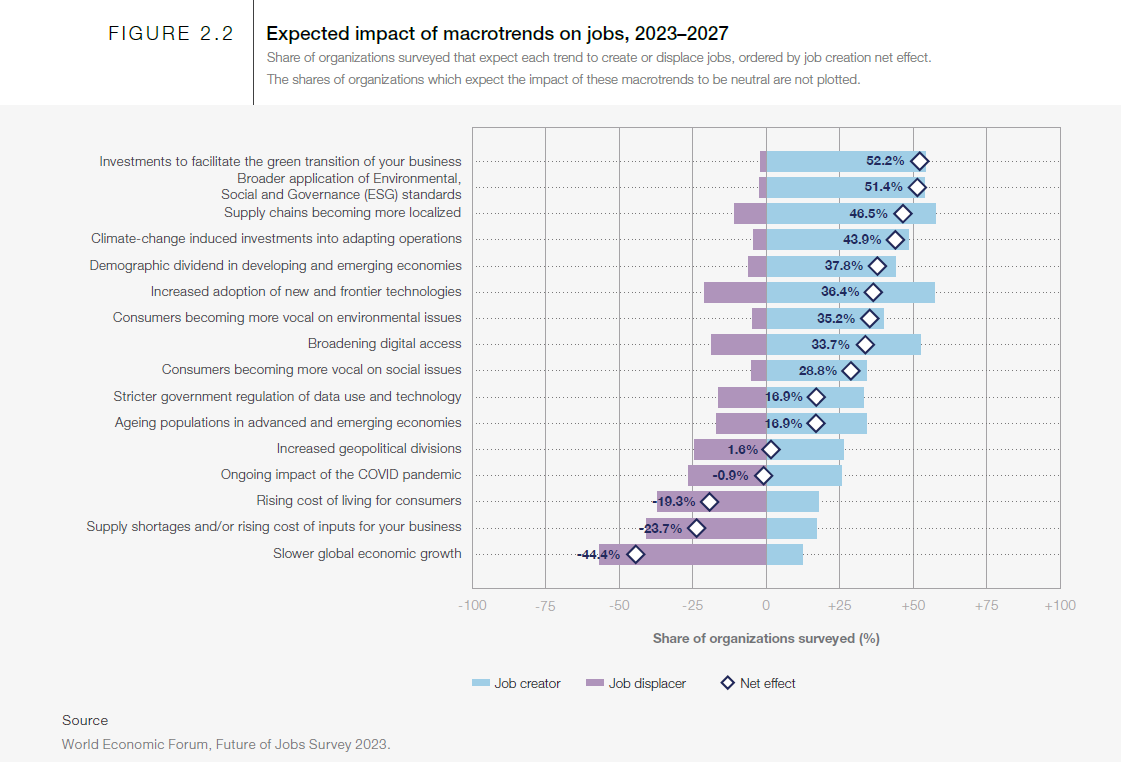 Climate change is ever present in the news, the sustainability narratives and actions of companies, and, increasingly, the weather and its adverse effects on the environment.
It is in this graph we see the full impact the global movement to achieve net zero emissions are having on jobs.
The four greatest expected impacts are:
'Investments to facilitate the green transition of your business'
'Broader application of Environmental, Social and Governance (ESG) standards'
'Supply chains becoming more localized'
'Climate-change induced investments into adapting operations'
After decades of inertia on environmental sustainability, change is here.
While the transition to a green economy will disrupt labour markets over the next decade, it will also create new job opportunities.
Employers have increased green job hiring rates, with year-on-year green job growth exceeding the overall hiring rate growth every year since 2019. Sustainability jobs make up three of the top ten fastest growing roles on LinkedIn over the last four years.
Climate transition is not only creating 'green' jobs, it is fuelling other drivers such as increased adoption of new and frontier technologies as well as, less positively, increased geopolitical divisions.
"I think there are generally three categories that are going to be relatively insulated in the foreseeable future. The first would be jobs that are genuinely creative: you're not doing formulaic work or just rearranging things, but you're genuinely coming up with new ideas and building something new." – Martin Ford, Rule of the Robots: How Artificial Intelligence Will Transform Everything. (Source)
3. Which core skills are required?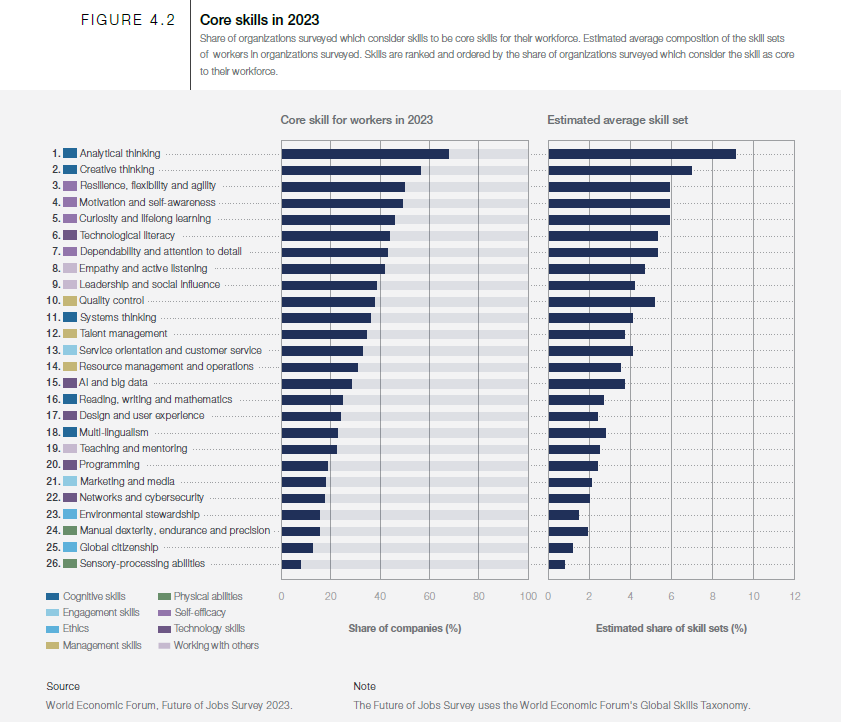 Most of us have moments of introspection in which we ask, 'are my skills going to be relevant in the future'. What we know and do, means getting and keeping a job.
In fact, in rapidly changing workplaces, that old adage needs an update: 'it's who you know AND what you know that matters.'
What skills are currently needed for work, and can we expect them to increase or decrease in importance in the next five years?
Fascinatingly, of the top ten skills, eight are related to how we think and what we might call 'soft skills' (attitudes, mindsets).
Analytical thinking is considered to be a core skill by more companies than any other skill, and constitutes on average 9% of the core skills reported by companies.
Another cognitive skill, creative thinking, ranks second, ahead of three self-efficacy skills – resilience, flexibility and agility; motivation and self-awareness; and curiosity and lifelong learning. These reflect the importance of worker being able to adapt to disruption.
As the data reveals, management skills, engagement skills, technology skills, ethics and physical abilities are considered less important than cognition, self-efficacy, and working with others.
It's how we think and behave – the way we approach challenges and opportunities, and work with others – that employers care most about.
With some relief, they also seem to be the areas in which machines cannot replace humans anytime soon.
So, what comes next?
"The transformation of jobs and skills have significant impacts on businesses, governments and workers worldwide. It is crucial to develop insight forecasts, identify the appropriate talent to promote growth, and make informed decisions on managing the significant disruptions to jobs and skills for employers and workers alike." – WEF Future of Jobs Report, 2023
There's a lot to process, but some key themes emerge:
Every organisation needs to research and plan its climate transition: that means strategy, organisation and product/service innovation, and employee engagement.
Explore the application of frontier technologies, including AI, and the impacts they will have on the workforce through new and different jobs. Consider ethics, opportunity and risk.
Communication begins with defining why the macro trends exist and the opportunities for employees in their current or possible future roles.
Training and education programs need to be (re)designed with technology and sustainability as a basis. A growth mindset needs to be fostered through DEI policy and practice, and new forms of experiential learning that encourage interaction.
"The good news is that there is a clear way forward to ensure resilience. Governments and businesses must invest in supporting the shift to the jobs of the future through the education, reskilling and social support structures that can ensure individuals are at the heart of the future of work." – Saadia Zahidi, Managing Director, World Economic Forum.
For Ellis Jones, that means three key areas of activity:
Strengthening our core capabilities of creativity, behaviour change, identity, and creating shared value (social, environmental, economic). What we call the Pivot Playbook. Read more.
Building creative teams in client companies by sharing our knowledge and approach.
Working closely with clients and stakeholders in complex industries and organisations to address our four Challenge Areas: Mentally healthy work, Climate transition, Equity, and Empowered, resilient workforces. Read more.
Talk to us about planning and navigating the Future of Jobs with employees, customers, shareholders and stakeholders – and how to build creativity in your team.