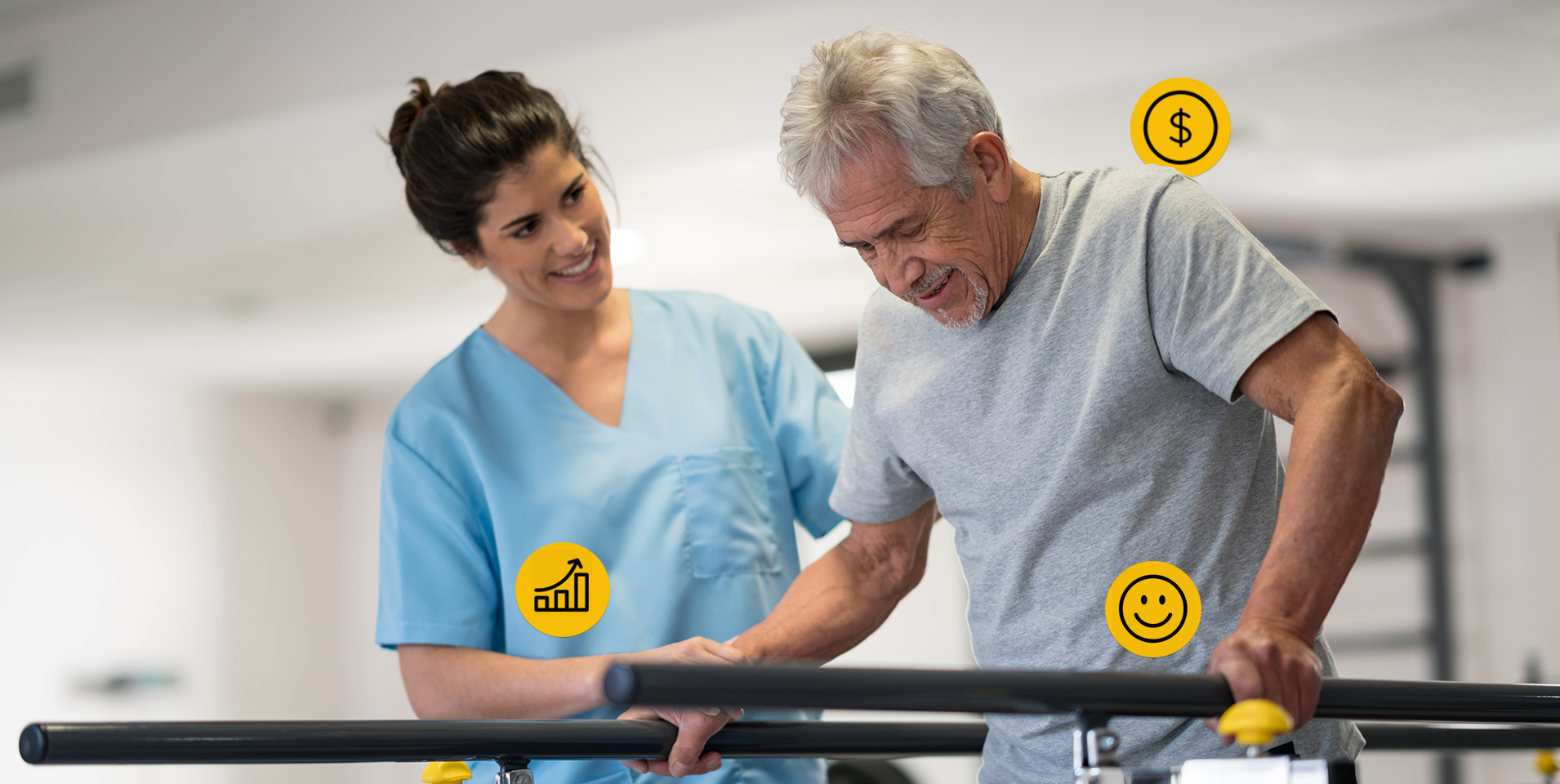 From October 9-12, Brisbane was host to the 42nd World Hospital Congress.
For the first time in over a decade, The World Hospital Congress was held in Australia. 1,000 leaders from the hospital and wider health sector shared insights and innovations from around the world.
Like many of these events, the program was jam packed. Keynotes, panels and concurrent sessions made up the vast majority, alongside an exhibition hall, cultural events and a day long design jam — a rapid fire, design thinking approach to tackle a health challenge and pitch an idea at the end of it.
The following are my key outtakes:
Australia has committed to value based care but there is a disconnect between State and Federal


Greg Hunt kicked off the first morning by talking through the government's commitment to health care and funding. While a lot of the content was by the numbers, he did specifically call out the push for value based care. It has been on the reform agenda for a while and is building momentum. Steven Miles echoed this theme but provided a few specific examples of initiatives that were working in the Queensland context. The general sentiment was that Queensland had trialed enough value based initiatives to know they work and wanted to roll them out on scale. But there is still a mismatch of funding and tension between the Federal and State models that provides more than a few hurdles.

Transformation is bigger than terminology


Lots was made of the transition from "volume to value" – the need for hospitals to provide outward facing data about outcomes, rather than inward facing data about systems and processes. But a transformation to value based care means redesigning health systems dramatically. Prof. Elizabeth Teisberg described hospital transformation initiatives as change that must be "directed towards the needs of the patients, not just what we think we can do better". This is an important distinction because it requires co-design from people outside of the hospital walls. Patient first care is not patient first if there are no patients consulted in the process.

A truly patient first approach challenges the traditional role of the hospital

Following on from the above, a patient first approach creates a very different health care landscape. As was also highlighted by Prof. Elizabeth Teisberg, the use of the term "health care" is important. Healthcare as one word is treatment. But health and care are two words and they're both important. More treatment is not the goal — that's what happens when the system is not succeeding. The real goal is more health. A patient first approach will invest more heavily in prevention and early intervention. While hospitals play a role in this new world, they are no longer the centre of the healthiverse and must adjust their approach to care to reflect this. Many will resist this change but there is a bigger opportunity to go onto the front foot.

It's too late to design for the patient of the 21st century

"Caring for patients of the 21st century" was a common theme. How do we update hospitals and systems to care for new demographics, use new technologies and tools, and enable hospitals to be an innovation leader? These are the correct questions, but in my view, the timeline is not. By the time legacy systems are bought into this century, we'll already be a quarter of the way through the 21st century and the landscape will have changed again. This premise suggests perpetual catch up. Instead, I would challenge hospitals to think about the 22nd To prepare for a complex and uncertain future and embrace this uncertainty as a means of innovation. At the very least, changing the timeline will force stakeholders to think through and resolve current blockers. This type of thinking was illustrated when presenters spoke more about the involvement of machine learning, artificial intelligence and other emerging technologies.

Other countries are using the right tools to make the right changes


There were numerous examples of utilising design thinking and innovative approaches in the redevelopment of health care. By placing the patient at the heart of the process, Canterbury DHB (NZ) interviewed thousands of people on what they wanted to see in a true community focused health care system, then developed it. In a presentation from Mercedes Jabalera (Hospital Sant Joan de Déu, Spain), patient journey maps identified the same pain point for all. This highlighted the need to make a change that had an immensely positive impact on their care delivery. These approaches can be used by Australian hospitals today. They are there to provide real insights and real impact, if decision makers in hospitals are willing to trust the process.

Data might currently be a dump, but it can uncover gold


Prof Keith McNeil opened the final day with an insightful and whimsical talk about data. Data without understanding is a dump, but data can provide clarity in chaos. Data can deliver benefits to patients – outcomes, shorter stays, more productive systems, more efficiency. And data, like technology are moving at a rapid pace and need to be embraced. The Electronic Medical Record is not just a fad, it's here to stay and health care workers need to embrace that. The future is moving towards precision medicine with machine learning/AI etc. and the correct capture, analysis and usage of data is enabling that.
Prof Keith McNeil keynote on health care and data usage
As someone who has worked for years in the events space, I know how hard it is to curate delegate experiences that are engaging, informative and memorable. It was nice to sit in the audience for once and just observe. As a delegate, I also came away with the following:
Events benefit from a variety of sessions

The content I witnessed was very interesting and engaging, but three days of sessions back to back was a lot to take in. For those who chose the option, this congress was broken up by a day long design jam. I attended briefly and found that the energy and content in that room was a far cry from the traditional stand-and-deliver methods. It provided a different dynamic and engaged a different part of the brain. These types of events also allow delegates to see more innovative approaches in action and learn that they are accessible and meaningful. Kudos to Hacking Health Queensland for that.

Variety of voice gives new perspectives on complex challenges

This observation relates mostly to my take away that the strongest presentations came from patients, and their experience of doctors. Doctors who never introduce themselves, of patients being unable to communicate their allergies when unable to speak and of the challenges of navigating a hospital with blindness. They were fascinating, heartbreaking, passionate and stood out as subject matter. They were the stories that all health care workers need to hear because they are the things that need to be fixed. It would also have been great to include a broader range of talks from the fields of design, architecture, behaviour change and the raft of other perspectives and expertise that are required to enact transformed change. These differing views are so important because they give real life insights into how people from diverse backgrounds tackle systemic change and bring the conversation outside of the hospital walls.

Presentations fuel conversation but breaks are not enough


By the middle of day two, I had reached information saturation. It probably wasn't overload, it was more that variations of the same theme were being talked about repeatedly (related to point two). More down time, that enables delegates to discuss insights or new ideas and allow for processing of information has just as much an impact as talk after talk after talk. I can't help but draw a parallel between the old model of care and the new model of care: stop talking at me and start conversing with me.
Prof Claire Jackson keynote presentation.
The World Hospital Congress provided a worldwide snapshot of the state of Hospitals. In and of itself, it was a fascinating opportunity to place Australia in the global context. Fundamentally, we do a lot right. But widespread, dramatic changes are coming and it is not clear whether we're ready. Pockets of health care are ready and have already started to see benefits, but there is a gamut.
There will be years of pain in this transition but the biggest pains will be caused if health organisations go back into their shell. This is the time to embrace change and allow change to work to their advantage.
Talk to us about implementing patient first and value based care initiatives.
Sector
Sector