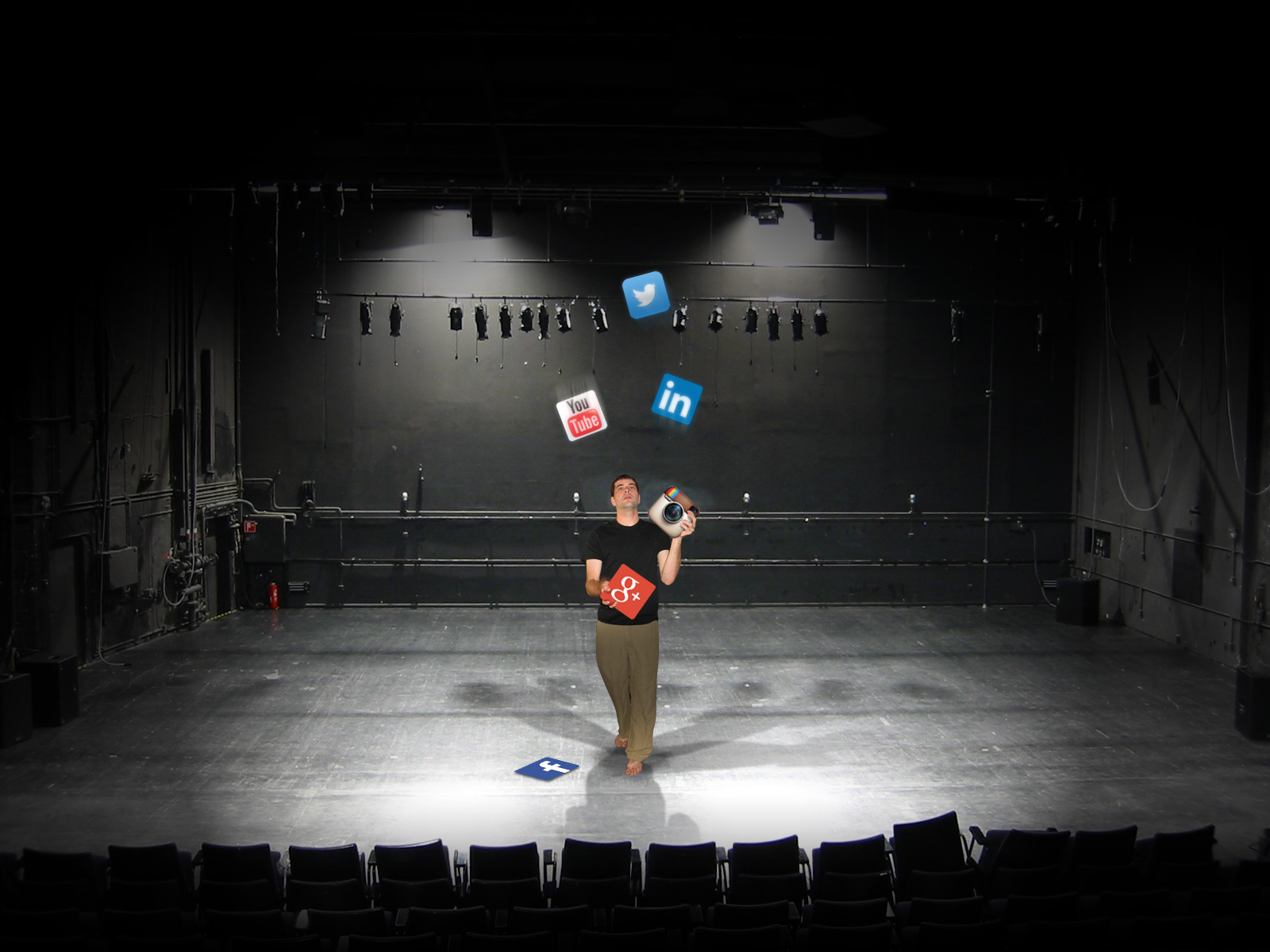 When Shakespeare established a new theatre on the banks of the Thames at the eve of the 17th century, why did he call it 'The Globe'? What did he have in mind for his work, presented at this now-famous institution perched so near the river that took England to the world?
415 years later, the world is a small place indeed. Analysts estimate that this year the penetration of smartphones will exceed computers. We carry the world in our pockets, often knowing much more about what happens in far away continents than in our own backyard. Online, we pursue our interests via video, blogs and social network commentary many times a day.
For arts companies, this fast evolving space is a new stage, a new gallery, that – although placed within vastness of the internet – is remarkably easy to find with common search tools on platforms such as Google, Twitter and Facebook. No billboards or classifieds, just a network of engaged followers and some basic search engine optimisation.
Responding to technology, broadening its horizons, the arts world is evolving. Theatre and dance companies, musicians and visual artists are performing on a new social media stage. The financial success of a theatre company is no longer dependent on the number of eyeballs in a theatre. On the digital stage, eyeballs are everywhere – on the sofa, on the train, on the other side of the world. They are watching all the time and they are hungry for more. Arts companies are taking them through the audition room, into the mind of the artistic director, via the life-stories of performers, to a front row seat on opening night.
In 2012, the Royal Ballet increased online sales to 60% of all bookings. Their Youtube video, Royal Ballet Live, reached one million views, 72,500 Facebook likes and 48,400 Twitter followers within the first five months online. It isn't a polished recording of a concert; it is a recording of a backstage rehearsal that runs for no less than an hour and fifteen minutes.
The Royal Ballet is an example of companies using online engagement to build brand awareness, find new audiences, develop new revenue streams and attract the next generation of outstanding dancers and choreographers.
With new opportunities, and the sense of urgency the internet so often brings, come some interesting questions for traditional arts companies.
Holding audiences, developing new ones
There are only so many seats in a theatre and only so many shows a company can comfortably put on in one season without taking unnecessary risk. In between seasons there is an information and engagement blackout.
If we are brutally honest, there are only so many people in any one city who return to theaters regularly to see contemporary work. Audience development has its limits in physical communities. But not online.
Online, the audience for contemporary art in all its forms is in the millions, not hundreds. Art, so visually compelling, is eagerly consumed and shared. Always stimulus for earnest conversation, it is most at home on social media platforms where authentic content is in short supply and dialogue among special interest networks thrives. Arts social media marketing is welcome.
San Francisco Ballet estimates that 11% of their website traffic comes via the 300,000 people who follow them on social platforms. Principal dancer, Maria Kotchetkova, has 195,000 followers on Twitter. This is what leading companies do in 2014. They engage with their audiences online, taking the excitement, intrigue, and star power of their productions to new audiences and faithful followers.
By looking at art from the perspectives of different audiences, companies are unpacking their world, making the experience of creation and the art itself more accessible.
Your brand. At once niche and global
Arts brands carry emotion. Excitement, nostalgia, suspense, joy and sadness. Emotion rooted in the company as much as the work.
Emotion is the currency of all great commercial brands and most would dearly love to have the authenticity and power of arts brands that are managed well. After all, it's a key factor in why companies sponsor arts organisations.
A key benefit of the web is that it simultaneously offers massive scale brand awareness and targeted engagement with audience segments. The company can maintain the integrity of the brand via targeted content and activity online, while also leveraging the global reach of social media platforms and search engines.
By considering the emotion of a work or the company, arts communicators can select content and engagement platforms that reinforce brand identity and take the intimacy of live performance to passionate consumers. The sense of exclusivity that often exists around arts companies can be maintained by controlling the type of content and and regularity of distribution.
Generate new revenue streams
Traditionally, arts organisations have four main sources of recurring funding: government grants, philanthropic support, sponsorship and sales of work or tickets.
Government funding is receding. The fierce competition for philanthropic support often makes the return on investment minimal (wages for staff to acquire support vs increasingly small donations). Revenue generated through ticket sales is limited to the number of seats and the number of shows.
Why not enlarge the amphitheatre? It costs $9.99 to download a movie from iTunes and there are millions of committed arts consumers worldwide. Think of it as selling tickets to a show on Google Play. Other ideas include paid web casts with artistic directors on their approach or technique or limited edition merchandise (for example photographic prints). It requires thinking like a media company – only with scruples.
With careful thought into protection of the value, arts companies can generate consistent (as opposed to seasonal) revenue streams through social media.
Demonstrate achievement of goals
Online, everything is measurable using freely available tools. Qualitative research is easy to generate and share by asking simple questions on social media.
As funding partners demand more and more sophistication in reporting, social media and web analytics are every arts company's friend. We can demonstrate achievement of objectives and more – we can demonstrate engagement and influence in global arts capitals among the business and political elite with whom governments are so keen to connect.
In addition, analytics make the refinement of content, leveraging of channels, and target setting much easier.
Collaborate with other artists
To be visible to audiences is also to be visible to other artists. Often they are the same thing.
It is hard to visualise the potential of a collaboration based on a bio in print, or a news article. Online we can create a much deeper experience through interview or monologue on film or podcast. That experience can spark creativity, allowing other artist's to view a company's work and context from another perspective.
Freed from the constraints of a theatre, the work can be produced for the web-based platform.
Mix media, cross art productions have defined the arts for the past 10-20 years. Watch this continue to explode in exciting ways.
These artistic connections would rarely occur before the internet and, now, social media. The internet has created a space for artists such as Eric Whitacre's Virtual Choir and virtual band 'Gorillaz' to meet and be found without geographical restraint.
Raise funds
With governments and businesses tightening their belts on arts investment, arts companies are competing more than ever for a dwindling pool of grant and sponsor funding.
Social media has opened up new possibilities for fundraising either via structured crowdfunding campaigns (via platforms such as Pozible) or targeted donor campaigns.
Crowdfunding is not a source of sustainable revenue but it has the advantage of matching funding to discrete projects while developing new audiences (read 'the truth about crowdfunding'). The exercise itself can be one of co-creation.
Annual campaigns, designed for social media engagement and consumption, can raise brand awareness and reach large numbers of potential donors, particularly when the outcome can be experienced by contributors. For example, a webcast, recorded performance or behind the scenes 'deep dive' into a dancer's existence.
Social media campaigns put the challenge in perspective, enabling high net worth individuals and funding bodies to feel a sense of ownership at scale.
Impact
If your goal is impact – to make people think, act and feel differently every day or just for a moment –  then social media has to be considered.
Directly or allegorically, art has forever started conversations, shifted politics, ended and started, or represented. Now we can amplify impact.
It is claimed that the name of The Globe Theatre alludes to the Latin tag totus mundus agit histrionem, in turn derived from quod fere totus mundus exerceat histrionem—"because all the world is a playground".
Immensely talented and ambitious, Shakespeare would not have hesitated to go online and go global.
Sector
Sector