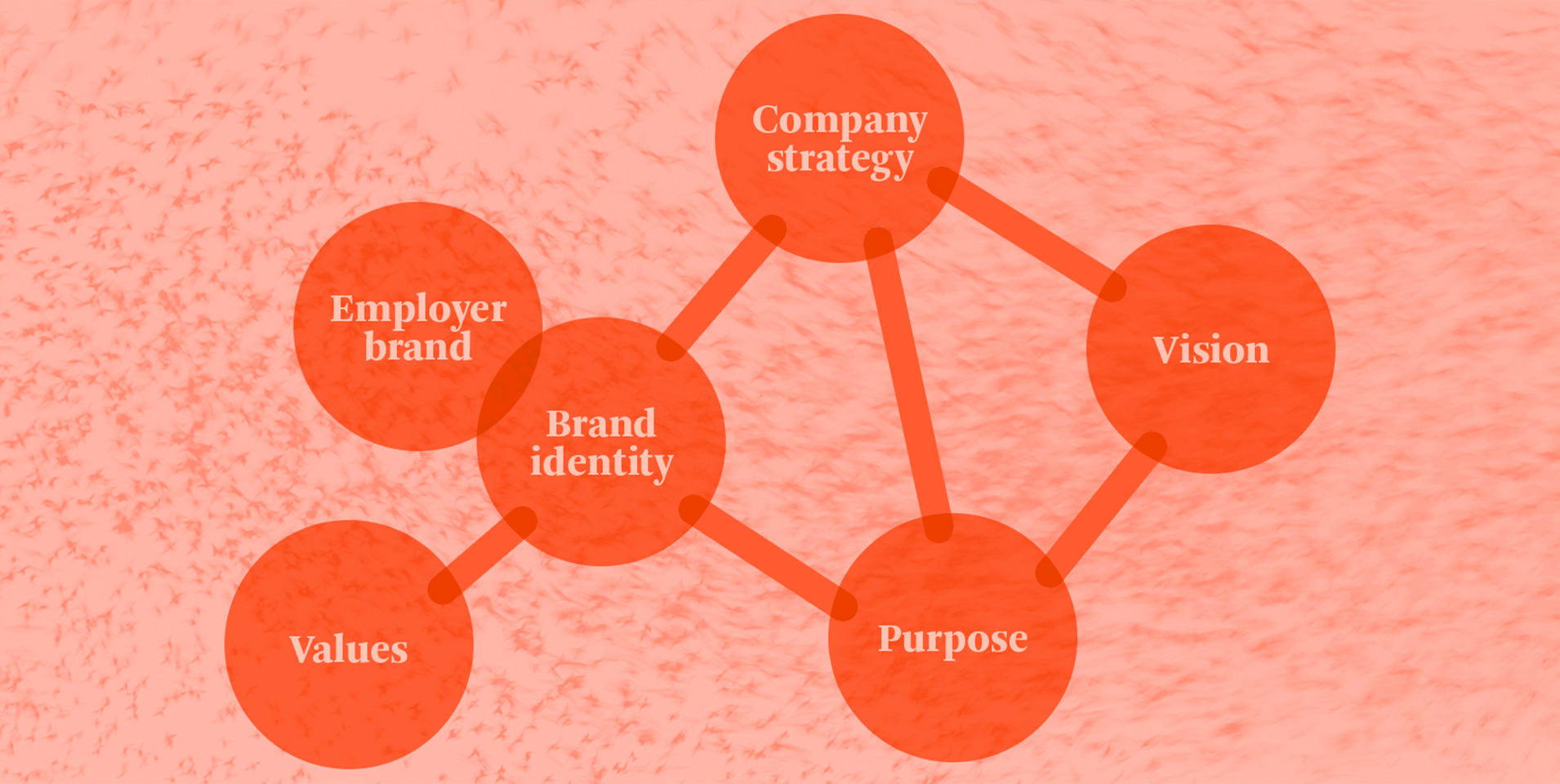 More than ever before, brands need to stand for something to remain relevant to the complex, multigenerational audiences they seek to reach.
So, how do organisations define purpose relevant to their brand identity? How do we do achieve 'branding with purpose'.
Essential elements in strategic architecture
The definition of purpose, as distinct from mission, has emerged as a critical piece of the strategic architecture of any organisation.
Purpose defines 'why we matter', and how the organisation acts on its potential, and responsibility, to create economic and social value.
In a world where people expect companies to clearly articulate a position on important challenges, purpose also creates a platform for taking a stand on the issues that matter to stakeholders.
A purpose says 'we have worked hard to understand our place in the world'. It acknowledges that doing good is an ambition – it makes business sense – but does not say 'we don't make mistakes'.
A common purpose, consistently applied, builds trust and reputation resilience. This enables businesses to take risks, weather crises, and innovate for growth as different conversations and relationships are formed.
Purpose connects intention across the business. It answers the 'why' so teams can focus on the 'how' and the 'what'.
Also in any organisation's strategic architecture is the brand identity.
Branding defines 'who we are' and 'what experience we want to create' – for employees, customers and other stakeholders.
Brand and purpose should inform all strategy and planning, ensuring all decisions and actions reflect how the organisation sees itself in its relationship to people and the planet.
So, how do brand and purpose relate?
Ellis Jones has the benefit of a strategy and insights practice that guides organisations through research and strategic planning exercises working right alongside communications and visual design practices that develop brand and place identities.
Always keen to establish principles, a philosophy and a process, you can be sure we've sat around the table and wrestled with the question of 'how do brand and purpose relate?' 'How do we systemise branding with purpose?'
And, we've applied the results of that process to our own company, the ever willing guinea pig.
Branding defines a set of elements that make up a relatable and distinguishable identity, as well as the experience and relationship that identity creates when someone interacts with it. You recognise it. You feel it.
An organisation's purpose should be noticeable and felt through its brand experience and identity.
Within the core of the brand identity, at the strategic level, the social and environmental values of the company should be interpreted as identity elements.
The purpose-informed position the company is taking, and the ambition communicated, should be congruent with the brand personality, and how it is expressed in words, images, and behaviour.
In this sense, purpose serves to meld the brand identity and corporate strategy in ways that weren't as clear before.
Brands today are experienced for who they are as much as what they stand for. It's an exciting and rewarding time.
Virtuous cycle of escalating returns
If an organisation expresses a purpose that is relevant and meaningful, people will trust its leaders to make the right decisions when faced with decisions above those of daily operations.
They will be more understanding and less reactive to the inevitable mistakes a large and complex organisation can make. More loyal when offered a competing product or service, or higher paying job.
People share purpose related content published by brands more and on more diverse platforms, helping to reach new audiences with a reason to engage, and existing audiences more often with a reason to keep listening.
This activity creates a virtuous cycle of escalating interest in what the company sells and does, while also escalating impact as the work positively impacts people and their environments.
This is what we call shared value creation. Exercising purpose through strategy and innovation to achieve financial returns and sustainability, by addressing social and environmental challenges.
In summary, branding with purpose makes good business sense and creates real value.
Check out these case studies for some inspiration:
Contact us to develop your purpose, and place it at the core of your brand.