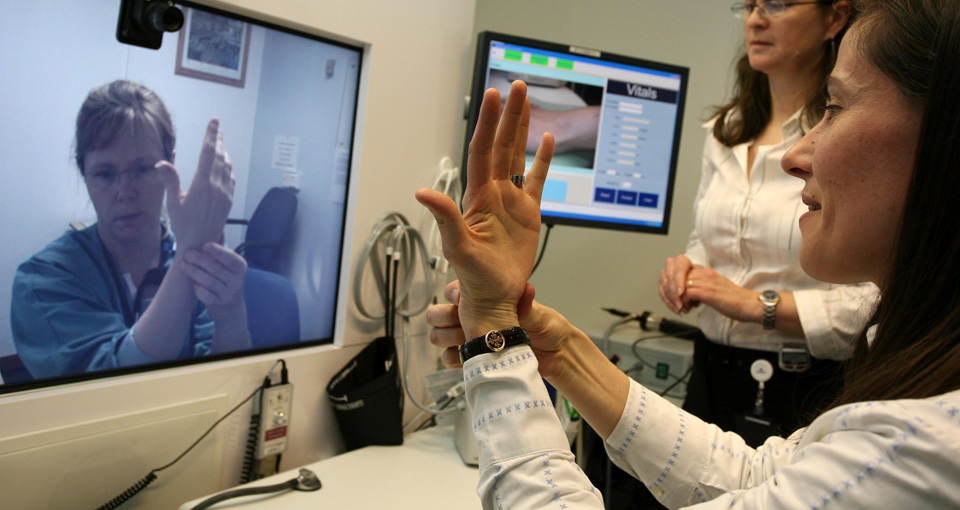 In a world that is striving to be more efficient, we are figuratively (and perhaps with regards to Telehealth – literally) losing the human touch. The introduction of the new Telehealth system into Australia has been met with mixed reviews especially in the aged care sector.  In a time of life where people are becoming more vulnerable and often more reliant on the safety net of their carers and trusted medical professionals, a shift to on-screen consultations and diagnoses may in fact prove to be a hard pill to swallow.
The Telehealth initiative aims to remove some of the barriers to accessing medical services for Australians who have difficulty getting to a specialist or live in rural and remote areas. It provides the opportunity for people in aged care to be referred by their GP to a specialist for a video consultation, where both will be able to see and hear each other via video conferencing technology. (Ref: medicareaustralia.gov.au).
Ellis Jones specialises in communicating within the aged care sector.  The basics of behavioural change are what we strive to achieve from a communications objective in our daily work with our clients and their target audiences: first awareness, then understanding, followed by behaviour change or uptake.
In the case of telehealth, it will be interesting to see how warmly it is welcomed and how easy the transition to remote care is made in the aged care sector as historically, mass adoption of new technology has been slow. Even telephones were initially met with resistance.
We can't overlook the fact that internet usage is much lower for older people.  Although its usage continues to grow, in 2011 only 37% of people 65 years and above accessed the internet, compared to 79% of the total population (Australian Bureau of Statistics, 2011, Household Use if Information Technology, 2010-11, cat no 8146.0.)
With all of its benefits including far reach, ease of access, cost effectiveness and efficiency, for those who have been 'visiting the doctor' their whole lives (an intrinsically human interaction), it may take some time getting used to 'viewing the doctor' for the foreseeable future.
All the hardware upgrades, software launches and superfast broadband in the world won't take away from the fact that sitting down in front of a screen with a digital view of your healthcare professional may indeed be a barrier instead of a bridge.
As health providers consider and initiate Telehealth as a new consultation model, supported by the technical upgrade and launch of the National Broadband Network, there is opportunity to better communicate the numerous benefits of Telehealth to older Australians. The challenge will be overcoming their potential fear of the process of engagement and ensuring they understand that video/telephone based consultations have a purpose but will never take the place of the gentle touch of someone who cares.
Ellis Jones knows health communications and the online space. Get in touch.
Sector
Sector