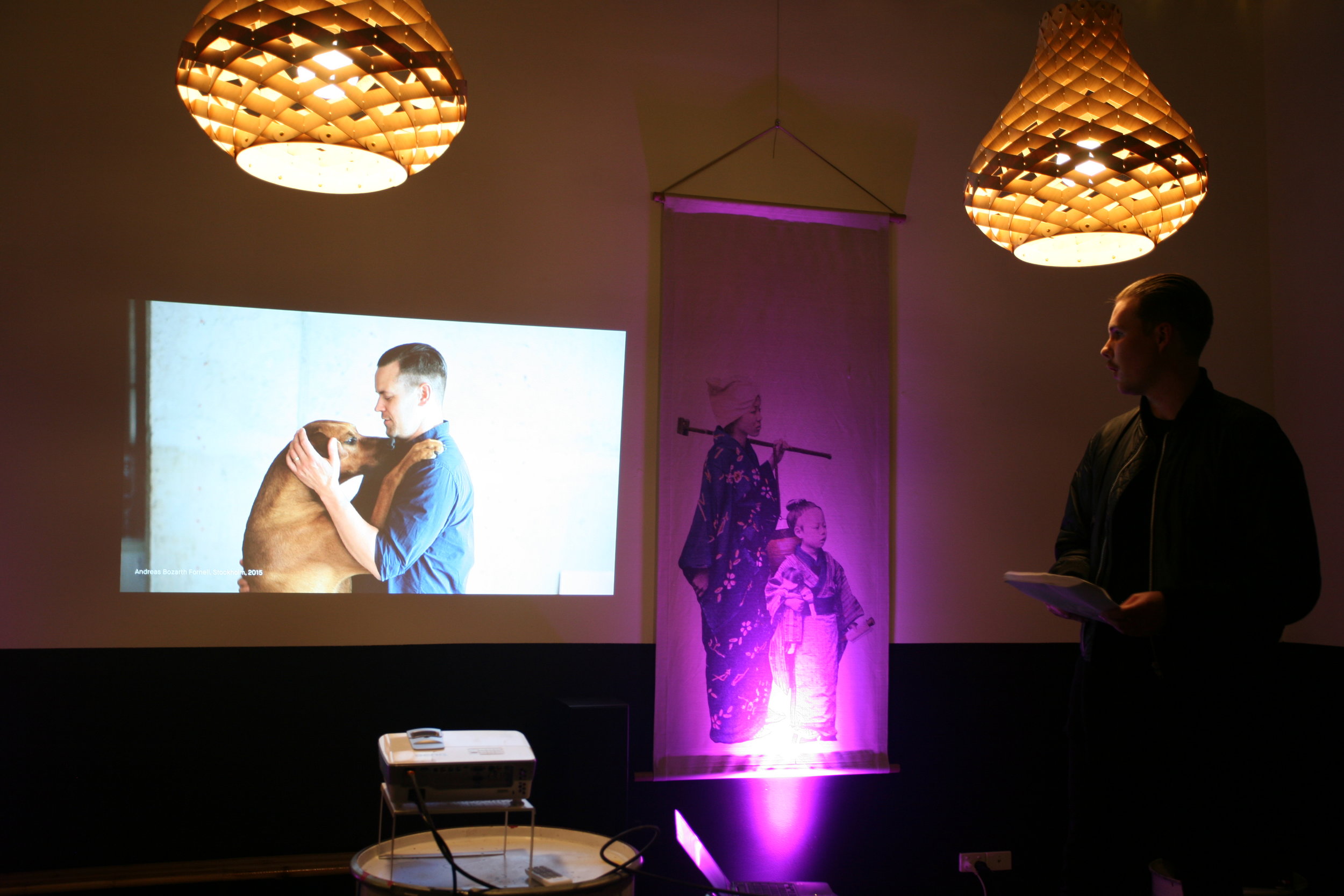 Designers are no longer being defined by specific modes of output by our clients and collaborators. Design is being recognised by business and government as a powerful way of thinking laterally to solve human problems. This has released us from labels like 'print', 'digital', 'industrial', 'interior', to work collaboratively and intuitively on projects at the nexus of these traditional boundaries. The opportunities are boundless for nimble, collaborative teams; sharing the spoils of specialisation, with the scale that a breadth of skills can unlock. We also must look beyond our own backyard, to seek inspiration in a plethora of different creative voices and vehicles, from dance to winemaking, from public art to political dissenters.
On a cold, wet winter evening in Collingwood, 50+ designers and lovers of design gathered together to share in conversation, inspirational talks by four internationally renown creatives, and a steady supply of Moon Dog Brewing's finest efforts.
Our speakers on the theme 'Atmosphere' all work at the intersection of multiple traditional design disciplines. Be it fashion, photography, art direction, architecture, industrial and interior design, each of them focus on the creation of experiences, that strike, move and resonate with chosen audiences.
Here's a taste of the inspiration that was on offer.
1. Tom Sloan, miriamandtom, Blood Mountain Foundation
"Politicians aren't going to shape the face of our cities, it will be private development. And in order to influence that, we need to speak their language, and understand what drives them"
Tom is one half of design duo miriamandtom, a design collective led by designers and creative entrepreneurs, Miriam Sleeman and Tom Sloan. He is also a co-founder of the  independent non-profit arts organisation Blood Mountain. Sloan works with developers, planners and public programmers to engage communities, users and stakeholders in the process of civic change. The result is that emergent projects – often in highly sensitive urban contexts – are celebrated and supported by the communities which use them. miriamandtom's work on the Cubitt wall in London's King's Cross, and the Skyscape at New York's Penn Station have garnered attention to their work from all corners of the world.
Tom spoke on how the best briefs never fall in your lap. That the onus is on every engaged, critically thinking designer to make their own opportunities to bring design to the public realm. Walking the audience through the stories behind some of his most celebrated work, Tom let the group in on the reality of interrogating developer's budgets and plans to discover opportunity to turn arbitrary line items into vital experience.
"Politicians aren't going to shape the face of our cities, it will be private development. And in order to influence that, we need to speak their language, and understand what drives them", Sloan offered.
"Creativity is used as a tool to drive interest and sales, and often quickly discarded, a transient expression. That is a window for us. A fleeting opportunity to demonstrate that creative thinking and interventions in physical spaces have a lasting beauty and value."
Read about and see more of Tom's work here.
2. Nick Smith, Drop Magazine
Nick is the founder and editor of Drop Magazine. Drop focuses on contemporary high-end fashion, music, design, art and culture. A collective of contributors from all over the world — the most progressive thinkers and creative trendsetters in their fields — passionate about what they do and determined to be different. Drop has interviewed some of the worlds foremost designers and creatives, and also collaborated with major fashion houses on art direction and photographic projects.
Nick introduced the audience to his journey with Drop, from a curated Tumblr feed, to an interest in contemporary designers, photographers and fashion designers, and through dogged persistence, the collaborative and curatorial platform that is Drop.
He shared with us some of the more memorable interviews and collaborators such as Frederik Frede of Freunde von Freunden, Michael Casker, Issey Miyake (the label) and Stefan Diez. Nick also introduced the stellar team he assembled in preparation to take Drop magazine from its digital platform to a printed publication. Headlined by none other than Bureau Mirko Borsche in Munich for design and art direction.
Finally, Nick shared his key learnings from the Drop experience. They were simple and poignant, and conveyed how he has been able to amass such an incredible bank of creative expression and collaboration with essentially no financial backing. They were as follows:
Start something
Be authentic
Follow up
Collaborate
3. Edward Linacre and Viktor Legin, Copper
Copper create objects, furnishings and bespoke commissions of exceptional innovation and material quality. Products that retain value for generations. Australian design, manufactured to the highest standard. Copper presented in conversation with David Constantine, Ellis Jones' design director about their recent rebrand; finding a uniquely Australian voice in a globalised product design market.
Below is a few excerpts from the discussion between David Constantine (DC) and Copper (C):
C: "Ellis Jones guided us to the intersection of our philosophy and practice, and opportunities to positively influence the fast changing industries we work in. They showed us the importance of brand, and helped us focus on what we do best."

DC: "If you know Copper, you know the compelling mix of serious intent, unabashed confidence and ribald humour. It has earned them a formidable reputation and a swag of awards."
"The boys have prodigious talent, but they don't rock up to Salone with an entourage and a French Bulldog – they arrive with the lights in the suitcase, and the clothes on their back, to construct the experience themselves. They are designers and makers, and they are all about the work and never the pretence."

"To ensure the maker philosophy was stamped on the studio and its work, we wanted a maker's mark. We researched pictographic marks throughout different periods of history, with a focus on Australia's earliest inhabitants. Star maps painted onto the walls of caves led us to consider how the element Copper is formed in the heart of the largest stars in the Galaxy – the cosmic furnace. The symbol is cut in two reflecting the design partnership of two halves. The makers mark will be carried by every Copper product, as an indicator of design integrity and manufacturing provenance."

C: "We trialled the new brand at Salone di Mobile this year, and we have never experienced such a strong positive reaction to our stand. We're in talks with a number of exclusive European manufacturers and retailers as a result".

DC: "Copper's work, like this country, is rich in materials and stories, it has a certain resolve, an inevitability which can only be borne of confidence in origin and purpose. It has moments of breathtaking beauty, yet is never above taking itself down a peg or two. It was these characteristics that we wanted to put at the heart of the work,"
You can see the case study of the Copper brand here. Visit Copper's website.
All-in-all a lively and inspiring first hit-out, and there are plans already underway for Design Meet-up No.2 later in the year (one speaker has already committed – from our audience – you know who you are).
You can see images from the night here.
Sector
Sector