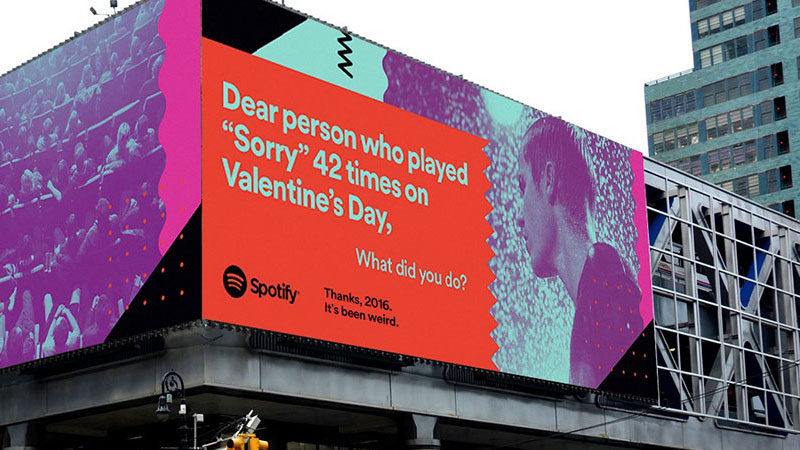 'Design Thinking', or 'Service Design' applies a structured creative process, and focus on customer insights familiar to design, communications, and marketing professionals, to scenarios like product, service or business innovation, as well as customer experiences and brand engagement.
As an introduction to PRIA and Ellis Jones' "Design Thinking for Communicators" event, EJ Design Director David has highlighted several case studies of recent popular campaigns and retail experiences, made possible by communicators through the application of design thinking principals.
Join us in The Realm of Possibilities on Tuesday 26th September to find out more.
Case study #1: Behaviours
What is it?
Spotify's user data generated campaign – Spotify internal creative team
Since November 2016, global audiences have been exposed to Spotify's OOH campaign, with creative directly driven by users' streaming habits. For instance,  "Dear person who played 'Sorry' 42 times on Valentine's Day, what did you do?",  "Dear 3,749 people who streamed 'It's the End of the World as We Know It' the day of the Brexit vote, hang in there". The campaign has continued to develop across the UK, Europe the US and Australia over 2017, with pertinent facts being pulled out and run locally for holidays, events and demonstrations.
What's so interesting?
Spotify has demonstrated an acute knowledge of their customers' journeys and experiences on the platform. Creating the opportunity for technical metrics to be fed into a creative communications space within the organisation is an achievement in itself, likely facilitated by a design led approach that creates connections between, product development, audience insights and brand communications. Beyond this, the creative concept uses humour and a veil of anonymity to turn what could have been a perceived intrusion, into an acknowledgement, that the brand is all about its users, that it is nimble and responsive.

Case study #2: Experiences
What is it?
Fortnum & Mason, retail environment, product and communications refresh – in-house team and Design Bridge
Fortnum's had become a dusty, albeit posh department store minutes from London's Piccadilly Circus. The kind of place that sold tins of shortbread to tourists, or perhaps boiled sweets for your Nan at Christmas. This recent atrophy was at odds with a long, (300 year long), history of retail innovation and excellence, serving Britain's best and brightest with goods from all over the globe. Spurred by some visionary executive leadership, and driven by an in-house retail customer experience and brand expert, Fortnum's undertook the process of reclaiming their heritage of innovation. Over several years, the team undertook a complete refresh of interiors, packaging, merchandising and point of sale, as well as the online retail experience, to be 'unexpected', and unabashedly contemporary. A program of collaboration and curation of contemporary arts practitioners and exhibitors was also put in place and attracted a good deal of media interest to the relaunch.
What's so interesting?
Scale, in a word. The phrase 'turning around the Titanic with dental floss' comes to mind, and yet, that is exactly what Fortnum's has done. Such change in an organisation weighed down by centuries of expectation and reputation is not easy to affect. A commitment to harvesting and analysing customer insights, and then championing a design led approach to product, environment and customer journeys provided the rigour and evidence required to convince leadership and a story to tell the world.
Case study #3: Objects
What is it?
Nike Makers' Experience, Nike by You Studio – in-house team, and Wieden+Kennedy
This month, Nike unveiled what they have declared to be the future of retail. A device that allows for design, customisation and manufacture of a pair of Nike sneakers within 90 minutes. Users can select patterns, textures or finishes from the Nike heritage library, or randomly generated patterns based on filtering of speech and interactions. This resulting aesthetic approach can be applied to one of two base sneaker shapes, and is produced on demand.
What's so interesting?
In addition to a glimpse at the future reality of retail, Nike is employing a key tool of Design Thinking, 'evidencing'. Packaging of a 'slice' of the future into a tangible demonstrative object provides a physical point of interface with all the abstract concepts and brand attributes of technology, innovation, personalised product, performance, etc. The product of this process is the physical expression of 'Just Do It'. Furthermore, the investment in the technology, experience and object creates the story for the campaign and publicity around it. The narrative can be about linking documentary content to higher brand messages.
*Source: Nike
Sector