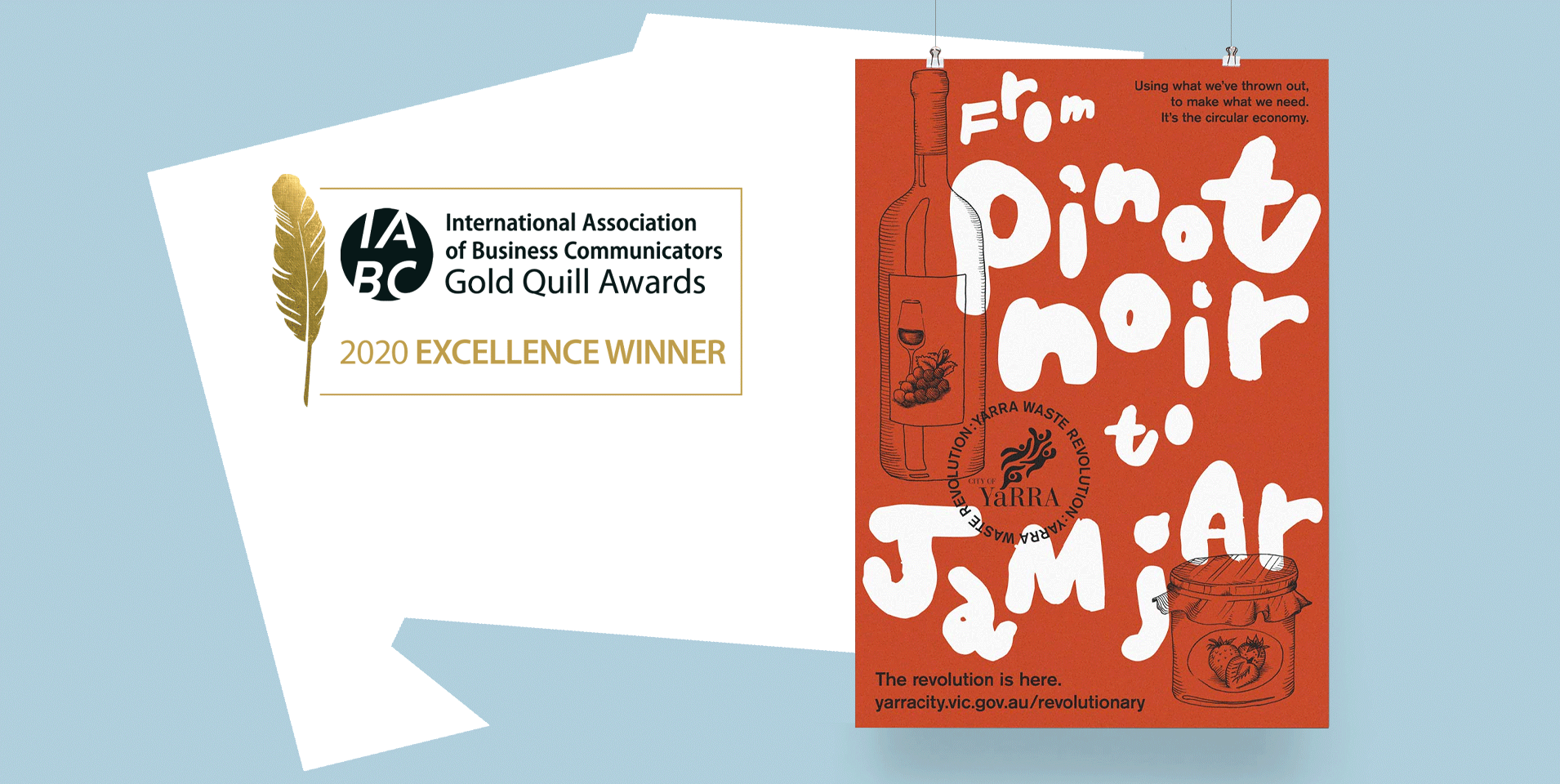 Ellis Jones has been announced as IABC Gold Quill Award winner for our government communications campaign, the Yarra Waste Revolution, with the City of Yarra.
For more than 40 years, IABC's Gold Quill Awards have recognised and awarded excellence in strategic communication worldwide. Gold Quill is the only awards program that honours the innovation of communicators on a global scale.
The Gold Quill Excellence Award is the highest recognition possible and was received by Ellis Jones not only for the City of Yarra campaign, but also for our work with  the  state government sponsored Energy Affordability Training Partnership and the LCI Melbourne digital campaign. Three awards for excellence.
We also received an IABC Gold Quill Merit Award for the Energy Safe Victoria, Be Sure campaign (case study here).
The campaign,  the Yarra Waste Revolution, was developed with Yarra City Council whose team members were fantastic to work with.
Award judges provided assessed the work, making a range of comments about the different facets of the campaign.
"A great example of what can be achieved when you combine data analysis, strategic thinking and pure creativity. To achieve behavioural changes, people need 'reasons to believe' and easy to engage experiences (particularly with issues like recycling) and delivered it excellently."
"Some excellent creative thinking which had a real impact – others could learn from this case study which is particularly relevant in today's environment."
"A robust solution to a complex challenge. You expertly demonstrated the power when you combine data analysis, strategic planning and creative execution. Great work!"
For our team, was a highly rewarding project to work on because of the breadth of our team's work (from branding and illustration to community engagement and prop construction!)  and, most importantly, the result: 92% of residents are now sorting waste correctly. And that's good for people and planet.
Thank-you, Yarra, for the opportunity to work with you on finding solutions to Australia's waste crisis!
See the full case study here;  also, the thinking behind the beautiful objects and designs.
Find our more about our work in government communications.
Sector