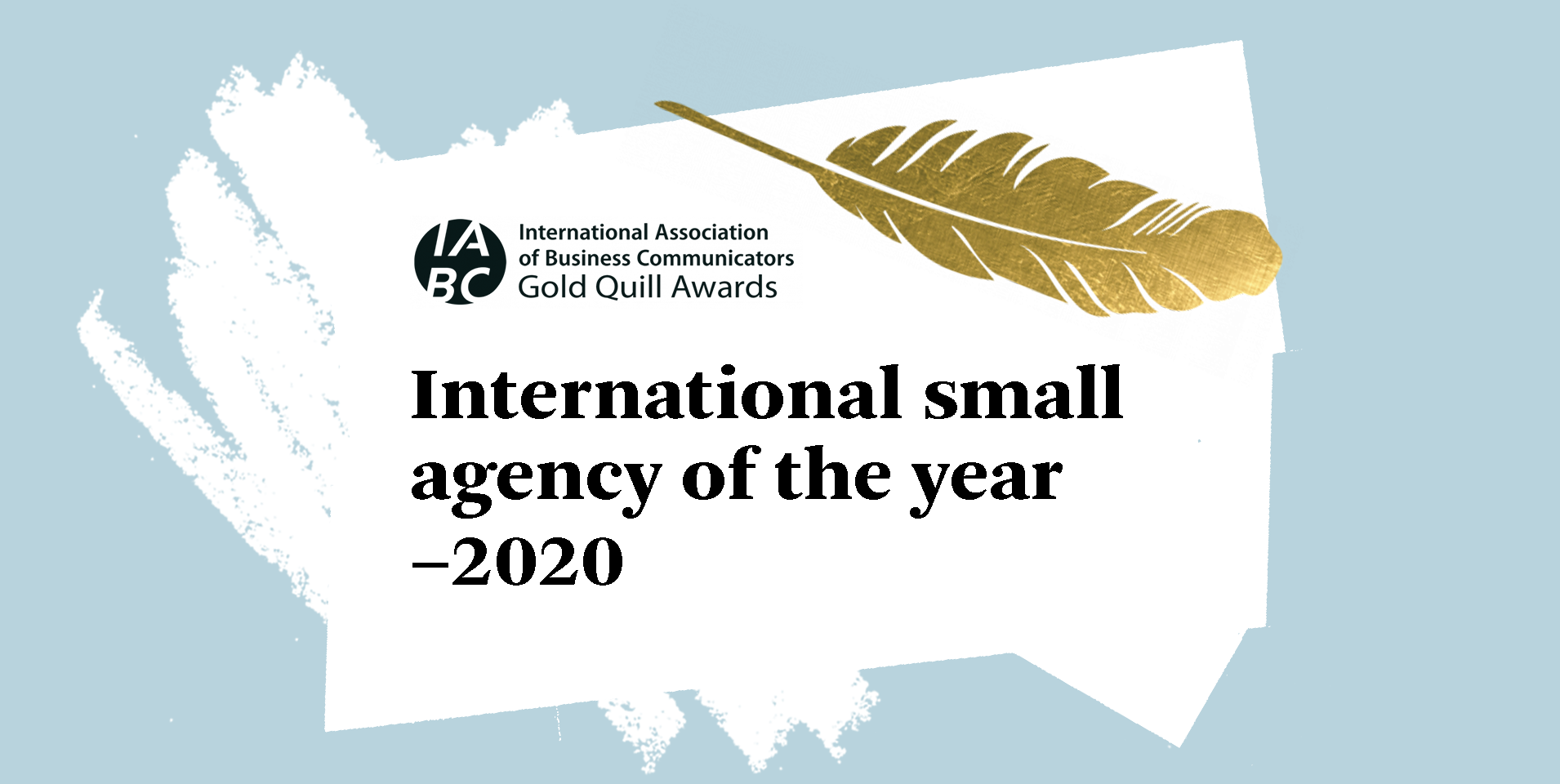 The International Association of Business Communicators (IABC) announced Ellis Jones as Small Agency of the Year  – recognition for winning the most Gold Quill Awards in the 2020 program.
For more than 40 years, IABC's Gold Quill Awards have recognised and awarded excellence in strategic communication worldwide. Gold Quill is the only awards program that honours the innovation of communicators on a global scale.
The "of the Year" special awards highlight the highest-scored entries in the program submitted by an agency or organisation – evaluated based on the number of winning submissions from an agency. A small agency is one categorised as having 6-20 employees (over the course of the year we averaged about 17 employees).
Ellis Jones proudly accepted this agency award at the IABC's (virtual) gala in mid-July, along with the Jake Wittmer Research Award for our work on the DELWP Energy Affordability Training Partnership. This special award acknowledges the global 'best of the best' – highlighting outstanding research that is instrumental in ensuring the success of a communication program.
Excellence awards were also received for our work on LCI Melbourne, the Yarra Waste Revolution, and a merit award for  'Be sure' carbon monoxide awareness.
Zora Artis, Immediate Past Chair of IABC Asia Pacific says the awards are validation for the agency's work across disciplines.
"An IABC Gold Quill Award is recognition of a standard of excellence amongst the world's best in strategic communication, research, and execution. As an experienced evaluator and multiple award winner, I know what it takes to attain this standard. It's tough. Elis Jones received not one but three IABC Gold Quill Awards of Excellence for which they should be commended. But what is rather special about this for Ellis Jones, is that their IABC Gold Quill Award in the communication research category attained the highest honour for outstanding work with the Jake Wittmer Award. To top off their extraordinary awards, Ellis Jones was recognised with IABC's Small Agency of the Year globally. Truly, an incredible achievement and one that we're proud of as members of our local IABC Victoria chapter and our Asia Pacific region. Kudos to Rhod and the team at Ellis Jones."
Zora Artis, GAICD SCMP FAMI CPM
Read more about our work.
Talk to us about your strategy, campaign or project.
Sector