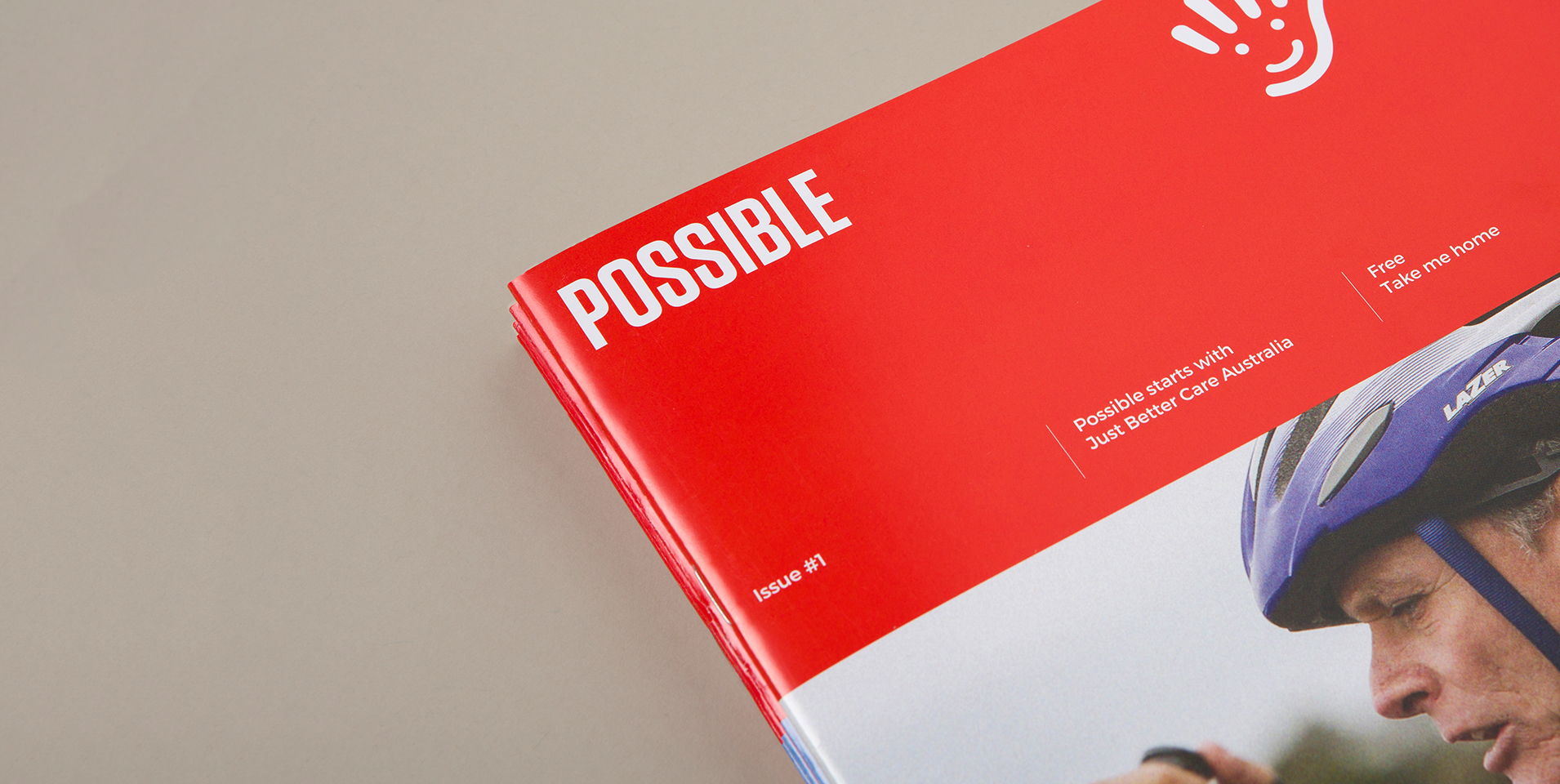 Australian agency, Ellis Jones, has received an international award for Possible, a purpose-led campaign for national aged care and disability support provider, Just Better Care. The Gold Quill Award of Merit is granted by the International Association of Business Communicators (IABC) for strategic communications achieving measurable results.
"Possible motivates people with a disability, older Australians and family members to overcome their fears and frustrations, and make the changes they need to live a better life," says Janine Yeates, aged care lead at Ellis Jones.
"Our research revealed that Just Better Care has a reputation for working heroically to get results; however, customers are not aware of their options, wary of revealing their lack of independence, and they couldn't tell the differences between providers. There's a lot of white noise and hyperbole in aged care marketing which is exactly the opposite of what people need when making difficult decisions.
"A positive call to action, Possible says 'you can do it, we're here to help, let's make your goals a reality, right now.'"
Yeates says Ellis Jones has worked with Just Better Care for over two years and the maturity of the relationship was fundamental to getting agreement on creative concepts as well as buy-in across the company's many territories.
"The creative concepts were bold compared to what had been done in the past but they reflect the confidence current clients have in the company, and the need to differentiate in a sector awash with advertising that emphasises care not individual achievement," she says.
Press here to read the case study. Press here to see the creative concepts for the campaign. And here to watch a video.
A pioneer in the development of shared value, Ellis Jones has a well-established social impact practice delivering strategy and evaluation work to clients in diverse industries. All agency work addresses business fundamentals and social outcomes. Yeates says her team views communication as a tool for impact, improving access, advocacy, understanding and engagement.
"We consider every brief through the lens of social impact. And we consider the communication function a vehicle for positive social change," she says. "Just Better Care clients are informed and empowered along their customer journey which leads to better decisions and better health and wellbeing. At its foundations, that's what Possible is all about."
A highlight of the six-week campaign were videos which were viewed an average of 8,500 times. A conversion rate of 32.75% was achieved on over 2,300 visitors to campaign microsite. Mainstream news coverage on Channel 7 boosted local enquiries.
Reviewing the Possible campaign, IABC's evaluators said "the customer research, segmentation, and personas were superior," while adding, "work samples showed creativity and exceptional storytelling to engage and inform". Evaluators also commended Ellis Jones on the competitive influence of the campaign, stating: "The brand definitely stands out in the competitive landscape with its crisp lines, emphasis on the personal (individual stories)… Well done across all the platforms."
For more than 40 years, IABC's Gold Quill Awards have recognised excellence in strategic communication worldwide and are acknowledged as one of the most prestigious awards programs in the industry.
"Only exceptional work earns an IABC Gold Quill Award," said Cindy Schmieg ABC, IABC Fellow, chair of the awards committee. "Each entry is rigorously reviewed by multiple experienced communicators from around the world who are trained in applying IABC's Global Standard of the Communication Profession. The award winners represent our profession of ethical practitioners contributing to organizational outcomes."
This is Ellis Jones' second Gold Quill award. In 2016 the agency received a Gold Quill Merit Award for #Be the last, a social impact campaign for Impromy that addressed Australia's growing obesity epidemic.
The 2018 awards will be presented at the Excellence Gala, held on Tuesday, 5 June, as part of IABC's World Conference in Montréal. For more information on the Gold Quill Awards, including the full list of winners, on the Gold Quill Awards website.
Talk to us about purpose-led campaigns.
Sector
Sector