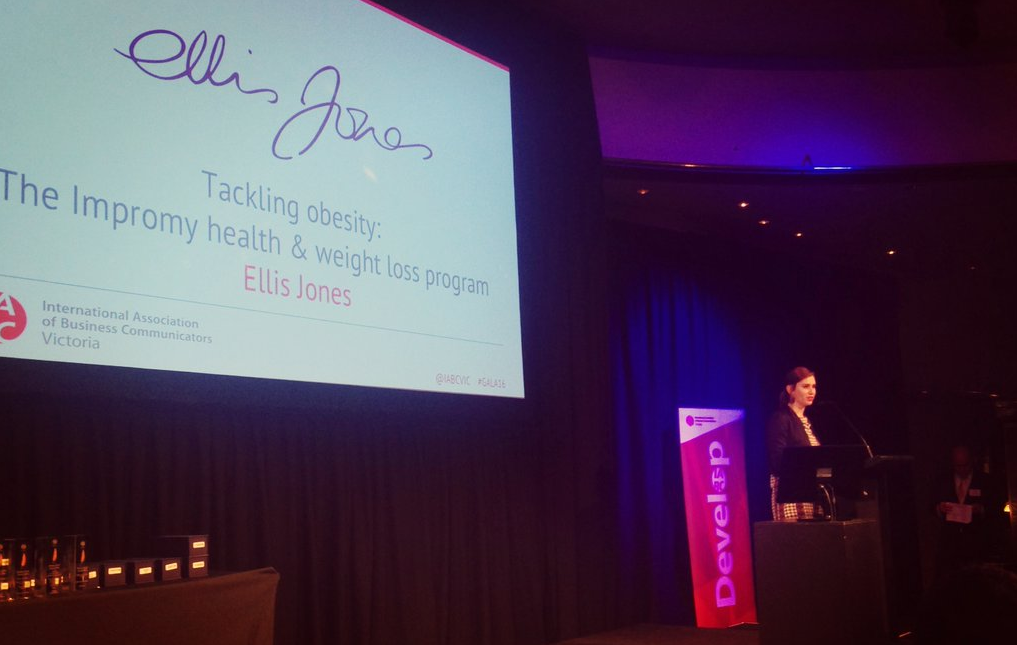 Ellis Jones' successful campaign to launch Australian health and weight-loss program, Impromy, was last night recognised with a second industry award.
The International Association of Business Communicators' (IABC) 2016 Gold Quill Awards recognises innovative and unique work, where communicators can demonstrate the impact their work had on business or organisational outcomes.
It is one of the most prestigious awards programs in the communications industry globally. It's mission is to make communications a force for good in business and society.

Impromy, developed through CSIRO research by Australian biotechnology company Probiotec, is a true representation of a shared value business with twin business and social goals.
Its commercial success means Australians individually have found effective support to reach their health and weight-loss goals; while it is also helping the country to collectively address the growing obesity epidemic. Currently, more than 14 million adults and children are overweight or obese.
Feedback from the IABC Gold Quill Evaluators acknowledged that Ellis Jones had achieved "fantastic results" for Probiotec, through "excellent integration of the various campaign elements" and "well executed communication design to cut through in a congested market."
When we began our work with Impromy, we found the weight loss market highly saturated with poorly differentiated products, all promising dramatic – and often unrealistic – results. Because of this, consumers are often overwhelmed by choice; they're confused and highly distrustful of claims made by new market entrants.
We were challenged to overcome consumer and media skepticism, and clearly define and communicate the differentiating factors and social purpose of this health and weight-loss program.
Our award, in the Marketing, Advertising and Brand Communication category, acknowledged the success of an integrated communications approach that armed pharmacists and clinicians with the information to reach their customers, as well as highlighting the program's unique credentials directly to the public through mainstream television media coverage.
"With strategic communication management, Probiotec has been able to successfully launch Impromy in a very competitive weight-loss market," the IABC Gold Quill Evaluators said.
By June 2015, 10 months after Ellis Jones launched the program, Impromy reported that 18,000 members nationwide had committed to the health improvement program for over two months at a time.
Our work with Probiotec has since seen us conceive and deliver a national pledge campaign, inspiring Australians to take charge of their health and their weight, and #BeTheLast generation to face obesity at its current scale.
Talk to us about integrated communications campaigns that are also a force for good.
Sector
Sector