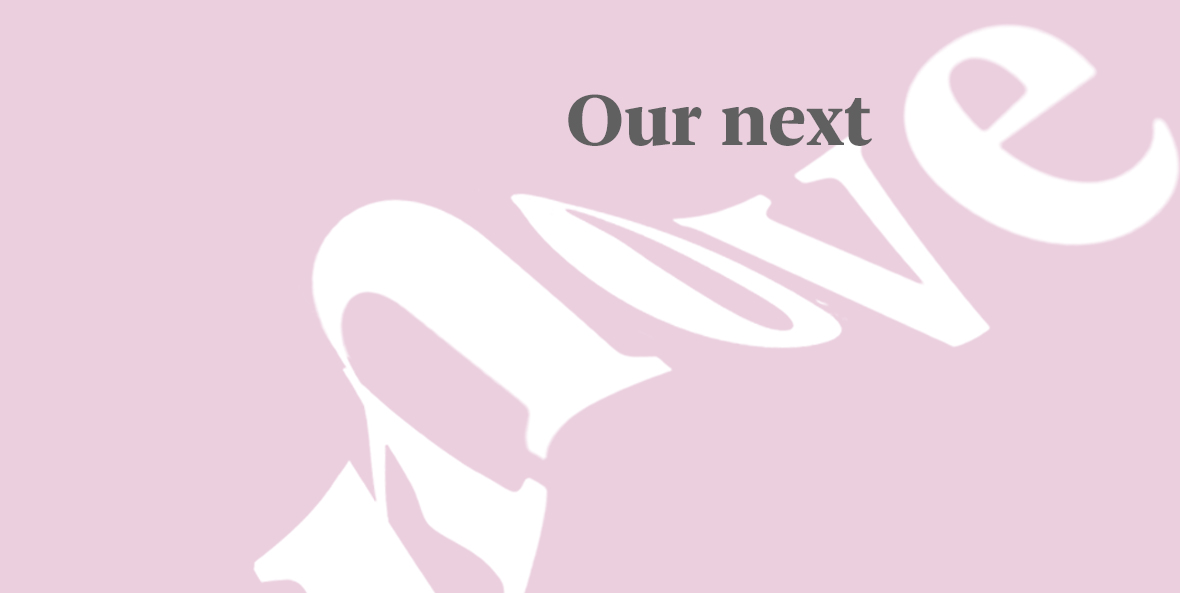 In late July, Ellis Jones' directorial team headed to Warburton (to our quiet space) to map out plans for our respective practices for the new financial year. We started by revisiting what we do and why, before considering where the unmet needs are among the sectors in which we play. It was free flowing and nurturing. The mountain air, fire, beef pot roast and aged red certainly helped!
Two days later we presented a vision for each practice, including the work we want to do and what we need to get there. It was exciting to see the ambition and responses from our people. Things are about to change, again, for the better.
Leading us to new places.
We are very, very careful when hiring new people. It takes time to find people who align in purpose and practice, who fit culturally, and whose future career arc maps to the agency's ambition. Our job descriptions for leaders, in particular, detail a life path not a long list of skills or qualifications. We seek leaders who can inspire greatness in our team and confidence in our clients. The work is challenging so we need space to explore and succeed. That means trust in our knowledge, competencies and models. It means a particular kind of person.
Two such people recently came on board. They joined our other directors who have been doing some amazing things for clients who share our focus on innovation and impact.
More on their visions later…
A multidisciplinary team united by genuine social purpose.
'So, what is it you guys actually do?' This we hear often! The answer is 'change human behaviour to solve problems, create opportunities and improve society.' We do it through research, strategy, communications and design.
Once a research and communications firm, today our work extends to social/service innovation, enterprise strategy (inc. digital), experience design, identity and digital applications. It's very hard to optimise a website for these things, we have discovered! Google, LinkedIn –they want you to be one thing not many happily inter-related disciplines and competencies.
Alas, we are who we are. And, therefore, we are working on different ways of telling our story. Later this year we will launch a new website and refreshed value proposition.
One message that won't change is that every director and every practice is committed to achieving a unifying mandate: have a positive impact on society. Can design change the world? Yes, it can, sometimes with one beautiful image. Can digital strategy improve lives? Of course, one user experience at a time. And, is communication a social impact discipline? At every interface and interaction, absolutely.
Where we go to work.
Ellis Jones focuses on sectors. Currently these are:
We try to stick to them. It takes time and passion to immerse oneself properly in a sector to understand market forces and propose solutions. Sometimes (we can't help ourselves) we take a disciplinary approach and apply our competencies in other sectors on targeted projects.
So, what are we doing in these wonderfully complex sectors?
Future direction, by practice.
Lead capably by Melinda Scaringi and Janine Yeates, the company will continue to strengthen its marketing and communication competencies. We are very focused on acquiring and applying behavioural insights in strategy and campaigns, and making the complex understandable in some of Australia's most challenging markets (health, aged care, education and energy, for example).
Market and brand research activity will extend further into social innovation. Like many others, we are applying design thinking in much of our work but often within a social innovation process that assesses opportunities using a shared value framework.
Enterprise evolution and performance is taking the shape of patient, customer, student, visitor and resident experience (depending on the sector); employee purpose and engagement. Pete Saunders is leading our work in digital futures, ecosystem mapping, digital strategy and digital impact – much of it in health and education.
In addition to social innovation, social impact consulting (under the leadership of Melanie Yap) will look at framing, measurement and reporting; and how to put this into practice through social procurement and HR policy systems. Core to this work is cross-disciplinary collaboration and initiative and partnership development.
After an incredible year of identity and campaign work, our Design Studio is taking clients beyond digital and print expressions to building form and public spaces. At every point, we're trying to find that perfect balance between telling it how it is, and subtle allegory – in physical and virtual activations. David Constantine will launch creative, socially focused approaches (and some tough questions) for retirement living, property and cultural institutions over the coming few months.
Disclaimer.
We are careful about failure: it must be pre-considered and at a scale we, and our clients, feel is appropriate (while still delivering important insights).
Not everything we do will work. We will test most of it on company activities and social enterprise development. Sometimes we'll co-design with clients and their customers. In every case, there will be a singular focus on finding solutions and competitive advantage for companies, governments and not-for-profits that want to do well by doing good.
A move in a new direction? Let's revisit this at Christmas.
Want to learn more about the future of Ellis Jones? Talk to us today.
Sector
Sector