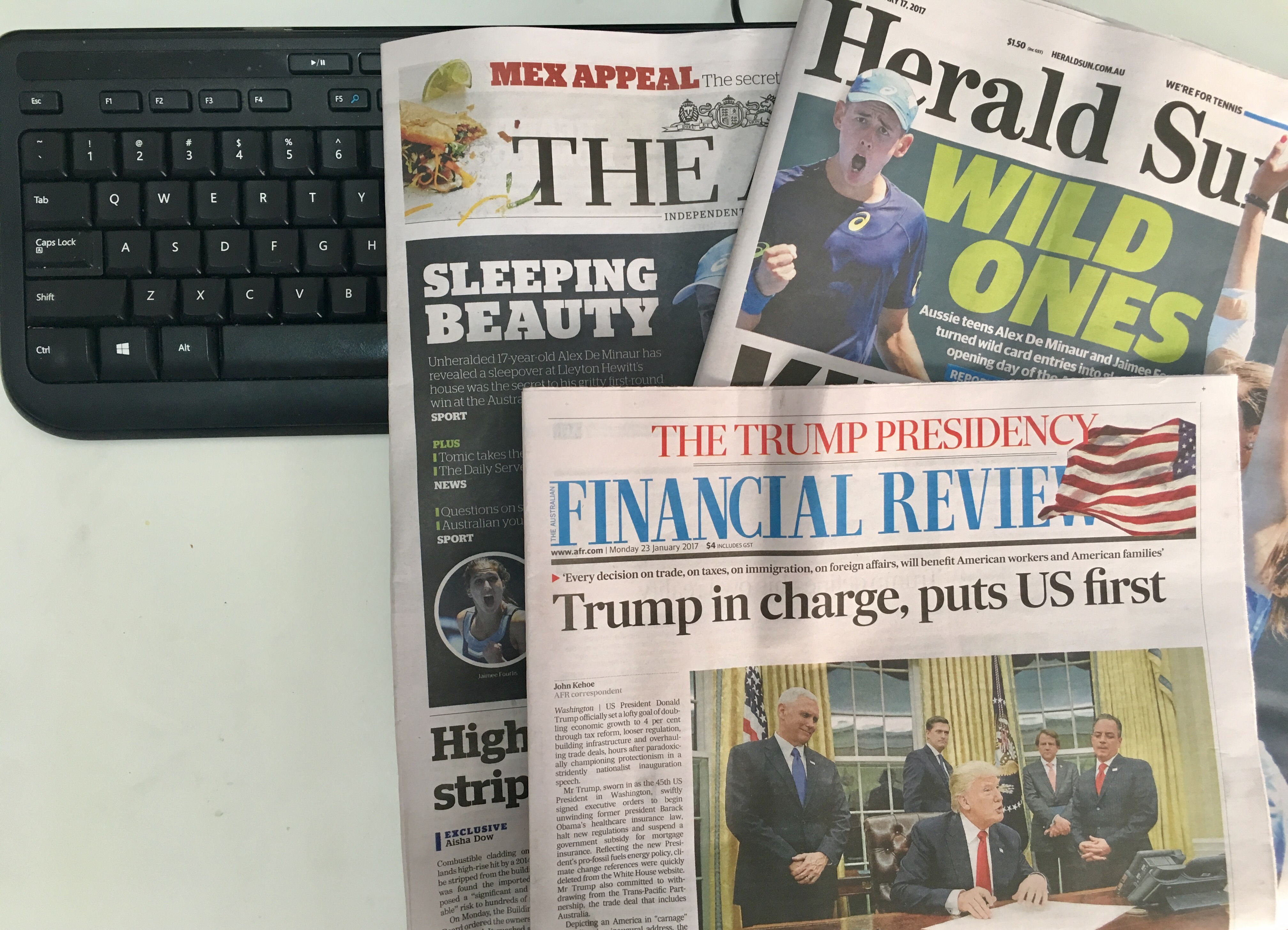 The Reuters Institute for the Study of Journalism recently surveyed 143 leading Editors, CEOs and Digital Leaders about the future of journalism, media and technology in 2017. In the survey, 70% said worries over the distribution of fake/inaccurate news in social networks will strengthen their position in 2017.
"As a provider of high quality news we're needed more than ever."
– Digital News Project 2017
The media landscape has been changing for decades, slowly overshadowed by new platforms and exciting technologies. The shrinking newsroom means many journalists now take on multiple roles, stretched over multiple areas of expertise.
But the recent rise in fake news has reaffirmed the role of traditional media outlets as trusted sources of information. As such, competition for coverage is now higher than ever. This heightened pressure on journalists is a trend that will likely continue well beyond 2017. With journalists' time being incredibly limited, knowing how to write a fresh and compelling media release is crucial for any organisation or individual looking to hit the headlines this year.
A large proportion of news in Australia is still sourced from media releases. They provide an invaluable resource for journalists, delivering a wealth of information in the form of succinct briefs on the outside world. But there are a few factors which separate a first rate release from a mediocre one.
As a journalist-turned-PR executive, I know a few things about how the media world works. As a print journalist, I took on a number of roles, including reporting, photography, and editing. Finding the time to look at every media release in my inbox was near impossible. I read hundreds of releases every week, but the stories that piqued my interest were the ones that had a fresh perspective.
When crafting a media release, it's important to consider what makes this story different to every other one being written or read that day. For the best chance of publication, it needs a hook; an interesting angle.
There are many different ways to put an angle on a story to make it newsworthy.
The human angle.
There was an article published recently in The Telegraph about a young Italian girl who was rescued from avalanche rubble after being trapped for 48 hours. This story was already newsworthy as it was timely, significant, and a rare occurrence, but what pulled the reader in was the human interest angle the story took. The headline read "Can I have my biscuits please?" followed by a story about how, when the girl was pulled from the rubble, the first thing she did was ask for the packet of biscuits she had tucked away in her bag.
As this story was breaking news, it would have been published regardless. But instead of focusing on the traditional news style of writing, the writer took a novel approach. A great story isn't one that simply gets a lot of views, but one that people remember. What made this story memorable was the human element.
Everyone has an interesting story to tell. A human being is an underused, uncapped resource with a wealth of information ready to extract. Organisations should speak to their staff, customers and other stakeholders to find the fascinating stories they have to share, and use this to craft unique, compelling content.
The competitive angle.
What do you offer that's unique to your market? Are you offering a service to a niche market, or an exclusive service that is gaining good traction amongst customers?
Either way, your competitive edge should be intricately linked to your customer value proposition. If the value you provider your customers is unique and exciting, a journalist will naturally hook onto the story it can become.
Think about what sets you apart, and how you can present this is a way that highlights your biggest points of difference.
The opinion angle.
Have you ever thought about writing an opinion piece? Many publications still publish opinion pieces or Letters to the Editor. Instead of focussing on finding a journalist to write the story for you, whip out your quill and begin to write.
That said, this one can be tricky to get right. You don't want to embroil yourself in controversy; not everyone has the gift of good words, but you may find an increased chance of publication if you can express a relevant and reasoned opinion on a current topic. This can open up the floor to have your say on a trending topic, and potentially position you as a thought leader in the area.
Make sure you are speaking on a specific topic that you know well, and be careful of going too far towards self-promotion.
The research angle.
Has your business commissioned or been part of a research project that has uncovered something new or innovative? You'll see, like in the opening of this blog, that you don't necessarily have to be involved in the research itself in order to use it to boost your chances of hooking in the reader. Research reports are often released on websites and platforms across Australia and beyond, on all kinds of topics.
For example, in a recent blog on People Talk, we referenced the 2016 Sensis Social Media Report, which found that over 70% of people aged over 65 access the internet daily. This is a small but noteworthy piece of information. It's outside of the norm, it supports the contention and it provides a reliable backbone on which to rest your opinion.
The 'wow' factor.
The most interesting or unusual aspect of your story will be dependent on the content you can source or create. But whatever you consider to be the most interesting aspect of your story in the eyes of the reader, lead with it. Hook the journalist in; they don't have time to read through slabs of text to find the 'wow' factor.Consider submitting a photograph alongside the media release. Photographs add life and colour to a story and submissions are welcomed by many publications. Look at a few different publications to get a sense of what photographs to send.
Photographs are also invaluable tools to add life and colour to any story. Submissions are welcomed by many publications, especially as publications continue to prioritise visual elements.
Whatever your unique selling point is, the above principles can guide you towards hooking journalists in, and seeing your story in the spotlight. Positive press coverage is priceless for any organisation.
Talk to us about how to craft compelling content.
Sector