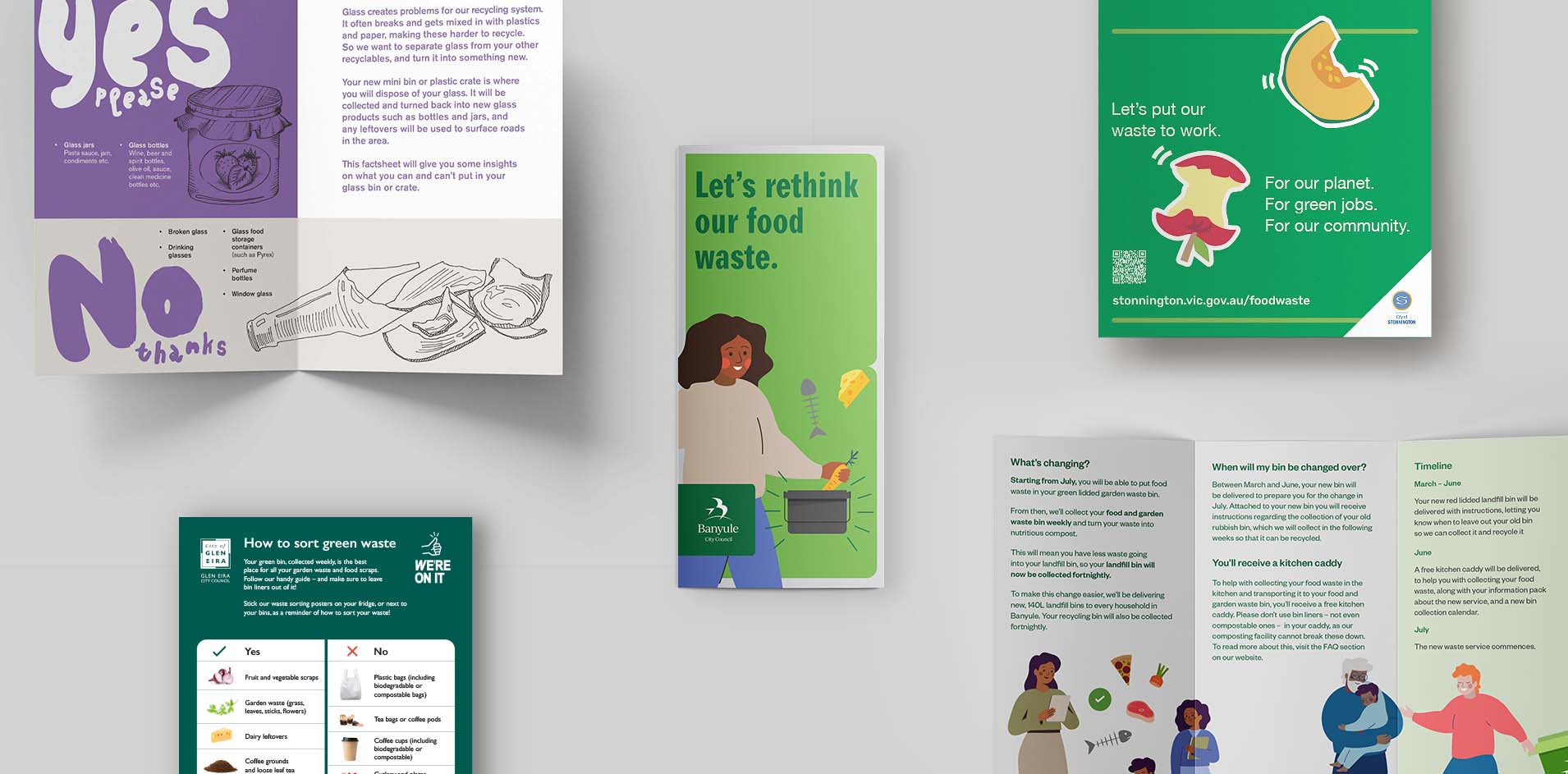 Reducing landfill is one of the simplest ways communities can respond to climate change. Victoria has been on a landfill reduction journey for some time now, with the state committed to halving the amount of waste going to landfill by 2030.
That's why we've been working with local governments to meet the challenge of shifting community behaviours around waste.
Since our multi-award-winning waste campaign in the City of Yarra in 2019, we've worked with the City of Stonnington, City of Banyule and the City of Glen Eira to deliver on Victoria's emissions reduction journey.
We've learned a lot about engaging communities on waste over that time – maybe not the shiniest (or odour-free!) topic, but a critical one in understanding how to motivate communities to adopt climate-friendly behaviours.
We're experts in shifting attitudes and behaviours to motivate collective action, and there are a few principles we platform when speaking to communities about waste:
Make waste feel important.
Many of us don't think twice about disposing of goods and taking out the rubbish. That's because waste is an ingrained and unremarkable part of our day.
Beginning with what matters to the people at the centre of this challenge is key to shifting behaviours – both in the short and long term. We know that 75 per cent of Australians are concerned about climate change (The Australian Institute). To make the case for reconsidering our waste behaviours, we emphasise the link between waste and issues like emissions reduction – positioning the improvement of waste practices as a substantial step toward addressing the climate challenge. And while this may not convince everyone, it can be enough of a 'why' to motivate a critical mass.
Evidence is vital, which is why we employ statistics and insights to put the waste crisis into perspective throughout our messaging.
For example, the message 'Did you know that if global food waste was a country, it would be the world's third-largest polluter?' from our Stonnington food waste campaign emphasised the scale of our waste problem – helping climate-conscious households to identify small changes in their waste behaviours as a meaningful address of a massive challenge.
Use collective language to establish new norms.
We all have a role to play in waste – whether it's avoiding plastic packaging at the supermarket, separating lids from bottles before recycling them or starting an at-home compost.
And behavioural science tells us that when people see their neighbours engaging, they're more likely to participate themselves – even those resistant to change.
Activating social norming tactics has been vital to encourage awareness and participation in waste behaviour change. Research shows that Australians are inherently more collectivist than individualistic – we want to work with the crowd and be part of a movement. Establishing new social norms around waste is therefore essential to encouraging broader participation. Messaging such as '85% of Stonnington is putting waste to work!' shows that a movement is in progress. It's up to you if you're going to play a part.
Our concept for Glen Eira – 'We're on it' – emphasised just that, as well as the partnership between Council and community on adopting the change. It recognises the importance of teamwork for social norming and motivating action – inspiring the community to come together to create change as a collective.
Celebrate your wins.
By letting the community know they're on the right track, we can reinforce positive behaviour and social norming.  Since the campaign on their updated weekly green waste collection service, for the first time a majority of the City of Glen Eira's waste has gone to recycling or compost. Now that's cause for celebration. When the City of Yarra launched their waste revolution, acknowledgement of the wins were key: 'The data is in! So far you've composted 118 tonnes of food and organic waste, which is the equivalent of a blue whale. Go you!'
Celebrating 'wins' builds pride and sustains motivation within the community. It also increases trust in neighbours and Council and reminds communities that they're positioned to address challenges together, big and small.
Every community has a role to play in addressing the climate crisis.
Talk to us today about shifting behaviours on waste.
Sector
Sector