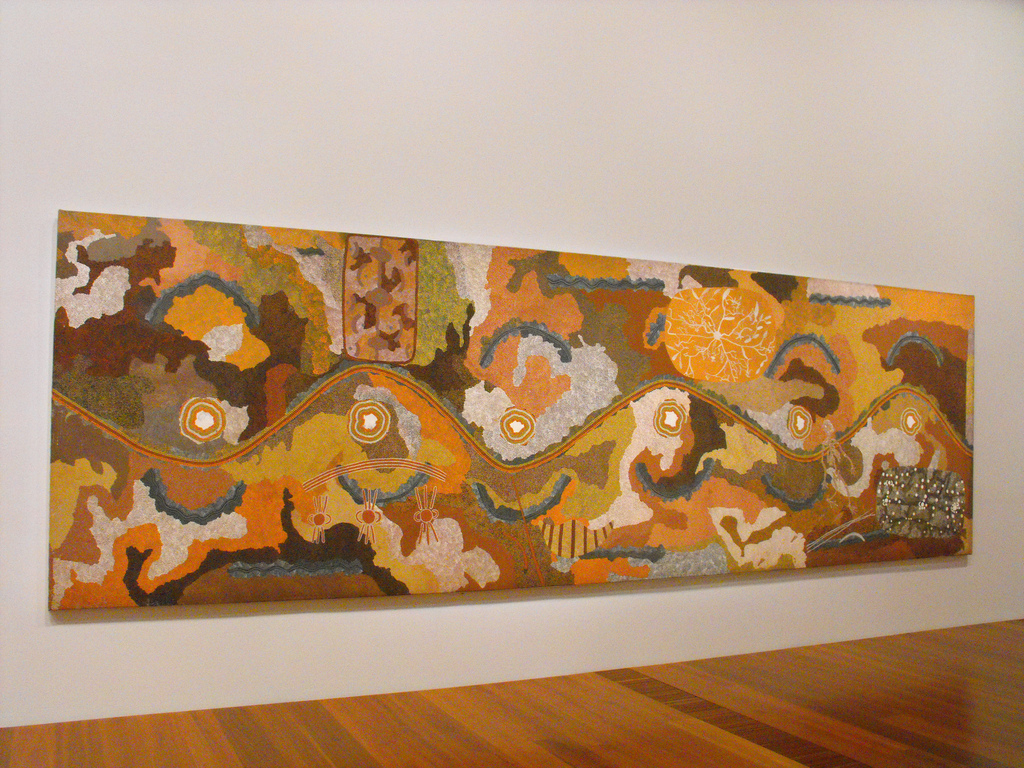 As the NGV opens the doors to its Tjukurrtjanu: Origins of Western Desert Art exhibition this week, Sotheby's Australia welcomed the arrival of an artwork from one of the movement's most celebrated artists.
For almost forty years, an artwork by Clifford Possum Tjapltjarri hung on the walls of a New York home ­– it's owners appreciating the work, yet not understanding the significance of the work or even who the artist was. The owners couldn't even say for sure whether the work was of African or Australian origin.
The owner's daughter decided to contact Sotheby's in an attempt to shed light on the unknown artwork, and as the work was given to the owner by an Australian family in 1975, she decided to contact Sotheby's Australia.
D'Lan Davidson, Head of Aboriginal Art, instantly identified the work as from the hand of Clifford Possum, and that it was closely related to another Clifford Possum artwork discovered by Sotheby's in 2005, Emu Corroboree Man (1972). That work, considered by scholars to be Tjapltjarri's first work, sold at auction for $412,000 in July 2005.
The newly discovered work was quickly brought back to Australia, arriving this week to media interest from around the country. Untitled (Emu Corroboree – 1972) is a 51 x 35cm board painting, which Davidson observes is similar enough to the work sold in 2005 to indicate that it was most likely painted back to back.
An important addition to the oeuvre of one of the most celebrated leaders of the Western Desert painting movement, it marks an incredibly rewarding discovery for Davidson and Sotheby's Australia, and is one of the most significant Aboriginal artworks to come on to the market in years. Untitled (Emu Corroboree – 1972) is the cover of the Important Aboriginal & Oceanic Art auction, held at Sotheby's on October 18 and carries an estimate of $120,000 – $180,000.
Sector
Sector