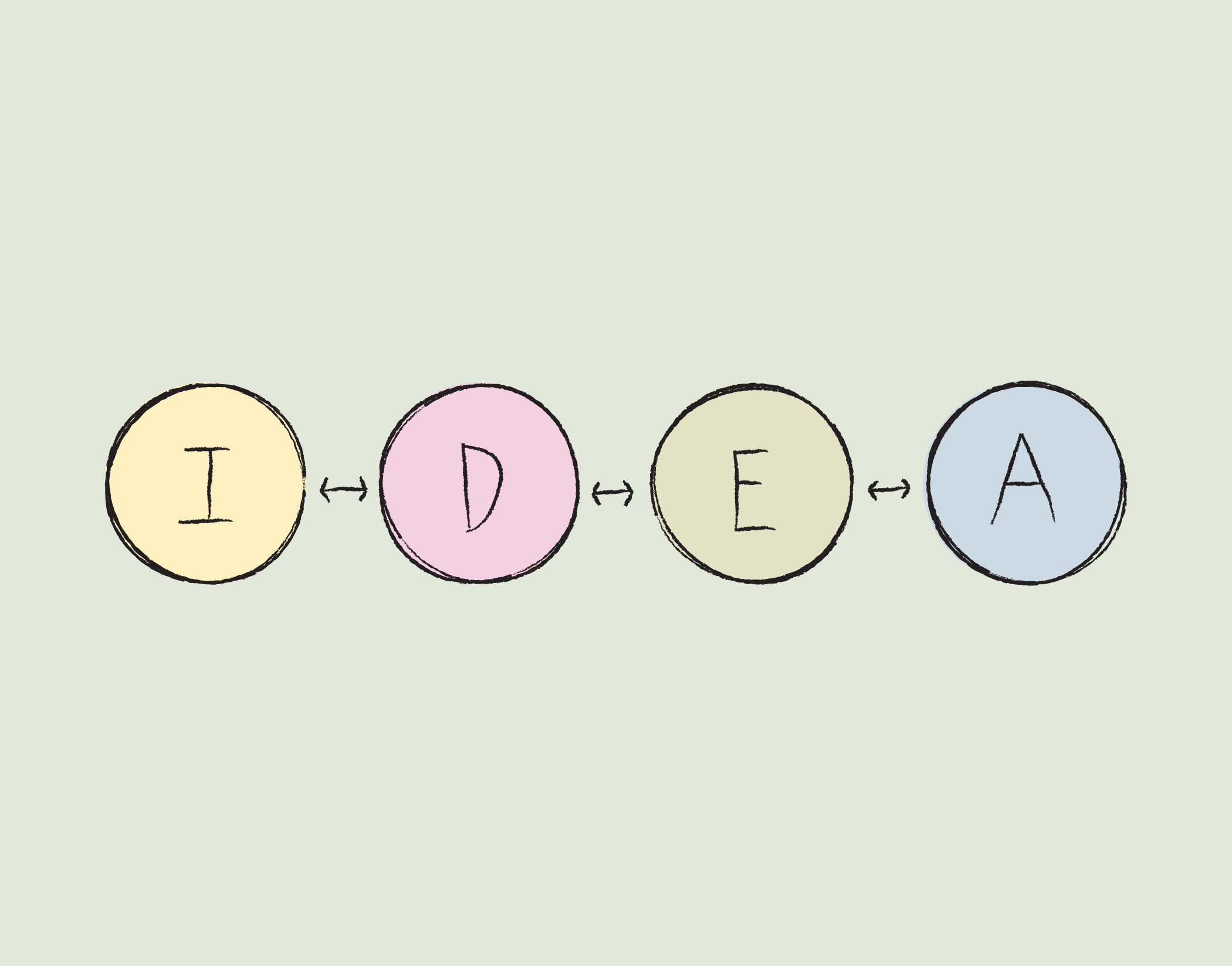 Most powerful business methods have, at their base, a simple concept. Porter's 5 Forces, Kotter's 8 Step change model, the Net Promoter System, Human Centered Design.
Sometimes they fluidly emerge; at other times they require furrowed brows and extended modelling.
At the agency we have a process that has become very much part of our DNA.
IDEA is fundamental to how we develop and implement projects collaboratively with clients. This marketing methodology organises projects into four clear stages and ensures we begin every project with a set of questions and comprehensive analysis to ensure all subsequent activity is focused and informed, getting the intended results.
Only recently it has become clear the competencies, activities and selection of team members is actually because of IDEA. We now have a sophisticated research practice to investigate, we have a range of systems and competencies among consultants (augmented by specialists) to develop, we have nimble marketing models to engage, and we have metrics and reporting tools with which to account.
Here's how IDEA works.
Investigate
Research, analysis, insight.
A process of reviewing all available research, augmenting findings with further research and investigation. From sophisticated market research to in-field observation, our project specific methods cover:
Research and literature review
Survey design and deployment
Focus groups and face-to-face interviews
Social media network mapping and analysis, and
Website user needs analysis
Outcome: a clear picture of the market, consumer and stakeholder needs and interrelationships, opportunities and barriers/risks. Know how consumers think, where they converse, what problems they face.
Develop
Strategy and creative guided by intelligence.
Using insights uncovered from Investigate phase, we create strategy, technology and materials that integrate communication functions and multiple audiences while managing risk. These can include:
Branding, visual identity (including graphics and brochures)
Marketing and public relations strategy
Online engagement strategy
Web portals and microsites
Outcome: a strategic and tactical approach with which to engage new markets and consumers, maximising value for money using clearly defined channels and effective tools.
Engage
High impact with confidence.
Following rigorous Investigate and Develop stages, we then take the proposition to market. We disseminate communication materials and track responses; then move tactically to guide consumer behaviour. Along the way we collect data on all target audiences.
Outcome: a strong, well defined presence and a unique value proposition, high visibility over consumer responses. Market and revenue growth.
Account
Continuous improvement.
Assess the effectiveness of the all activity with agreed metrics. In addition to determining ROI, we refine and engage with the client.
Outcome: accurate assignment of marketing budget; confidence with which to make decisions.
Check out a diagram of our IDEA methodology here or talk to us about turning your IDEAs into outcomes.
Sector