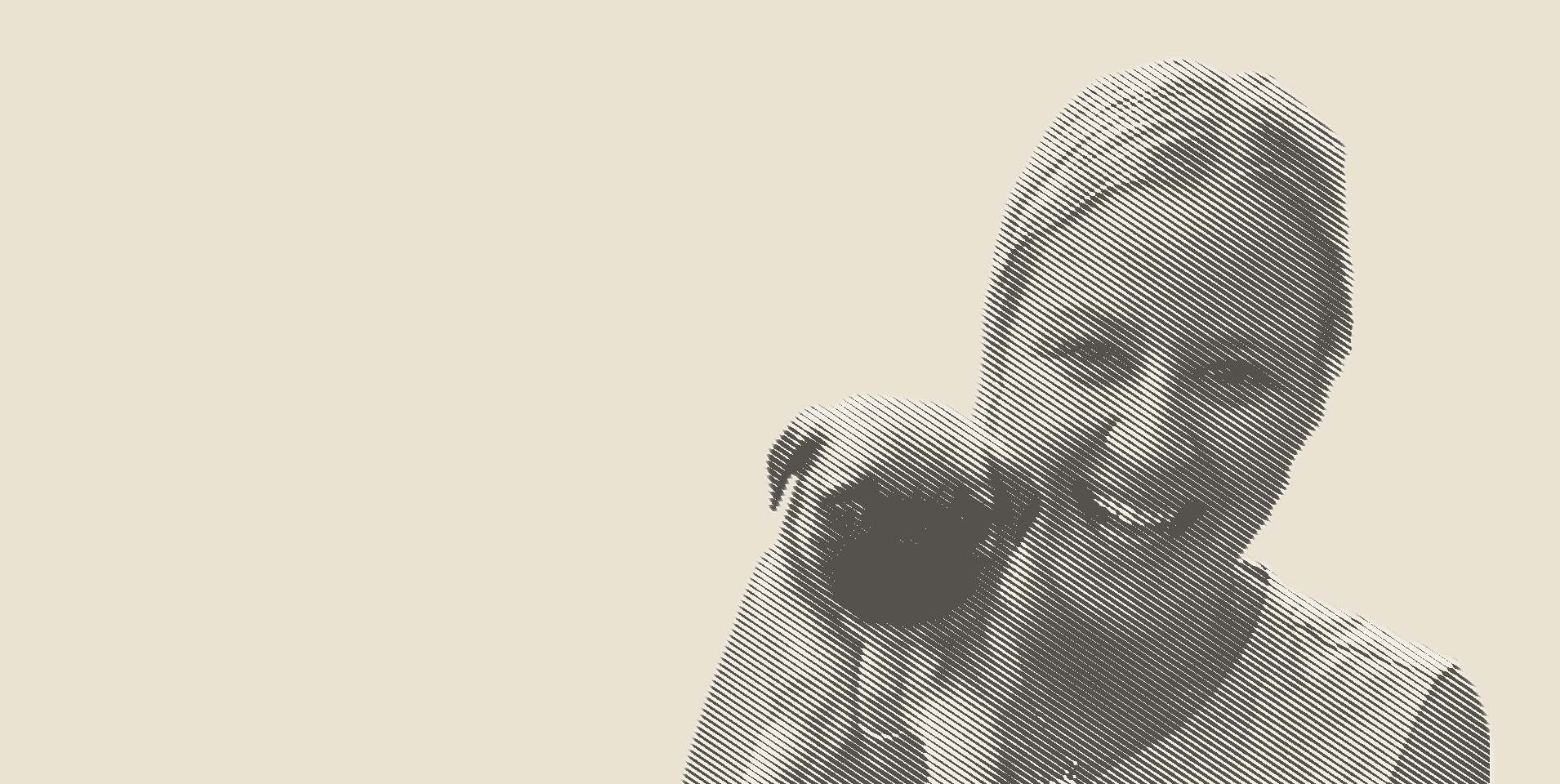 Caroline Warne – Account Manager at Ellis Jones – is one of the most resilient and optimistic people you could ever meet.
After breaking her neck just two weeks after starting with Ellis Jones, Caroline got on with work and life in her typical no-nonsense, understated way. She's hard working and is always willing to learn new things, which is a great strength in an industry that's constantly changing.
Caroline's work experience spans the corporate and not-for-profit sectors, ranging from content creation for national campaigns to digital marketing.  She's worked on digital content with Amnesty International, and on national campaigns for NAB and the NRMA. Her two main interests, people and words, are always at the heart of her work. Oh, and she loves pugs, as you can see from her photo.
We caught up with Caroline to find out more about her and what brought her to Ellis Jones.
Q: Sum yourself up in 3 words.
A: Curious, optimistic, diplomatic.
Q: When you finished school, what industry did you think you'd work in?
A: I left school with no idea of what was to come. I moved from sleepy Ballarat to Sydney, where I enrolled in an Arts degree, studying Anthropology. My Dad unkindly suggests that I chose Anthropology as it was the first course listed in the enormous arts handbook. While that may be true, it was a good choice.
It wasn't until I moved back down to Melbourne and enrolled in a Masters of Communications that things really began to click and I started to get some idea of where my future might lie.
Q: What drew you to working in the communications industry?
A: Before starting my Masters, I didn't really know that there was a communications industry. I knew that people worked as journalists, or in advertising, that was about the extent of my knowledge.
It was during my studies that I started to comprehend the breadth of the communications industry, and the massive variety of jobs within it. The challenge then was to work out which area best suited me.
Q: What area of your work are you most passionate about?
A: I like digital. It moves frighteningly fast, which makes it exciting. This often means quickly having to get my head around something that might have changed or been updated, and working out how I can implement this – sometimes immediately.
Q: What is your favourite part of working at Ellis Jones?
A: A few years ago, I wasn't very happy at my job. Sick of my complaining, one of my friends said, "Well, Caroline – why don't you write down the things you want out of work, and then try and find a place that fits with what you want."
I wrote*:
I want to work in a small team where they let us play good music in the office
I want to feel good about the work that I do… I don't necessarily want to save the world, but it would be nice to work for a place that values society, and our place in it.
I want to really like and admire the people I work with.
*Not listed in order of importance.
EJ fits the bill on all three points.
Q: What is the main thing that you have learnt from working at Ellis Jones?
A: Agency land: no two days are ever the same. It pays to be adaptable, especially as an Account Executive!
Q: What publications do you read daily? Where do you get your news?
A: Daily, I read The Age, The Guardian and ABC Online. I also like Junkee, and the Betoota Advocate (satirical newspaper with alarmingly accurate commentary on Australian life and politics).
Q: What's your favourite way to spend a weekend?
A: I'd love to write here all the kinds of things I wish I did (yoga retreats, hiking, surfing). The truth is, most of my weekends are unremarkable, and involve parties with friends and lazy Sundays.
My more adventurous weekends might include family sausage making, stand-up paddle boarding, art exhibitions, and long drives across rural Victoria.
Q: If you could choose just one thing to change about the world, what would it be?
A: I'd like people to be a lot nicer to each other. This applies to war and violence broadly, but it also applies to people individually. I think we could all afford to care about each other a lot more than we seem to.
Q: Life motto?
A: Don't look backwards – a life motto, but also something I find extremely hard to do since breaking my neck. Literally.
Sector
Sector