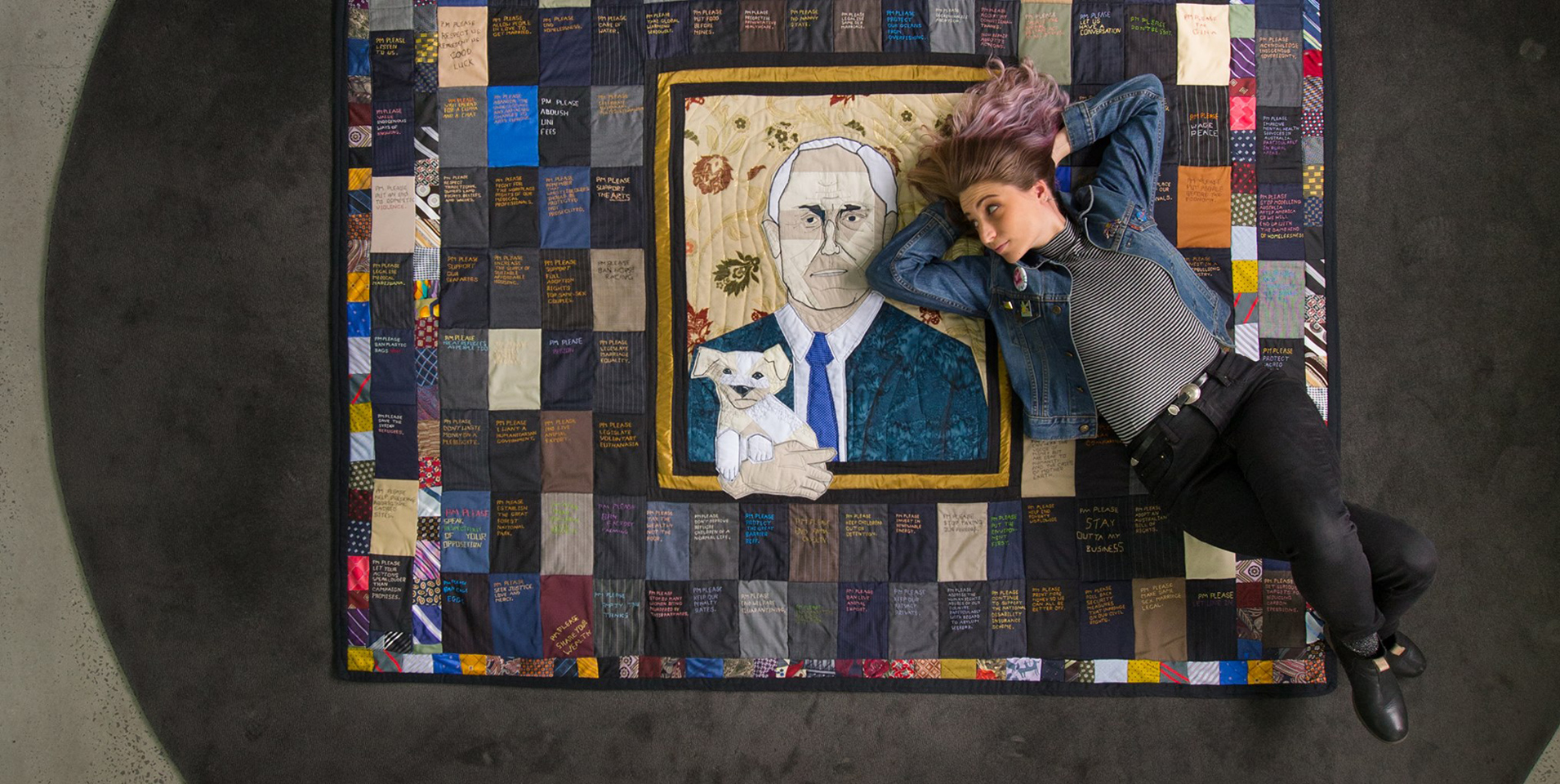 Tal Fitzpatrick – Artist in Residence at Ellis Jones
Everyday for the last 2 weeks, Tal has been hard at work in our creative space – The Realm of Possibilities – surrounded by recycled cloth, papers with scribbles and notes, and her trusty sewing machine. Tal is a Melbourne-based craftivist, and (excitingly) Ellis Jones' first artist in residence.
Craftivism is a simple portmanteau that combines the words craft and activism. The term describes the use of craft (knitting, embroidery, quilting etc.) as a strategy for activism or advocacy. It's a quirky way to encourage people to think about issues of social and environmental justice using tactile, playful and somewhat nostalgic methods.
As a craftivist, Tal is driven by social justice and passionate about using her art as a platform for inclusive, nuanced debate about important issues. She is currently studying her PHD at the Victorian College of the Arts (VCA) on the subject of how 'craftivism' brings about 'political moments'.
Tal's most well know piece is the PM Please quilt: a large 'wagga' style quilt made from second-hand ties and suit swatches adorned with 121 hand-stitched messages to the prime minister, each beginning with the words "PM Please". The messages capture the issues of importance to Australians at the time – a snapshot of a moment and mood. The quilt was created as a gift for the newly appointed Prime Minister Malcolm Turnbull in October 2015 and was accepted by him two days after he won the 2016 election. Recently, the hanging was accepted into the permanent collection of the Australian Museum of Democracy at Old Parliament House, Canberra.
Over the last couple of weeks, Tal has been getting to know Ellis Jones. She's been talking to us about about who we are – as individuals and as a collective – our passions, our culture, and the meaning we find in the work we do.
Next month, her time spent with us will cumulate into a work of art that tries to capture the essence of Ellis Jones: our own craftivism quilt. We're excited to see it (and show it to all of you!).
While she's been getting to know us, we thought we'd get to know her.
Q: Sum up yourself in 3 words.
A: Craftivist. Feminist. Pragmatist.
Q: When you finished school, what industry did you think you'd work in?
A: I went straight from high school into a Bachelor of Arts degree; I didn't know what I wanted to do for work… I still don't. However, I had the privilege of doing a wide range of really interesting things, from running a small arts organisation that delivered programs for young adults living with a disability, to delivering a statewide natural disaster resilience program as part of my role with Volunteering Queensland. After four years working full-time in the non-profit sector, I decided to do my Ph.D. because I wanted to find a way to integrate my community development work and my artwork. Hopefully, I'll be able to continue this work once I finish my research.
Q: What drew you to working as a craftivist?
A: It was through my practice-led research that I came across the term craftivism (craft+activism) and finally found a niche for myself as part of an international community of like-minded art/craft practitioners who are using their skills to explore and engage people in conversations about social change. I love the central idea behind craftivism: that making things physically reminds us that we have power, and that we can use that power to change the world around us… even if it is in very small ways.
Q: What area of your work are you most passionate about?
A: As an artist and a researcher I'm most interested in asking what art can do. I'm passionate about exploring the way artists can intervene and interact in the world outside the gallery. 'Non-traditional' residencies provide me with an opportunity to engage with community groups and organisations who don't normally work with artists. I find the reciprocal exchange of ideas, approaches, and experiences really generative.
Q: Why is craft important at this point in time and culture?
A: Craft has been used as an outlet for activism and advocacy in one form or another, and in different cultures all across the globe, for a very long time. However, right now – at the dawn of the Trump era – it is having a pretty significant moment. The most obvious example of contemporary craftivism's growing profile is the Pussyhat Project which coincided with the Women's March. Going forward, I see it as becoming an important global strategy for resistance, but of course, it will only be one small part of a much broader and more sophisticated range of peaceful approaches to driving social change.
Q: If you could choose just one thing to change about the world, what would it be?
A: I would change humanity's tendency to 'other' the people (and things) they don't know or understand. I believe if we could overcome our instinct to rely on simplistic 'us and them' dichotomies, then we could shed the fear associated with difference, change, and the unknown. As a result, I believe we could look past our differences more easily, finding common ground from which to move forward together – without the violence and hate.
Q: Life motto?
The golden rule: Do unto others as you would have them do unto you.
We're tracking Tal's project across our Facebook, Twitter and LinkedIn – stay tuned for images, updates, and invitations to the launch of the final artwork.
Sector
Sector