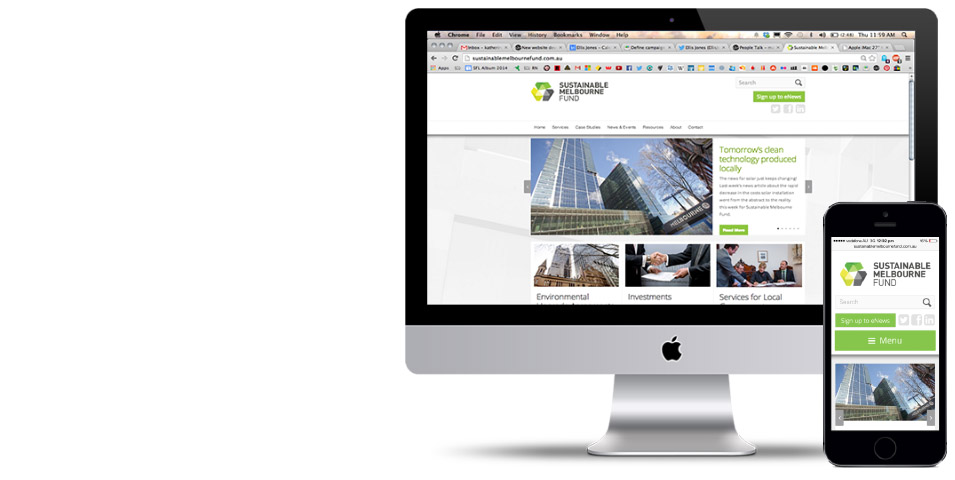 Ellis Jones worked with the Sustainable Melbourne Fund (SMF) to develop their new website.
Applying user experience to determine message hierarchy, visual hierarchy and navigation architecture, the new website  provides SMF with a contemporary online presence that guides people to the content they need as swiftly and effortlessly as this video of me skiing Falls Creek.
Once the site was completed, we went to work on content, ensuring it was on-brand and on-message.
What's more, the project was efficient, delivering value within budget and on a tight timeframe.
Utilising  SMF's already established strong visual identity, the website was created to include the following features:
Embedded video capability
Full responsiveness that resizes the site to enable easy viewing on mobile and tablet devices
Accordion functionality to compress large chunks of information within a single page
Infographics and video were employed to help explain some of SMFs more detailed processes and offerings in simple terms. These forms of visual communication help engage potential investors more effectively.
Take a look and let us know what you think in the comments below. While you're at it, why not check out some other sites we've developed over time.
Talk to us about bespoke new website development to suit your needs and budget.
Sector
Sector