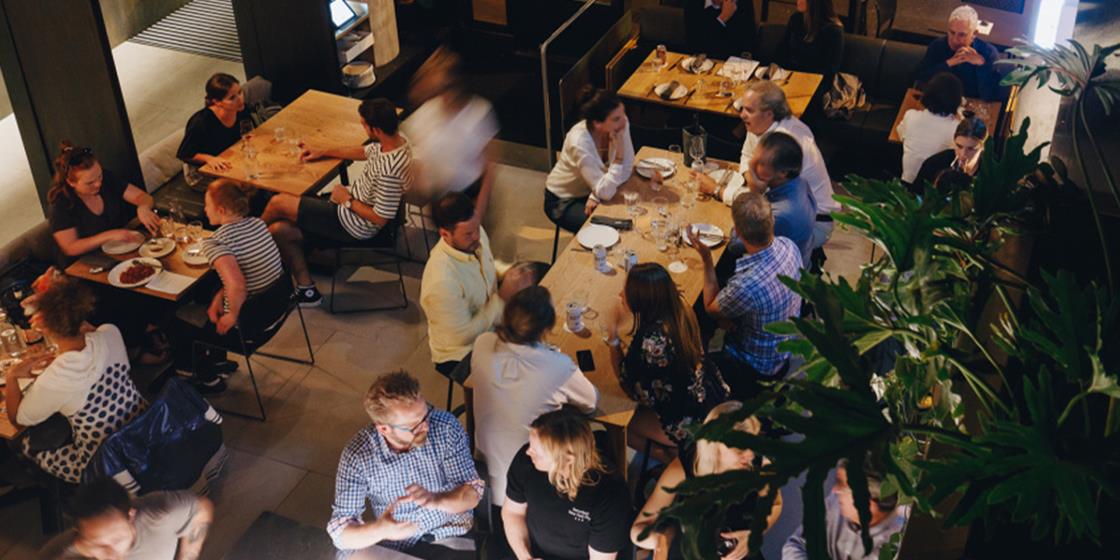 Drink, eat and be merry. Here are some of our favourite reads and feeds, moments of inspiration and learning.
What was your best read in 2018?
Anne: Dance Dance Dance, Haruki Murakami.
Ash: Earth is Hiring by Peta Kelly, the new way of doing business, 5D enterprises, millennials and cacao ceremonies – sign me up!
David: More of a look than a read. But stunning nonetheless. Cezanne's Objects by Joel Meyerowitz.
Eleanor: My Absolute Darling, Gabriel Tallent.
Emma: Eggshell Skull, Bri Lee.
Georgia: The Water Will Come by Jeff Goodell – a stark reminder of what our world will be like if we allow global warming to continue.
Hedda: 4321, Paul Auster.
Janine: The Girls by Lori Lansens – its old novel I discovered on my bookshelf. It is a strange story, but a good one.
Laura: Creating Shared Value by Michael E. Porter and Mark R. Kramer. And The Day The Crayons Quit by Drew Daywalt and Oliver Jeffers. Two very different reads, but both changed my thinking.
Lisl:  1984, George Orwell – even more relevant today than when I first read it 20 something years ago.
Lucie:  Animal Farm, George Orwell
Melinda:  Australian Reimagined by Hugh Mackay. And Stan Grant's Tears of Strangers on growing up an aboriginal in Australia was also deeply moving.
Patrick:  Breakfast of Champions, or Goodbye Blue Monday, Kurt Vonnegut.
Rhod:  Less by Andrew Sean Greer. It won the Booker but so have many books nowhere near as enjoyable. Fast, funny, smart – it's one of those novels that has you reading lines again and again to enjoy the prose. And also chuckling many months later as you find yourself in 'Lessian' situations. You'll fall in love with Less.
Skye: Man's Search For Meaning by Viktor Frankl was a pretty incredible read. I'm currently reading Flow by Mihaly Csikszentmihaly and it's already got me hooked.
Best podcast?
Anne: Invisibilia.
Ash: The Robust by Rob Bell. The dude is a genius.
David: The Globalist, Monocle24.
Eleanor: Teacher's Pet – heartbreaking but so intelligently produced. And Table Manners is my new fave for something feel-good – singer Jessie Ware and her mum cook for guests and talk about the importance of food and family. I feel like I'm sitting at the dining table with them!
Laura: ABC Babytalk: working mums.
Lucie: The Minefield. In a world marked by wicked social problems, The Minefield helps you negotiate the ethical dilemmas, contradictory claims and unacknowledged complexities of modern life.
Marle: I've recently gotten into Stuff You Should Know while I'm getting ready for work. But I was also addicted to The Teacher's Pet earlier this year too.
Melanie: This American Life, The New Yorker Radio Hour.
Melinda: Chat 10, Looks 3. Leigh Sales, Annabel Crabb. Hilarity.
Patrick: Dancing through the 20th Century – a ten part series guiding listeners through the history of dance music, decade by decade.
Pete: No Such Thing as a Fish.
Best place for a coffee or a bite?
Anne: Capitano in Carlton, 10/10
Ash: Pizza d'Asporto without a doubt has the best Ortolana, and when they're full you can just take a blanket and picnic on the grass! Plug Nickel for work-local coffee. Self Preservation for Bourke St breakfast.
David: I love Congress. I would live there. It is no secret.
Eleanor: Wildlife Bakery in Brunswick. Such delicious bread.
Georgia: It took me until September to discover that Friends of the Earth does a $10 lunch plate and vegan donuts!!
Hedda: Best gin-cured salmon at Down the Rabbit Hole, a little cafe out in good old Templestowe.
Janine: Abory Afloat – Gin and sunshine on the river. What more could you ask for.
Laura: The new Cibi in Collingwood.
Lisl: Drumplings.
Lucie: Streat for coffee and Charcoal lane for a $20 lunch. Why not create social change by eating delicious food or drinking great coffee 🙂
Marle: Ima at 169 Elgin St in Carlton for simple, delicious Japanese breakfast and great coffee.
Melanie: Small Axe, Brunswick – a Sicilian inspired cafe.
Melinda: Grandpa Joe's on Union Road in Ascot Vale. With the breakfast burger it's even better.
Pete: Ides. If you want to drop 300 dollars and have your face melted by delicious food and wine. Ides.
Best, most fun experience in 2018?
Ash: I spent most of the year living near the water in the West and honestly, the daily beach walks, cycles and swims were easily the best part of my year.
David: Drinking great wine, enjoying great food, seeing great art with family in Tasmania. Going for a cheeky curry with colleagues after the Premier's Design Awards.
Eleanor: Lots of domestic travel this year! Heading up to Byron Bay in winter was a highlight – so sleepy and peaceful. The water still warm enough to swim, hitting up local farmer's markets, cooking, eating, reading and sleeping. Bliss!
Emma: India. Celebrating my birthday in a place that was unfamiliar, with so many wonderful strangers was pretty special.
Georgia: I escaped winter to Vanuatu where I snorkelled, read and drank my body weight in coconut water.
Janine: Two weeks travelling Japan. Eating our way through their Japanese cuisine, cramming as many sights as possible into a day, riding roller coasters with our children.
Lisl: Travelling in Japan with Janine!
Lucie: Burning seed festival. BYO food and water for 5 days. All the profit from tickets go to funding art installations at the festival and every night they burn incredible sculptures, creating a sense of intention that you don't normally encounter in your everyday routine.
Marle: I went to Sri Lanka with my best friend and loved it. Elephants run wild there and one time we witnessed a particularly entrepreneurial elephant station himself on the middle of a major road, not allowing cars to pass without payment of a bunch of bananas.
Melanie: I have a lot of fun chasing my kids around in the park every weekend, no matter the weather!
Melinda: In Bali. Ubud Writers Festival: absorbed ideas in the jungle!
Patrick: Stood in an excessively overcrowded pub in Brixton, with beer sodden shoes, watching England win a penalty shootout for the first time in my life.
Pete: Three weeks in America including Jackson Hole and Yellowstone.
Rhod: Cadaques, Costa Brava, Spain. Look it up. You'll understand!
Skye: I went to New Zealand for the first time this year! Beaches, farms and plenty of beaut spots in between.
Sector
Sector