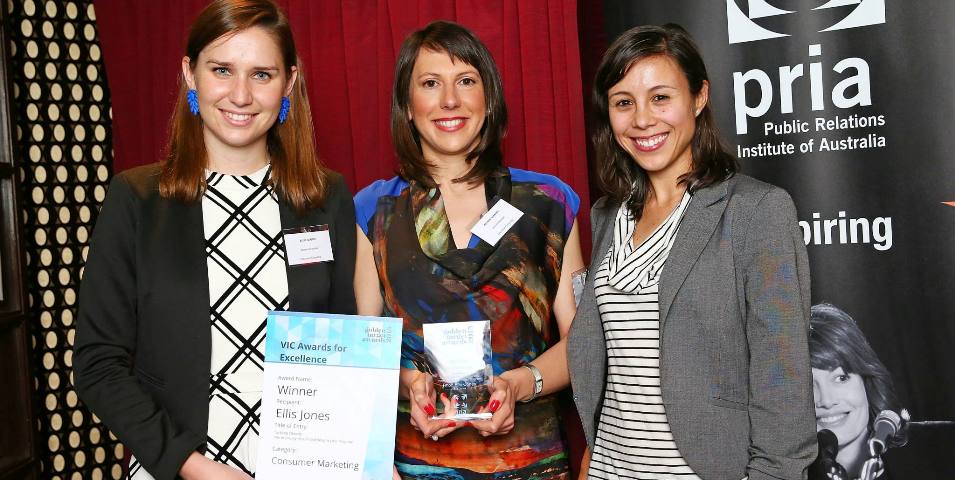 Our work on weight management and health improvement program, Impromy, recently won the PRIA Golden Target Award for Consumer Marketing in Victoria.
It feels good to be a PRIA Golden Target Award winner! Yes, it's nice to be recognised, but it also marked a milestone in our ongoing work to evolve public relations, and in particular CSR, from a communications function to an insights, business strategy and innovation function.
Established in 1976, the Golden Target Awards recognise excellence in public relations. A panel of public relations leaders and industry sector experts assess entries and select the winner.
On the night there were no speeches (damn, we love a speech!!), so here's what we would have said…
The team at Impromy (Probiotec) are amazing, achieving blockbuster results with limited resources.
A classic example of shared value creation, in partnership with the CSIRO, Probiotec is applying science, technology and the reach of Australian pharmacies to tackle not only Australia's weight challenge but establish the link between weight and chronic health conditions in the consciousness of Australian society.
The product has a real chance to turn the clock back on obesity by empowering Australians to view being overweight through the prism of health and quality of life, not (just) body image.
Our challenge was to launch Impromy into the over-saturated weight loss market through mainstream media coverage, and support ongoing program awareness with broader communications strategy, using a variety of tools (read case study here).
The media is extremely skeptical of weight-loss programs so generating awareness has been tough – we've used multiple digital channels and lots of never-give-up team resilience building.
Impromy is the fastest growing product in its category and is on its way to making a measureable social and economic impact at scale.
We are privileged that Probiotec has given us the opportunity to express our purpose and competencies in mass market PR campaigns, purpose-led branding, health research and social impact strategy.
And we're only just getting started.
Sector
Sector