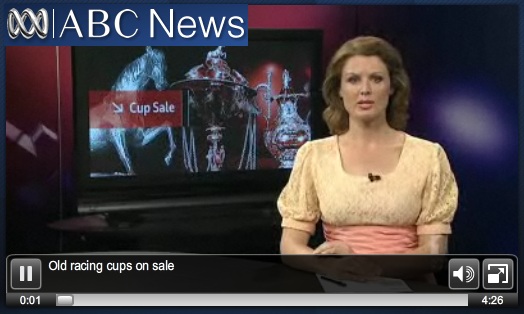 As spring racing takes its hold on Melbourne and, for a snap in time placing a bet becomes as acceptable as a curtsy for the Queen, two very unique horse racing trophies the 1867 Melbourne Cup and 1867 Queen's Plate – were the stars of a collection of fine Australian silverware and furniture auctioned on Tuesday evening at Sotheby's Australia in Melbourne.With a rich heritage and a remarkable story, the 1867 cups were items of historical significance and exceptional provenance.
Between the inaugural race in 1861 and the 1867 race, when cup trophies had been awarded, the trophies had been produced in Great Britain. In 1867, prominent Australian silversmith William Edwards produced a locally cast cup to rival the cup produced in Britain. A British cup was still produced, and the Victoria Racing Club still chose the imported cup for the Melbourne Cup prize, with the locally produced cup being awarded to the winner of the Queen's Plate, a lesser race.
In 1867, the horse "Tim Whiffler" won both the Melbourne Cup and Queen's Plate races, and 144 years later, each cup was still held within the same family who owned the horse.  On October 25, as part of Sotheby's Fine Asian, Australian & European Decorative Arts & Furniture auction, the cups were made available publicly for the first time, presented one lot at the request of the vendor.
The story of the cups broke widely in the days leading up to the sale, with newspaper and radio coverage complementing a comprehensive segment on ABC 7:30 with Ian Royds from the vendor family, racing historian Andrew Lemon, and Sotheby's Head of Fine Furniture and Decorative Art, Jennifer Gibson.
For Gibson, it was a privilege to offer the cups, which she described as "two of the most exquisite examples of horseracing memorabilia ever to be presented at auction in Australia".


On the night, a full room witnessed the cups receive multiple bids, eventually selling for $720,000 including buyer premium. Following industry standard protocols, the identity of the vendor was kept anonymous, however in the morning following the sale, a statement from the Hon Simon Crean on behalf of the National Museum of Australia revealed the Canberra based institution was the successful bidder.
"The National Museum of Australia is the ideal home for these two treasures," Mr Crean said.
The cups will soon rest along side other racing memorabilia at the museum, forever in the public domain after 144 years.
Talk to us about public relations.
Sector