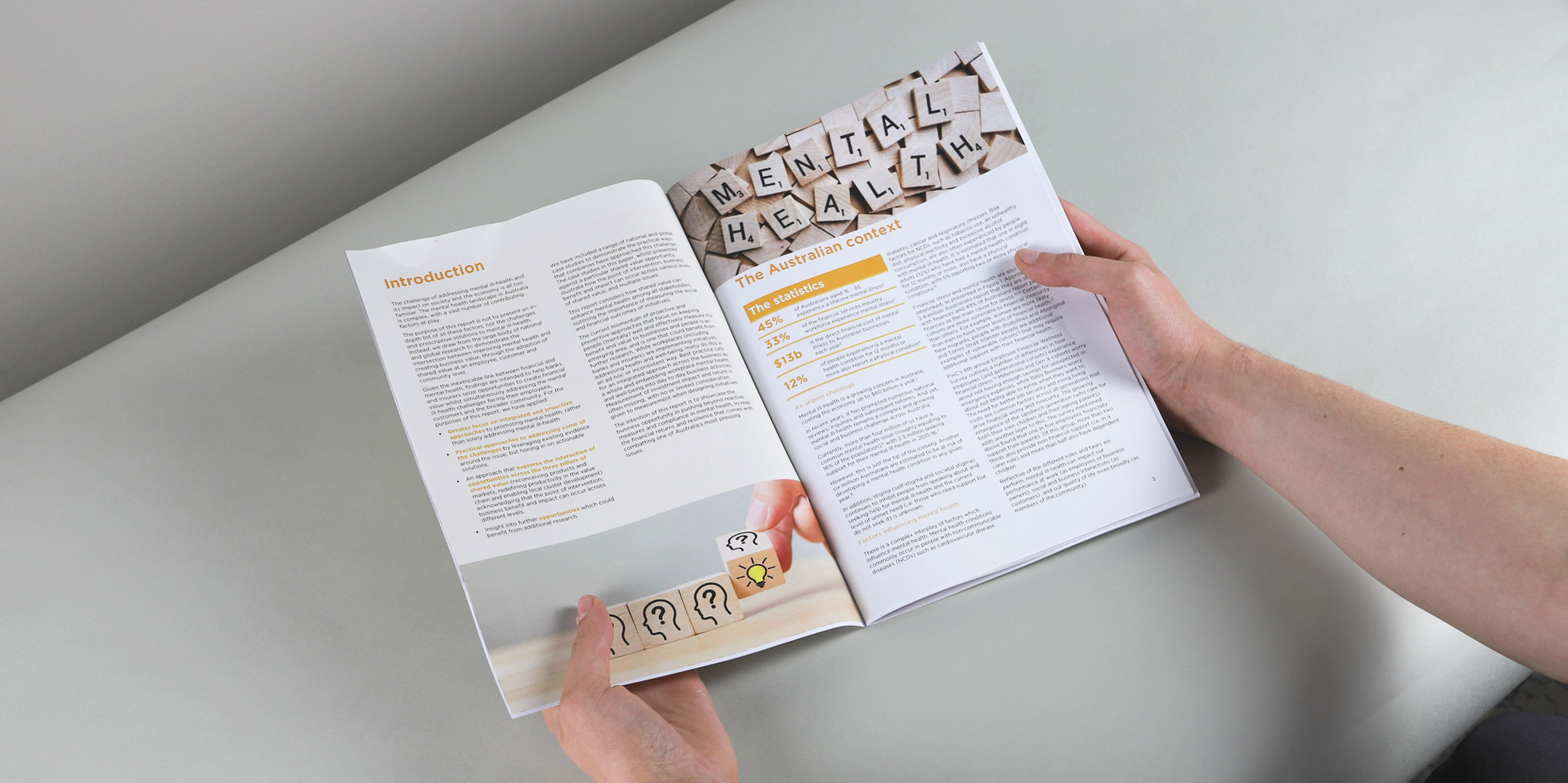 The impact of mental ill health on Australian communities is significant. 45% of Australians aged 16-85 will experience a lifetime mental illness. 54% of this group do not access any treatment. At an economic level, the financial cost of mental illness to Australian organisations equates to $13b each year.
In Victoria, the Royal Commission into Victoria's Mental Health System is investigating the ways in which government services are meeting or missing the needs of Victorians living with mental ill health. At a national level, the Productivity Commission inquiry into Mental Health is examining the effect of mental health on people's abilities to work and prosper in their own communities and beyond.
With each, we know there's change coming.
With this morning's release of Creating shared value: the business imperative for improving mental health in Australia, an event and report chartered by The Shared Value Project, AIA Australia, IAG, NAB, PwC and SuperFriend – there's significant opportunity for positive impact through organisations.
The report identified that, while most businesses are focused on addressing mental health concerns through treatment and compliance initiatives and programs, few are recognising the value and potential from investing in integrated mental health promotion and prevention initiatives.
Applying a shared value framework can enable organisations to reduce harm and encourage positive mental health outcomes for the workforce, customers and communities, thereby improving social and economic conditions while also maximising revenue and competitiveness.
The report investigates the financial services sector – where a third of the workforce experiences mental health issues. Significant mental health concerns include stress and anxiety related to internal influences such as job insecurity, but also external in the form of customer aggression.
Shared value is created across three potential levels – impacting workforce, customer and community. While the report showed how the model applied to financial services, the opportunities in terms of mental health improvements are easily transferable.
At the launch of the report, Professor Allan Fels AO, who is a commissioner for the Royal Commission into Victoria's Mental Health System, related productivity to mental health. As he said, at the individual level, it is very easy to see the impact an improvement in mental health can have on a person's ability to achieve gainful employment. However, if we consider the statistics (1 in 5 people will have a mental illness at some stage in their lives), the aggregate impact on the economy of preventing and treating ill mental health is significant.
"I agree with the reserve bank governor's statement this week that we need to stimulate the economy but, whereas he has recommended investment in infrastructure, the economic impact from investment in mental health would be immediate."

—Professor Allan Fels AO
Prof. Fels related mental health to the '3 P's' of productivity: people, productivity and participation. With better mental health, we avoid the costs of presenteeism, reduce spending on treatment and other social services, get people earning wages and paying taxes and we increase GDP (by up to 3.5% according to the OECD).
So where are the opportunities to create social and economic value?
1. Redefining productivity in the value chain by applying a mental health lens across all business functions
Value chain analysis – defining where value is created (and not) – is imperative for innovation, and this is no less significant when seeking to improve mental health promotion and prevention initiatives.
By taking time to review the performance of current mental health programs, what learnings can be identified? What does the performance of such programs indicate about the organisation's readiness to use the initiatives? Who is using them? Who isn't? Some roles are more likely to experience factors that could lead to mental ill health – are these employees using the programs? Is there something stopping them?
54% of people with mental illness in Australia do not seek treatment, so ensuring the availability of mental health initiatives is clear and promoted is a key factor in their impact.
If clearly communicated and easy to access, staff are more likely to seek help earlier, resulting in reduced stress and anxiety. It also engenders a culture that encourages disclosure and more rapid return to work in the event of illness.
Stigma against people who have experienced a mental illness is deeply entrenched in Australian culture. Companies have a real opportunity to change it.
Similarly, customer mental health products must also be easy to use and not add any anxiety or stress (i.e. private insurance claims). Encouraging product use that promotes positive mental health practice supports customer health and wellbeing, but also increases trust and confidence in the organisation and heightens customer satisfaction.
2. Reconceiving products and/or markets
Mental health problems can be caused by several factors: difficult life experiences, lifestyle, current circumstances and biological factors. Regardless of the industry, being aware of how products/services are experienced by customers facing mental health issues is important, as well as the flow on effect these impacts have for staff.
A common link exists between financial hardship and mental ill health.
In Australia, research indicates that people who have reported financial hardship have a much higher prevalence rate of depression than those with no financial hardship.
Without the right support, the cycle of mental ill health can result in increasing difficulty getting support and entering recovery.
For the financial sector, developing products and services that support vulnerable customers in times of financial hardship creates trust and confidence in an organisation. It also has a huge impact on employee engagement and satisfaction – with subsequent financial outcomes for the business.
In our work with City West Water, we learned how the company was assisting the government-led domestic violence initiatives by tracking bill defaults and speaking to customers. That is, seeing the causes, not just the symptoms, and referring to support services.
3. Enabling local cluster development
Organisations don't exist in a vacuum.
They operate in communities, and while not all those in the community are customers, the opportunity for impact stretches beyond clientele. Already the toll of climate change and natural disasters is evident on many Australian communities and their mental health.
At present, estimates anticipate a projected increase of annual costs of natural disasters from $13.2b in 2017 to $39b by 2050 in Australia. Within the financial sector, the impact for customers and frontline employees exposed to customer distress or aggression weighs heavily on individual and community mental health.
By identifying core issues, organisation can effect change and support beyond its product and services range, to create deep and meaningful partnerships with communities and groups that answer the needs of its customers and the community.
Through investment in mental health promotion in at risk communities, organisations can provide preventative support in key areas, beyond their customers and workforce.
—
At Ellis Jones we live and breathe positive mental health promotion – through multiple qualified Mental Health First Aiders on staff, ease of access to many support programs, and a supportive and open culture. By supporting our people, we know we're providing the platform for our people to do great – and for our clients to experience greatness.
Our work in the mental health space is diverse and includes
The more opportunities we get to exercise our knowledge and competencies, the more impact will be achieved. That's creating shared value.
So, read more about our health and ageing team and download the report from the Shared Value Project to keep learning.
Sector
Sector