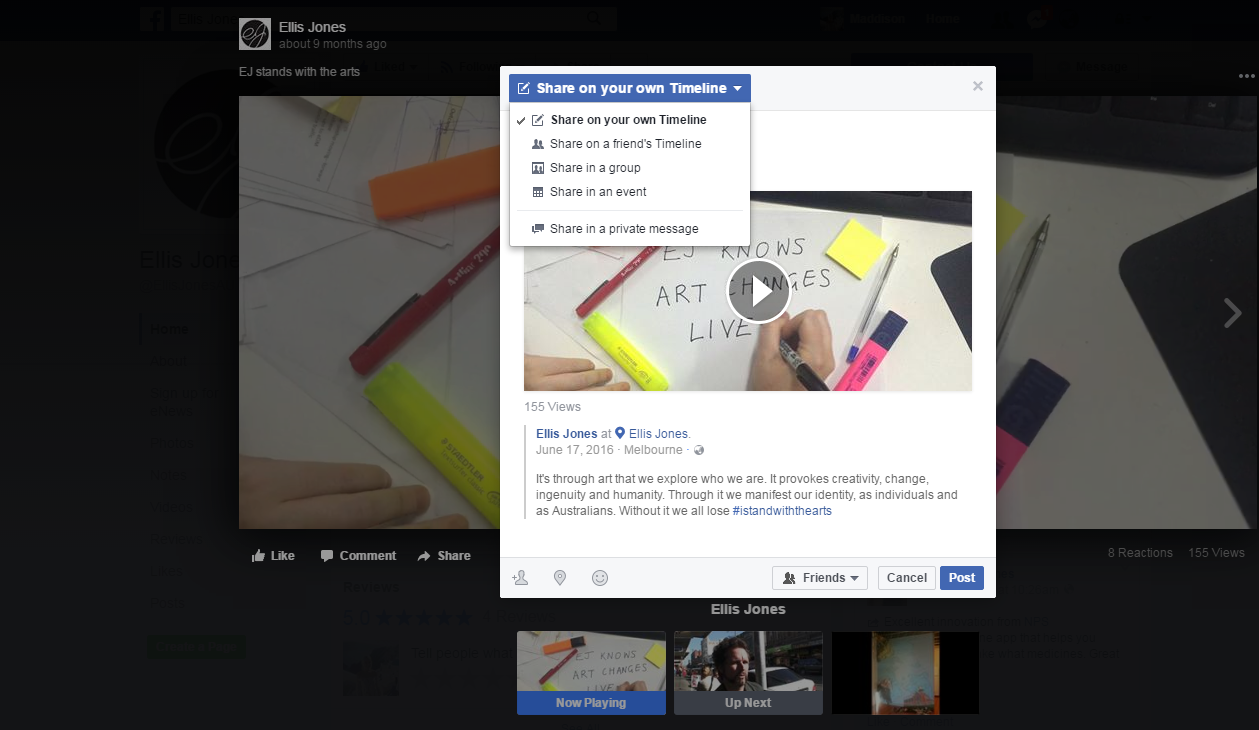 When was the last time you posted a status on your personal Facebook page? My last post was on December 23 and before that it was August 9.
In 2016, Facebook struggled to reverse a 21% decline in original posting. According to The Information, Facebook leaders met in 2015 to discuss the issue. Facebook has since updated its algorithm to promote friends' posts over business pages in an attempt to boost original posting.
But the decline in original posting is being combated by content sharing. On average, there are 1.23 billion daily active users on Facebook and 4.75 billion pieces of content shared on the social platform daily. Statistically speaking, that means each active user is sharing almost four posts per day. These statistics indicate that while original posting has decreased, user engagement remains active. Sharing content is clearly important.
According to market research firm Ipsos, 62% of Australian Facebook users share content they find interesting, 53% share funny things, and 42% share important things, while 28% share content to recommend a product or service. This provides a rough guide on the type of content business pages should be posting and sharing to engage successfully with their audience.
So what content should a business page share? Every business has a different set of values, goals, and objectives; there is no universal guide for sharing content. But generally speaking, content needs to be on-brand and appeal to the target audience.
Tips for sharing content.
News and politics.
Sharing relevant news can show that a business is keeping up-to-date with current issues relating to its audience, and aids the stimulation of live conversations, which should also account for a proportion of total page content. Articles can be shared from media, government, industry partners and bloggers. For an aged care provider, for example, suitable content to share may include news surrounding consumer directed care, research and reports, and innovative technology. Before sharing, always ensure the content is coming from a trusted source. With the rise of fake news, it's easy to come across unverified stories that are either partially or completely inaccurate.
Videos.
In a fast-paced digital world, people like content they can consume quickly. Therefore, a 30-second video that sums up a 500-word article can be more appealing to someone on the go. Videos engage users by appealing to many senses. Ipsos revealed 26% of Australian Facebook users share content that is unique. Keep an eye out for interesting video content, like the video of the couple dancing to swing music at White Night, which reached viral status online. It's not hard to see why (it's adorable). When sharing or posting a video, be mindful of Facebook's video algorithm change, which currently focuses on promoting longer-length videos.
Memes.
A meme is an image, usually with a few lines of interesting or amusing text placed over it. Memes can be anything from a witty one-liner to an inspirational quote and are usually comical in nature. Some companies are increasingly using humorous memes and other unrelated content to increase interaction. This tactic has been significantly popular with younger Facebook users. These ploys may increase engagement on the post, but if the content is not on-brand, it may fail to engage people with the business.
Your own content.
Sharing existing website content is a good way to drive traffic from Facebook back to the website. Content could include blog articles, Frequently Asked Questions, events, product or service information, videos and so on. Content can be shared sporadically, or in-line with specific dates. For example, a business that offers dementia support may share an inspiring story about a customer with dementia on World Alzheimer's Day.
All posts – original and shared – should be reviewed frequently to determine which posts are generating the most engagement, and the type of engagement; likes, shares, and comments. This information should then be used to influence future posting.
Talk to us about creating a social media or content marketing strategy to increase audience engagement.
Sector