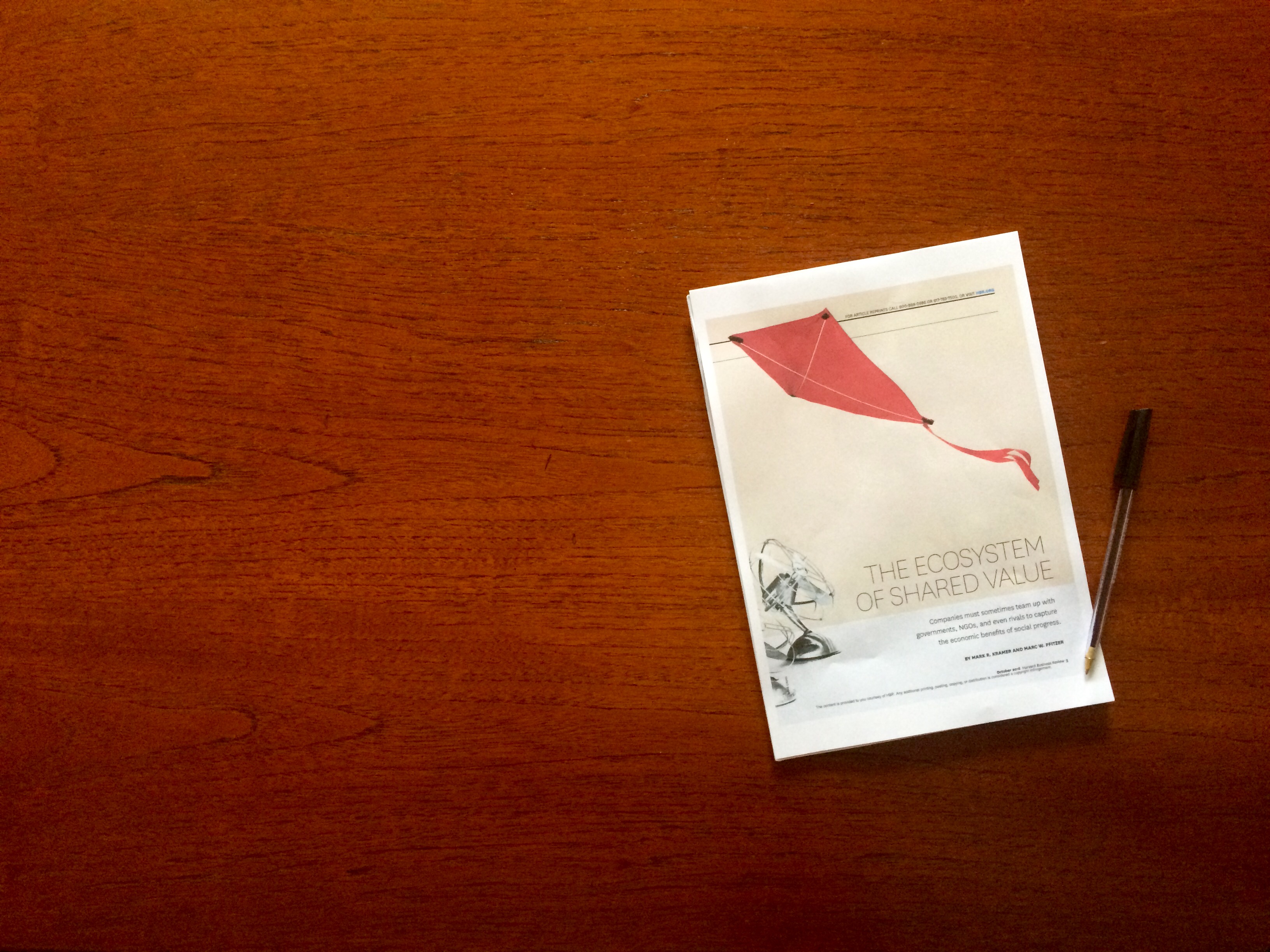 No business is an island.
Each exists within an ecosystem of politics, economics, ecology and culture – a twisted web of systems, structures and norms.
This ecosystem, and the societal conditions within it, can enable a business to succeed, or can limit a business's market and restrict the productivity of its suppliers and distributors.
If the latter, market failures may mean a business simply can't achieve its immediate or long term goals.
If, for example, a business relies on a steady supply of a natural product, like rice, yet supplier yields are falling because of poor environmental management, the business can't succeed and the environment will deteriorate along with the livelihoods of people at the supply end.
If a business increasingly requires certain technical or enterprising skills (e.g. within every industry affected by the need to innovate through technology), yet young people aren't being taught those skills in school, both the business and young people are vulnerable.
If most Australians think that aged care and retirement homes are "death's waiting rooms", and the reality supports this because of misaligned government policies, innovative providers can't succeed and many older people will continue to suffer from social isolation.
These conditions are well beyond the control of any company, or any single actor.
Changing the ecosystem.
This month, Harvard Business Review released its second major article on "shared value": the strategy and practice of pursuing financial success in a way that also benefits society.
The article, 'The Ecosystem of Shared Value', presents the case for businesses to initiate "collective impact" efforts to improve the ecosystems that enable or limit sustainable business success, thereby achieving shared value.
Collective impact is based on the idea that social problems arise from, and persist because of, a complex combination of actions and omissions by players in all sectors.
Therefore, they can be solved only by the coordinated efforts of those players, from businesses to government agencies, charitable organisations, and members of affected populations.
To achieve this, collective impact efforts require a rigorous structure with five key elements.
At its core, it's about changing how the system functions.
The imperative for business.
"If business could stimulate social progress in every region of the globe, poverty, pollution and disease would decline and corporate profits would rise." – Mark R. Kramer and Marc W. Pfitzer
Increasingly, it is becoming crucial for business to pursue profits in a way that also yields societal benefits, for two key reasons:
The legitimacy of business has been sharply called into question, with companies seen as prospering at the expense of the broader community.
Many of the world's problems, from income inequality to climate change, are so far-reaching that solutions require the expertise and scalable business models of the private sector.
The HBR article goes beyond the imperatives to outline how business brings essential assets to collective impact efforts especially, but also to shared value generally.
Kramer and Pfitzer say that, "Businesses know how to define and achieve objectives within a limited time and budget. They understand change management and the art of negotiation. And corporate pragmatism, accountability, and data-driven decision-making can cut through red tape and ideological disagreements that often stymie governments and NGOs".
So if evidence suggests that companies have the unique capacity to succeed in collective impact and shared value efforts, and, in pursuing that, they will be poised to both advance social progress and find economic opportunities that their competitors miss, why are many businesses missing the opportunity?
Why business misses the opportunity.
Shared value and collective impact are still new frameworks for business.
They require a more holistic lens, interdisciplinary knowledge and tools, longer timeframes, a visionary approach and a touch of bravery.
In seeking to support or enact large-scale social change, research suggests that businesses encounter three main obstacles.
At Ellis Jones, we encounter these obstacles with many of our clients and apply a range of approaches and tools from across our practices to combat them.
Questions of legitimacy
The obstacle: Trust is the pre-condition for successful collaboration. While companies are often respected, given they're in the self-interested pursuit of profit, they may be viewed as not having the legitimacy to initiate social progress.
Our approach: Reframe the business around a purpose deeper and broader than profit. Define, embed, communicate and report the business's social purpose and impact. Engage employees, partners and consumers in co-defining this purpose. Use global social impact frameworks to frame impact and measure progress around indicators that are meaningful to stakeholders. Talk about your purpose publicly, with transparency and passion.
Competitive free riders
The obstacle: When one company improves the ecosystem, it almost always improves conditions for its competitors. Many companies are, understandably, reluctant to bear the costs when rivals will share the benefits.
Our approach: There is proof that when a business establishes a market, it can retain a commanding ongoing advantage. Internally, build a rigorous market strategy that defines the business case and establishes expectations for short and long term returns. Externally, build relationships with partners, consumers and key market players based on shared purpose, co-design, innovation, future-proofing and solving real problems. Build advocates that will defend your position for you.
Investment justification
The obstacle: Companies do not accurately assess the business case for shared value or collective impact projects, missing the justification for investing the required funding and management attention.
Our approach: Create a cross-departmental team to bring knowledge from CSR and community engagement departments, with external scanning and forecasting rigour from the strategy department. Build a business case based on examination of the ecosystem conditions to reveal their significance to the company's financial projects. Coach senior executives on shared value strategy and gain support for internal advocacy team.
Risk and reward.
To succeed in shared value efforts, the market ecosystem must be robust, which requires a business to take a wider, more inclusive view of growth and success.
As the HBR article says, leading social change in the service of shareholder value is immensely challenging.
"The problems will take years to solve, and results won't show up in the quarterly performance targets. Governments and NGOs won't always welcome corporate leadership."
But many big businesses have seen the huge potential and made dramatic changes to their 'business as usual' practices.
This August, Fortune released its first 'Change the world' list – the 50 top companies taking on societies biggest problems and making money in doing so. The list includes global names like GE, Nestle, Nike and MasterCard, and NAB as Australia's first title-holder.
The leaders have already moved. The initiators have made ground, established precedent and shown real success.
The next step for Australian businesses is to learn from the case studies, embrace the risk and reap the rewards, for both their bottom line and for the health of the ecosystem that supports their success.
To understand the shared value and collective impact opportunities for your business, talk to us.
Sector