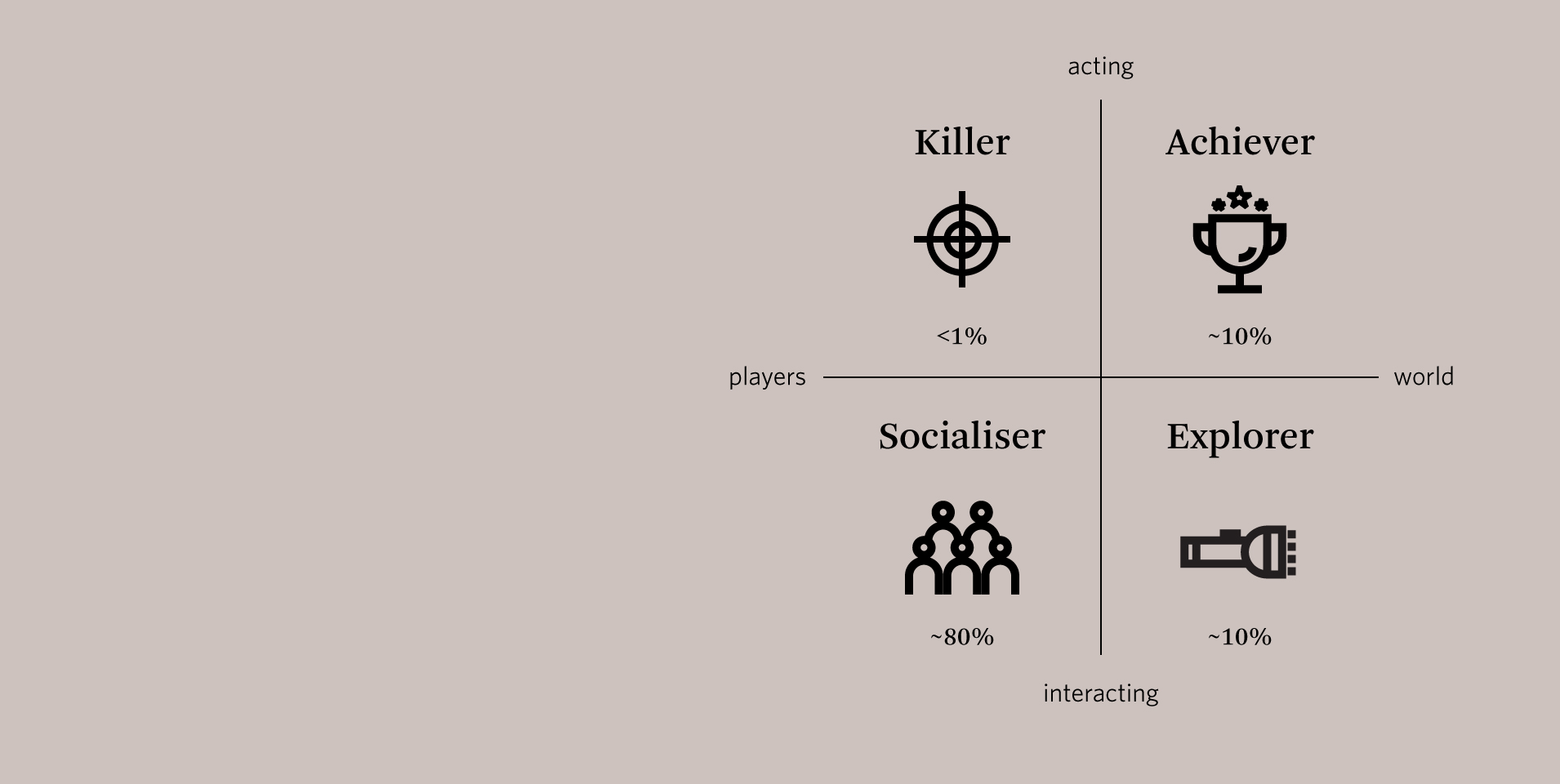 Why is it so important to increase social media engagement? Shouldn't we be focusing on our number of followers? Let's say you have 10,000 followers. If you post something and it gets no organic engagement, your followers have no value. Growth in followers doesn't amount to anything if your audience isn't interacting with your content.
Gamification is frequently being used to increase interaction from audiences and helps build a community of people who will do more than just like your post; they'll make you known to others who may never have found you before. Engaged audiences will help build your brand and spread awareness of your product or services. When used in social media, gamification offers a structured and fun way to amplify engagement based on the four Bartle Player Types.
Richard Bartle defined four player types: Socialisers, Achievers, Explorers, and Winners (originally Killers), he used these as classifications to observe the social interactions among players in multi-user virtual worlds. These personas are now used to describe 'player' motivation on social media platforms.
Here are the four fundamentals:
Set the scene for Socialisers
(80% of the population)
Who they are: Focused on socialising and developing networks.
Tone of voice: Supportive and conversational.
Socialisers value the parts of the system that enable them to experience fun and motivation through interaction with others. Socialisers take to social networks to build and share interest.
One way to engage a Socialiser's interest is to pose questions and open the floor for comments and opinions from your audience. Asking questions is an easy and effective way to spark a conversation, create a sense of community and increase social media engagement.
Asking a question triggers a natural answering reflex in human beings. People subconsciously try to find an answer. That means that even if they don't engage, questions will encourage them to stop and read your update to find the answer.
Grammarly provided a great example of this.
Highlight your Achievers
(10% of the population)
Who they are: Focused on status, goals and completion.
Tone of voice: Encouraging and promoting sharing of stories.
To engage Achievers there must be a level for them to reach. One way to activate this is by highlighting your top follower for the month.
Find your top follower on the platform you are using and send a shoutout to that follower by sharing or tagging their profile. You can display the profile picture of the user, as well as the number of posts they've made about your brand.
Once an Achiever starts to see their picture appear on in your feed, they will want to post more around your brand, hashtag, or event in an attempt to ascend the rankings.
Free the Explorer
(10% of the population)
Who they are: Focused on exploring and discovering.
Tone of voice: Understanding and exploring of options.
Social platforms are providing users with better control over how their feeds offer content. Users will have increasingly more power to view content related to their interests and the way they use social.
For Explorers, this means that posting consistent and relevant content to keep them coming back for more. Although, Explorers may not have as much influence on the flow of information they do possess the richest information.
A great example is from Wholesome Culture, who post content based on viral memes and pop culture trends. These posts often drive the most engagement for their page because they cater to Wholesome Cultures audience interests. To gain the most from these posts they place them between the content that's more directly related to the products they sell.
Reward your Winners
(<1% of the population)
Who they are: Focused on competition, winning and rank.
Tone of voice: Exude sassiness, confidence and energy.
It sounds simple, but there is a trackable benefit for handing out rewards.
Photo contests are a great way to boost maximum exposure. Followers take part in a contest just by voting or uploading a photo. By doing so, Winners will be actively promoting their entries to others, which will boost your profile and campaign.
Dove's "Real Beauty Should Be Shared" contest on Facebook struck branding gold. They asked their fans to tell them why their friend 'represents Real Beauty'. Their audiences are now interacting with the platform in a way they wouldn't have, had there not been a reward trigger.
Increase social media engagement
It is key to note that no 'player' fits into one particular category; rather, most players overlap more than one of them. Start simple, pose a question to your social media followers and see how they interact. Think about running a photo contest to see if you have any Winners in your mix. By making small changes to your social media content you can define the personas and motivations of your audiences and leverage this to create valuable communities that increase social media engagement.
Talk to us if you would like support with community building or social media marketing – from strategy to content development and execution.