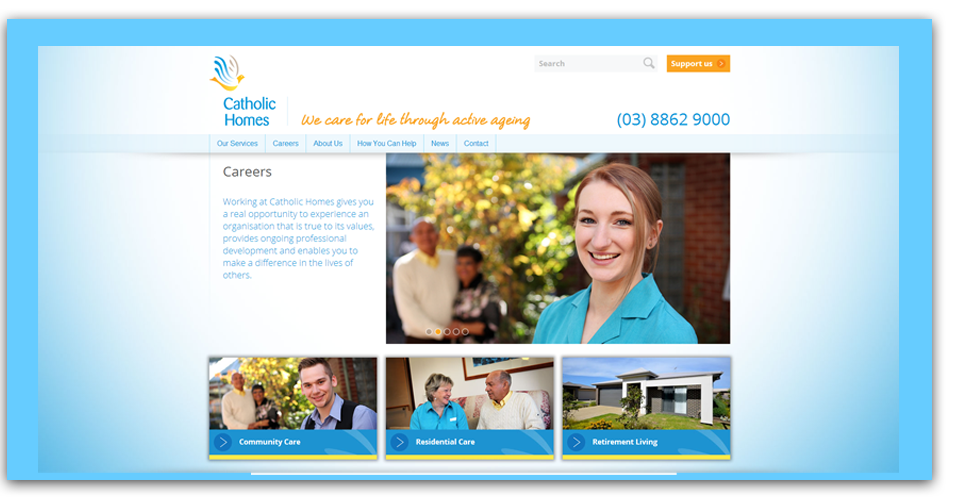 Not-for-profit aged care provider, Catholic Homes, has been providing residential care, community care, respite care and retirement living to Victorians for over 50 years. With more than 700 staff and over 250 volunteers, it provides services to more than 1,300 older people across the state.
In November 2013, the team at Catholic Homes approached Ellis Jones to assist in the web design and development of a new website that could:
Be easily maintained and updated by staff;
Act as a means to communicate current and future development of an integrated continuum of accommodation, care and retirement living options; and
Connect with potential employees, volunteers and customers.
As Catholic Homes is such a large organisation,  the company needed a website that would articulate the sentiments and requirements of many tiers of stakeholders. Earlier in 2013, Ellis Jones undertook extensive research – through stakeholder workshops and interviews – into what the senior staff, board members and external stakeholders were looking for in a web experience. We also studied Catholic Homes' previous website analytics to determine what web users were looking for when they visited Catholic Homes online.
Importantly, we also completed a brand identity exercise to understand and articulate – in concept, words and imagery – what makes Catholic Homes different and compelling to its target audiences.
An investigative report was developed that uncovered the sentiments and requirements of the organisation.
This report was crucial at the web design and development stages in two ways:
Understanding how Catholic Homes' needs could best be articulated in the form of a website; and
Determining what aspects needed to be elevated to the homepage and in the user experience of the new website.
With usability and experience at the forefront of design, we created a website that embodies the Catholic Homes ethos, is easy to maintain by staff and organises information in a way that is simple to navigate for those of all ages; be it children of elderly parents or older people themselves.
The website also includes a bespoke postcode facility locator that enables users to type in their postcode to find a facility close to their home or work.
We're really happy with the site, but don't just take our word for it – have a look for yourself.
Ellis Jones combines in-depth knowledge of the aged care market and the experience of our web development team to produce smart websites that articulate your brand's essence. Find out more.
Sector
Sector