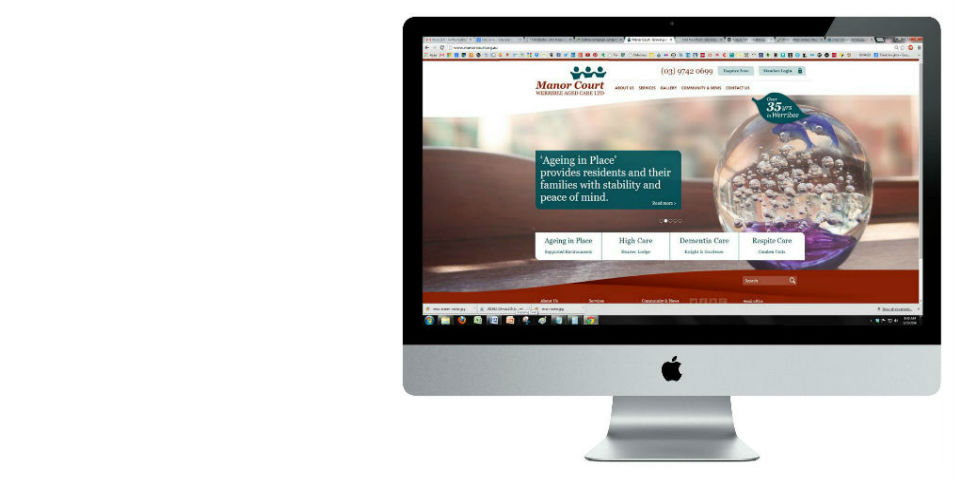 Not-for-profit aged care provider Manor Court has been providing residential and dementia care to the older community in Werribee for over 30 years.
Ellis Jones has been working with Manor Court since 2010. In 2013, we were approached to assist in the redevelopment of their website.
The new website had to meet the following criteria:
Members login section for staff and residents
Be easily maintained and updated by staff
Act as a means to convey current and future developments at Manor Court
Articulate the sentiments and requirements of Manor Court's stakeholders using a variety of mediums (including video) in an uncomplicated way
In order to achieve this, we carefully studied Manor Court's previous website and analytics to determine exactly what web users were looking for when they visited Manor Court online.
Combining our findings, what makes Manor Court different and compelling to its target audiences and common usability and web experience practices, we have created a website that embodies the Manor Court culture and philosophy, is easy to maintain by staff and organises information in a way that is simple to navigate for those of all ages.
The website also includes a specially developed members login section that provides access to unique members-only content to those registered. This will be used for staff, Manor Court residents and their families.
We're delighted with the outcome – a simple to use, aesthetically pleasing and functional website. Take a look!
If your website needs a refresh, talk to our team about website redevelopment.
Sector