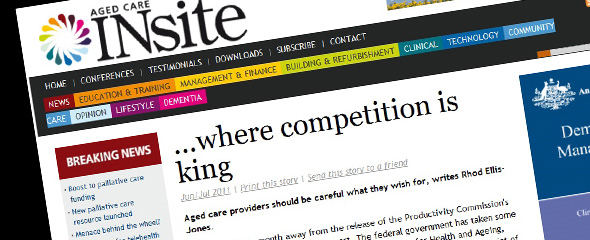 Aged care providers should be careful what they wish for, writes Rhod Ellis-Jones.
We're about one month away from the release of the Productivity Commission's final 'Caring for Older Australians' report. The federal government has taken some early steps toward simplifying the system with Minister for Health and Ageing, Mark Butler, announcing a new national phone number will act as a single point of entry for people seeking aged care information and access. The sector is keen for more.
The question is: what are aged care providers doing to prepare for reform?
One look at the list of submissions to the inquiry and it's clear providers – from the multinationals to the local community operator – have been ardent and articulate in their suggestions for reform. Overall, the response to the commission's draft report was a mix of relief, enthusiasm and hope (if not faith).
So, let's consider what the future may look like. Read the full article online at Aged Care INsite.
Ellis Jones knows Health and Aged Care marketing.
Sector
Sector