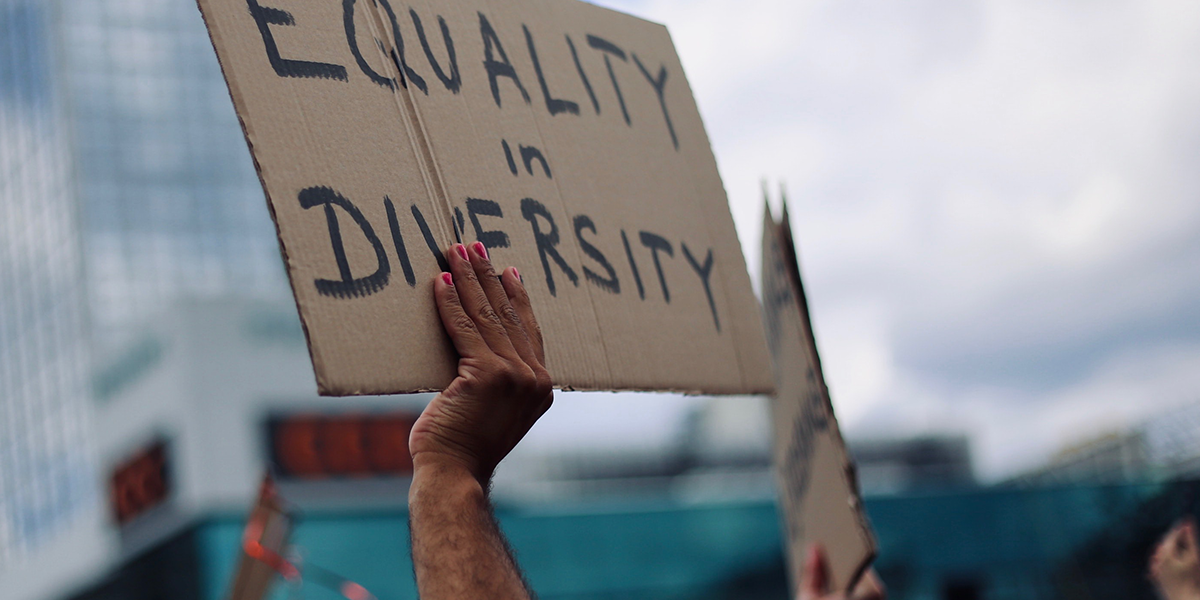 The things that we say and the way that we say them shape our world. At Ellis Jones we understand the role design plays and the power it has to influence behaviour – for example, through diverse representation in images.
A new year brings with it the opportunity for reflection and recalibration. As we seek improvement within ourselves and our work, and look to peers and peak bodies to be inspired and encouraged to adopt edge-leaning practice.
This year, there is an opportunity to be more accountable for the images we use to tell stories and sell things, and the overt or tacit meanings those images convey.
To play our part, we must reflect on the tools and systems we use within our practice and ask ourselves, 'are they playing a positive and active role to drive the change we seek?'.
With escalating activity on more digital platforms and greater prominence to our work across disability, health, the arts, and diversity and inclusion, that question has become more present and the answer central to achieving our impact goals.
The powerful role of imagery.
MIT neuroscientists have found that the brain can identify images seen for as little as 13 milliseconds, faster than the blink of an eye.
With this in mind (literally!), it is an understatement to say that visual stimuli such as video and photography should be a priority for communicators seeking immediate recognition and resonance, particularly when communicating complex concepts.
At Ellis Jones, visual media are conceived with strategists, digital tacticians and designers at the table. This reflects an approach that considers experiences, interactions, narrative and imagery as a comprehensive whole, and with a singular impact objective.
Sitting at that table, you will hear the team talk about the representation of gender and cultural identity.
Inequality is sometimes intentionally, often unintentionally, communicated and reinforced by symbols and imagery that appear nothing out of the ordinary but, in fact, continue an unchecked pattern of discrimination.
Words, video, and imagery that lack diverse representation of cultures and genders are covert contributors to the persistent issues of inequality.
They compound subconscious bias and reinforce historically accepted Western tastes for ubiquity in skin colour, ability, accent, religion, gender and sexuality.
Fortunately, designers are becoming more aware. And, as we control the medium and influence the strategy, it is very much our responsibility to use imagery for good.
So, what are our tools (and their limitations)?
While we can be diligent in our aesthetic and conceptual decisions, our limited choices in creative tools are not exempt from playing a role in unequal representation.
Common services such as stock image providers help us to quickly and cost-effectively express concepts, but they have limitations in the variety of representations available to choose from.
Stock image algorithms determining first-page search results are a combination of keyword tags, popularity and engagement, which will mirror an appetite for imagery most desired in advertising and media globally. These results can be the opposite of what is needed; and, at times, the representation you're searching for in a stock image will simply not exist.
Shutterstock's 2021 diversity report, a global study of over 2,700 marketers found a motivating factor in image choice across the board was a desire for adequate representation of the world we live in. Australia was identified consistently as a country with some of the strongest appetites for images that represent diversity in sexuality, race, disability and age.
We are now seeing curated galleries by Getty Images, iStock and Shutterstock spring up in attempts to cater to marketing needs for representation.
It's a start, but businesses with the goal of diverse representation in images may wish to avoid tools that weren't designed or equipped to meet their objectives – no matter how accepted across industry, or commonly presented as 'the standard'.
There are alternative solutions, such as the creation of dedicated (and exclusively owned) images shot by producers and photographers from different backgrounds, and who naturally capture authenticity and diversity in their creative work. It isn't just diverse output that makes the difference in representation – supporting diverse creators can help us see the world through their eyes.
It begins with awareness and asking the right questions. And then choosing a creative team that is aligned with your goals, fully informed about diversity and inclusion, and passionate about achieving social change through visual communication.
What matters to Australians?
The majority of our work is produced in Australia, for Australians – a vibrant, multicultural society comprising people who identify with more than 270 ancestries, and home to the world's oldest continuous cultures.
Recent national events have changed behaviour in the area of diversity, such as:
The 2020 Black Lives Matter movement which sparked a reaction around the world and created a platform for Australia to bring attention to indigenous deaths in custody and systemic racism in our country.
The marriage equality bill of 2017 which was an affirmation of the dignity of queer people and their relationships that have changed many Australian lives.
The Disability Royal Commission which was established in 2019 in response to community concern about widespread reports of violence against, and the neglect, abuse and exploitation of, people with disability.
These reforms reflect social forces that have pushed Australian marketers to deliberately consider diverse representation in images.
Our team's commitment is not made solely to follow suit of these changing attitudes, nor is it to tick a box by displaying contrived and all-too-common images of inclusion.
In our work, we aim to authentically acknowledge the richness of diversity in our country by building an awareness of the challenges faced by many due to a lack of acceptance and understanding about the differences between us – differences that are absolutely at the heart of the contemporary Australian identity.
The future of our creative work.
Making choices with eyes open and ears tuned to the biases that infiltrate our sense of taste takes dedicated thought, preparation, and organisation hard work that is worthy of investment.
Our work can make those historically undermined by imagery feel seen and heard while communicating to all Australians that this is who we are.
It is a responsibility we are proud to take on and are in constant review of, as we actively seek to learn more about the varied experiences of those around us and take appropriate action in response.
Talk to us about diverse representation in images. Let's discuss how choices in image direction can achieve your communication goals with authenticity.
Sector