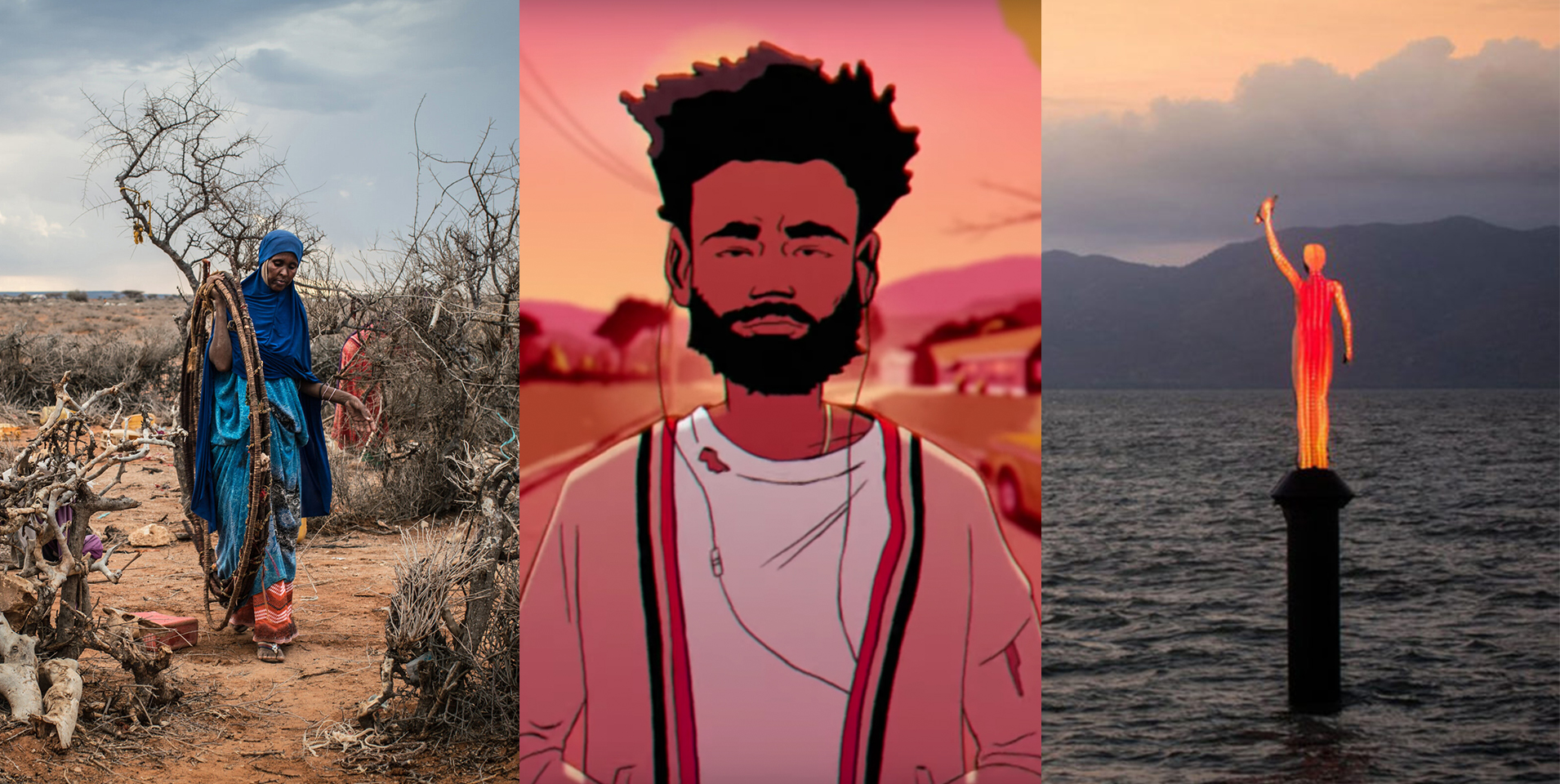 Climate change art and design ignite people-led movements for change.
Throughout history, artists have revelled in the wonder of nature, developing modern techniques from a range of mediums in an attempt to capture its beauty and mystery.
While the earth is a vital source of life for all humanity, for the creatively inclined a connection to nature brings a deeply personal sense of clarity and inspiration. The sentiment goes beyond activism, communicating the current and future grief felt from seeing a source of vital emotional lucidity and creativity disregarded in the emission of greenhouse gasses by industrial activity of modern civilisation.
In 2021, there is no escape from an awareness of the devastation the earth is suffering at the hands of its human inhabitants. With major companies using their resources and reach to solve global challenges, there is value in looking at what is being communicated by artists, and how.
It's the creation of an emotional response that moves people and takes us a step further towards action in response to climate change and sustainability.  Through climate change art and design.
The profound potential of the image is that it holds the power to change behaviour through communicating complex semiotics and emotional context with efficiency. When words fail, art speaks.
Ellis Jones designers Elise, Patrick and Vanessa have collected pieces of climate change art and design work they admire from artists that are using mediums of photography, mixed media, sculpture and music to express a perspective and emotional response to the climate emergency.
Climate for Conflict – Nichole Sobecki (Patrick)
Despite accounting for just 0.08 per cent of global CO2 emissions, Somalia is ranked among the most climate-vulnerable countries in the world. The degree to which persistent droughts, rising temperatures and erratic rainfalls contribute to the country's instability is difficult to quantify — though, unquestionably, they play a significant role.
In a country where most of the population depends on agriculture for its livelihood, decreasing cultivable land and looming famines create the conditions for criminality to thrive. 
With a palpable sense of privation, the Climate for Conflict  project sees Nairobi-based photographer Nichole Sobecki (b. 1986, USA) and reporter Laura Heaton (b. 1983, USA) document the consequences of these conditions for the Somalian population. In a statement summarising the project, Sobecki says:
"This is the story of the mother who didn't flee civil war but fled the drought. The fisherman pushed into piracy by empty nets in a depleted, lawless sea. The young farmer who felt the pull of the militant group Al Shabab when his crops failed for multiple seasons."
Salient, people-centred narratives dominate Climate for Conflict's photography and offer tangible visual insight into a humanitarian crisis often reduced to statistical analysis.
The Ocean Siren and The Coral Greenhouse – Jason deClaires Tayor (Elise)
Art in the right hands can be wielded to create not only beauty but powerful behaviour change. Jason deClaires Taylor is such an artist who is passionate about climate conservation and creates in order to connect, build awareness and inspire awe. 
Taylor is currently working with the traditional owners, local residents and scientists to create four iconic pieces of work off the east coast of Australia to draw attention to the health of the Great Barrier Reef. Two of these artworks are the Coral Greenhouse next to the John Brewer Reef and Ocean Siren just off the foreshore of Townsville. 
The Ocean Siren is a simple concept, a statue showing the warming of ocean temperatures. But working together with Townsville based marine scientists Dr Adam Smith and Dr Paul Marshall, Taylor was able to show the actual ocean temperatures around the coral reef in real time. 
Not only does the Ocean Siren become a good photo opportunity, but it also quickly conveys complex scientific data reminding people that climate change is happening right now. Taylor modelled the Siren on local Wulgurukaba Traditional Owner, Takoda Johnson, making sure that the stories of the Indigenous people were at the forefront of these conversations.
The Coral Greenhouse is an underwater museum of 20 reef guardians housed in and around a 158-tonne steel 'greenhouse'. Through the metaphor of the greenhouse, a place of nurturing and new life, a story is told that implores people to take notice and connect themselves to the life of the coral reef and personally invest in its survival. A spectacle that is predicted to bring in a further 50,000 tourists, Taylor hopes it will also bring in a new era of culturally and environmentally aware tourists.
Childish Gambino – Feels like summer (Vanessa)
The work of Donald Glover bridges music and the moving image to share a personal emotional perspective on social issues. The power of communication in these mediums are seen in the cultural phenomenon This is America music video, ripe with aggressive symbolism portraying the complex role of America in the African American life and death.
In contrast, the song and video clip for Feels like summer is laid back and calm. At the same time, the lyrics beg the listener for urgency, akin to the slow approach to climate change response by many people and organisations today.
Artistic elements share how symbolism and tone can confront the viewer, like a mirror. The animated video clip flooded with celebrity cameos symbolises major cultural events and behaviour that often saturate trending social media news and popular discussion – with alarming issues such as climate change steadily burning away in the background.
Much of the symbolism in the video is open to a viewer's interpretation but certainly conjures a desire for understanding. Many associate meaning to the clip beyond the lyrics' clear message about the effect of climate change on weather, animals, and water. As he sullenly leaves the buzz of his streets behind, 'hopin' that this world will change,'  the glowing amber sun continues to burn.
Every day gets hotter than the one before
Running out of water, it's about to go down
Go down
Air that kills the bees that we depend upon
Birds were made for singing, wakin' up to no sound
No sound
I know
Oh, I know you know my pain
I'm hopin' that this world will change
But it just seems the same
– Feels Like Summer, Childish Gambino
Clinton Naina – Stolen Climate (Vanessa)
Clinton Naina is a painter, dancer, performer and storyteller that comments on the role of colonisation and Indigenous cultural knowledge of the environment through his work, Stolen Climate, as part of NGV's exhibition bringing together a significant selection of works drawn from the NGV Indigenous Collection, Big Weather.
The piece shares an Indigenous perspective on Australia's colonial history, emphasising that misinformed actions of the past have contributed to devastating effects seen in our present, a warning for the future. We see flora burnt into cotton with White King bleach, leaving behind an orange haze – an emotional response to bushfires, coral bleaching, and the colonial link between them.
Through symbolic use of materials and the profoundly personal emotional lens, we gain insight into the cultural connection of Aboriginal and Torres Strait Islanders to the land and the grief experienced in the mistreatment of traditional country due to the impact of British settlement.
With the emergence of Indigenous artists sharing their understanding and connection of culture to the environment, many are beginning to recognise the sophisticated appreciation of weather systems within Aboriginal and Torres Strait Islander cultural knowledge.
"We haven't looked through the sovereign people's lens to create a change. But once we do have a look through that lens, for that change, it's possible that could happen. We're still here. The land is still here. It's not too late." – Clinton Naina 

Art and design are mediums that draw people in through the evocation of intrigue, spectacle, beauty or the experience. They engage people and can tell important stories, share knowledge and change how people interact with their environment.
At Ellis Jones, we are constantly striving to impact people in such a way as to create and effect change. Art, illustration and spectacle are some key ways in which we create behaviour change. 
We'd be very happy to share our insights on applying climate change art and design in social movements that achieve change. Talk to us.
Sector