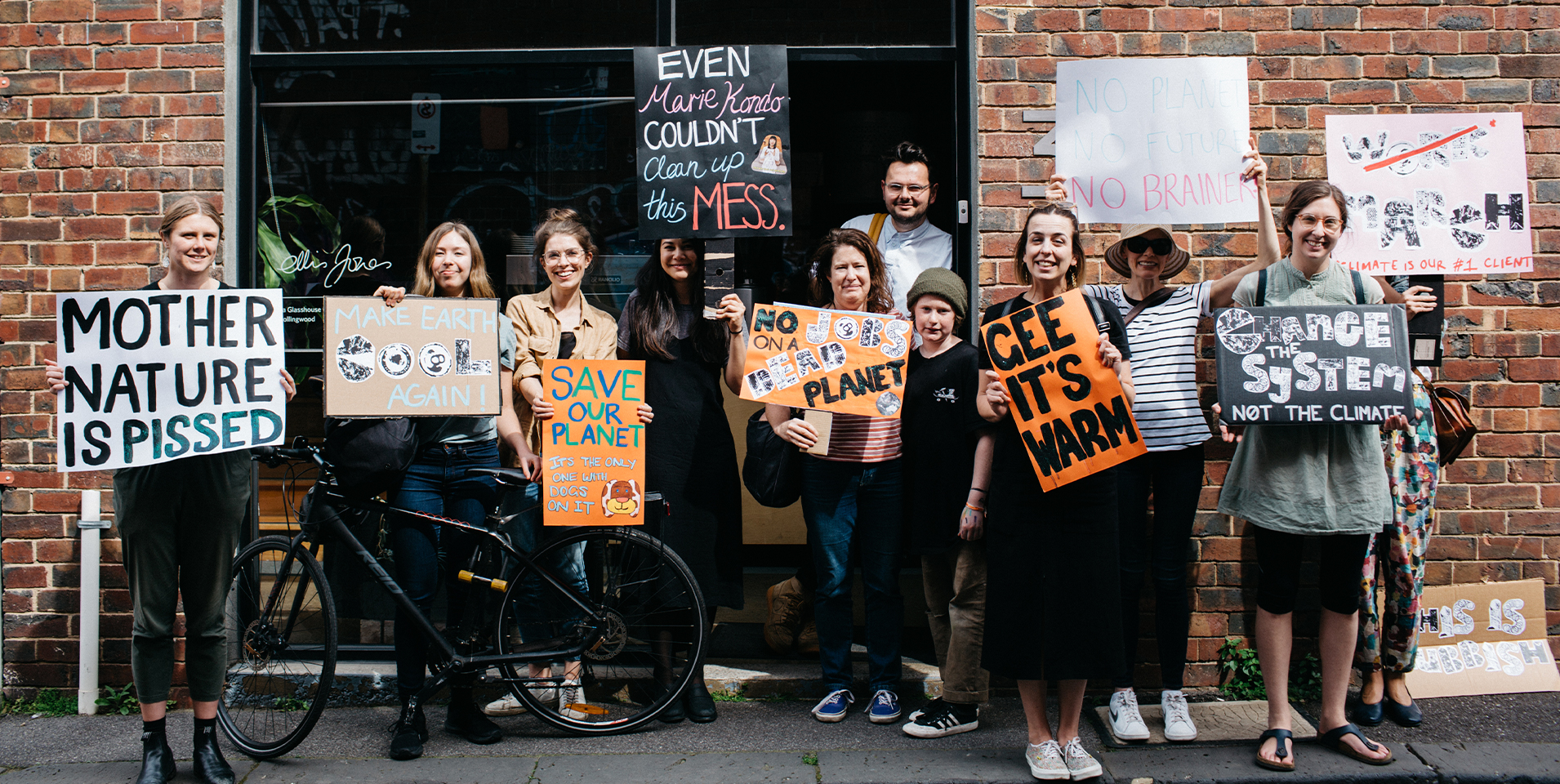 We believe climate change is real, it is man-made, and the burning of fossil fuels – primarily coal – is the leading cause.
We declare a Climate Emergency.
These are our actions to urgently address the critical goal of keeping global warming at or below 1.5 degrees Celsius.
1. Establishing and achieving our social impact agenda.
Our social impact agenda sets out how we use our assets – our people, knowledge, networks and expertise – to create sustainable social and financial outcomes. We are building our capacity to measure and report on outcomes and impact.
2. Achieving zero net emissions from our operations by 2021.
We already offset emissions from travel, and from energy through Powershop. We have a plan to offset emissions from other types of travel.
3. Achieving 100% biodegradable and recyclable waste by 2025.
We currently compost all organic waste. We purchase materials that are sustainably packaged and can be recycled. We deposit all soft plastics via a collection program. Waste to landfill makes up only 20% of our total waste stream. We are now working towards zero waste to landfill by procuring package-free products, finding new ways to recycle office supplies, and providing staff with reusable containers for carrying takeaway food.
4. Minimising our taxi, rideshare and air travel.
We provide bikes for staff travel. We encourage the use of foot, bike and public transport in our transport policy. We provide staff with the technology to minimise transport.
5. Sourcing only locally produced vegetarian and vegan food from social enterprises.
For all our meetings and events, we source local vegetarian and vegan food from social enterprises.
6. Developing and applying models to assist other organisations address climate change.
We have produced a playbook for organisations 1) making a statement of purpose relevant to their social and environmental context, 2) using their skills, resources and reach to develop initiatives that achieve social and environmental impact, and 3) producing and communicating evidence of impact to build momentum and scale. Read more here.
7. Spreading the word.
Through our Move blog, participation in industry forums, membership of the Shared Value Project, commentary in niche and mainstream media, and use of our creative space, the Realm of Possibilities, for community events and workshops, we are continually finding ways to keep the message live and urgent.
Join us – declare a Climate Emergency.
Businesses and governments around the world are declaring a climate emergency which constitutes making a commitment to tell the truth about climate change and define a set of actions to stop global warming.
Here are a few resources to get you started:
Talk to us today to get moving.
Sector
Sector