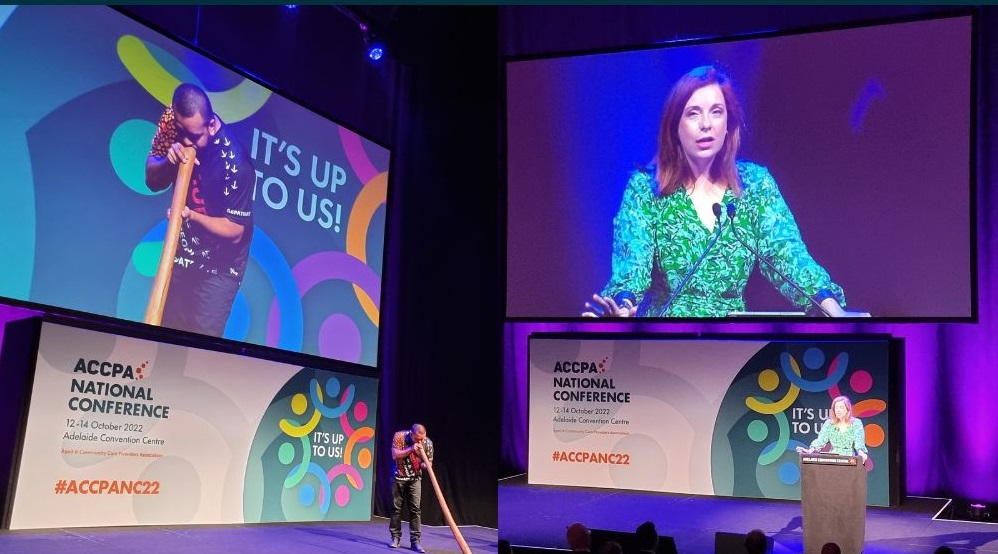 It's been a big year so far for Australia's aged care sector. Emerging from the Royal Commission into Aged Care Quality and Safety and the challenges of the pandemic, recently united under a single peak body, we were due a moment to meet, reflect and reenergise.
At the ACCPA National Conference we got that moment, with a huge turnout in Adelaide and a packed program of speakers and social engagement.
I was fortunate to take part and this is my presentation on creating shared value in aged care.
At Ellis Jones we're passionate about achieving health and wellbeing outcomes for older people and their families, and impact for Australia, while helping purpose-led providers balance the books.
By creating shared value in aged care, you can make impact your competitive advantage.
What's the problem?
Australia's aged care sector is unsustainable.
Australians overwhelmingly agree that we need a healthy aged care system to look after older people as they age.
However, more than 45 percent of Australian residential aged care providers are running at a loss. This is genuinely shocking, given the critical nature of the services they provide.
How can these two statements both be true?
Our challenge is to sustain the investment required to achieve viable and effective aged care services – those that adequately address the health and wellbeing needs of Australian communities.
What is shared value?
Shared value is a philosophy, framework and strategy to create financial growth and sustainability, while also achieving social impact.
Social impact is the positive social change that an organisation creates through its actions and interventions.
The premise is that an organisation's actions can impact positively on society to address social needs.
We and other proponents of shared value believe that most businesses have the potential for social impact – and have an obligation to pursue it.
How can shared value help?
Shared value leverages businesses' resources and innovation to create new solutions to society's pressing challenges.
In doing so, it creates a more prosperous environment in which to operate, making business more sustainable and resilient.
We use shared value thinking in our work with government, NFP and private sectors – particularly in aged care.
As the aged care market has matured, balancing social, health and financial needs has become a more common theme of dialogue between families and service providers, as well as government stakeholders.
That's why we need to be strategic and create shared value in aged care.
The virtuous cycle
It is increasingly clear that people don't buy what you do, they buy why you do it.
Consequently, purpose is at the core of an organisation's shared value strategy.
Purpose must be defined with an organisation's workforce, clients and community and evolves over time.
The virtuous cycle occurs as…
An organisation defines its purpose and acts on it
As a result employees, residents and communities are engaged and advocate
The company innovates with clients, employees and community
Measurable social and economic impact is created and communicated
The social impact is recognised and celebrated by clients and communities
Leading to increased customer acquisition, employee retention, and profitability
This cycle repeats at ever increasing scale to sustainably create shared value.
And we should recognise and be comfortable with profit because it is the fuel for impact (in the words of George Serafeim).
We need to make a profit to achieve our purpose and vision of healthier and happier older people, families and communities.
Here are three places to create shared value in aged care.
1. A strong workforce
A strong workforce is a powerful differentiator.
People are key to the aged care value proposition.
The workforce must grow to meet increasing demand – not just in terms of numbers, but in skills, diversity and location.
By investing in their workforce, providers can offer and deliver better services that meet the changing wants and needs of older people – enhancing the value of their main source of competitive advantage.
2. Think differently about services
Think differently about services – and who can deliver them.
Service and product innovation will accelerate in an increasingly competitive aged care system.
We shouldn't be scared if these innovations push boundaries of what we currently consider 'aged care', or who delivers that care.
Our customers are a resource – we should leverage their skills, strengths, experience and goodwill to meet community needs.
3. Design services with individuals and their families
We know that clients and residents make decisions about aged care in the context of their families.
We also know that families – particularly those who have been carers – consider themselves 'users' of aged care services.
Opportunities to create individual and family wellness go beyond clinical care and start long before someone receives care or enters a home.
Including families in service design might challenge what we think 'aged care' services are. 
Key takeaways
Shared value frames conversations about what really matters and how to deliver it.
In an undifferentiated market, people don't buy what you do, they buy why you do it.
That's expressed through purpose statement, (social) value proposition, and the behaviour of your team.
In a sector subject to constant change, shared value focuses on needs and how a business can meet them.
That's an anchor for relationships and a foundation for success.
Some further reading:
Talk to us about creating shared value in aged care.
Sector